Have you dug out all the storage spaces in the kitchen? There is a place I think most of people will ignore it. That space is full of potential at the end of kitchen cabinets. If you plan well, this bare spot is much more useful than you think. So, if you want to boost the storage of your kitchen you can do so with this space that you have always overlooked. For example, you can attach spice shelves to the end of the cabinet to get food magazines storage. You can also hang heavy kitchen tools at the end of kitchen cabinet, by using pegs or hooks, so next time they will be easy to grab and put away… If you want to learn more ideas about adding storage to the underutilized ends of all the cabinets, then check out below 20 solutions:
1. Add some decorative open shelving on the end of your kitchen upper cabinets: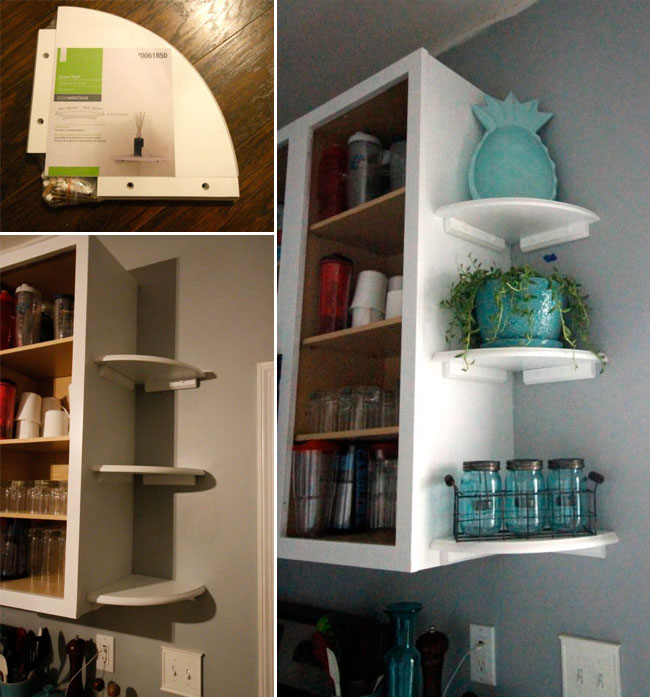 You can also consider glass kitchen shelves for this purpose.
Tutorial: charlestoncrafted.com
2. Add some greenery on the side of your cabinet instead of planting them in the boxes on windowsill:
Source: domestically-speaking.com and houseofhepworths.com
3. Build float shelves or hooks rack on the end of the cabinet:
Source: thechroniclesofhome.com
4. Attach hooks to hang kitchen utensils on the end of your cabinet: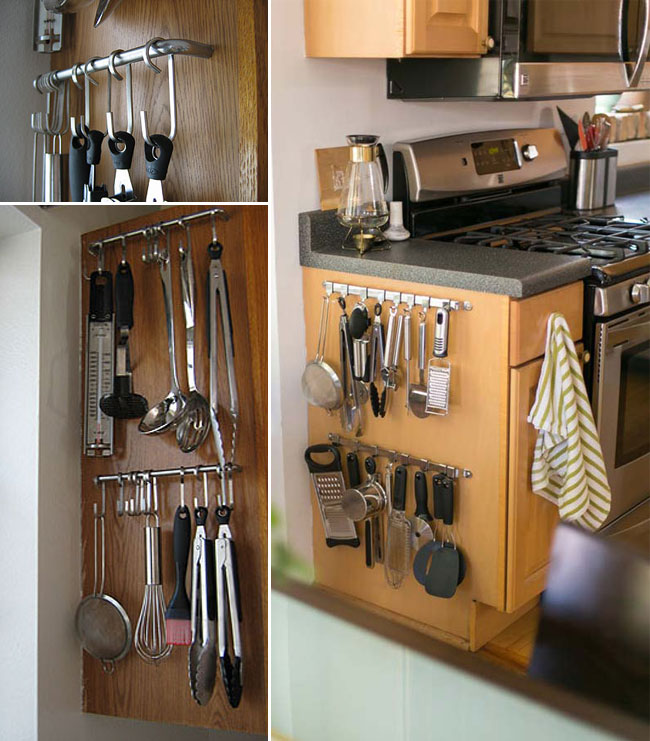 Source: notmartha.org and woohome.com
5. Instead of taking up space with a bar cart, hang a wire holder from the end of a cabinet:
Source: between3sisters.com
6. Fix a flip-down shelf onto the end of cabinet to place your cookbook or drink, so that you will get extra countertop space:
Source: apartmenttherapy.com
7. Create a spice rack narrow enough to fit neatly on the end of your kitchen cabinet:
Top Project Tutorial: confessionsofaserialdiyer.com    Center Image Source: katheats.com    Bottom Project Tutorial: instructables.com
8. Attach a Ikea's Bygel rail or spice shelves to the end of the cabinet to get food magazines storage: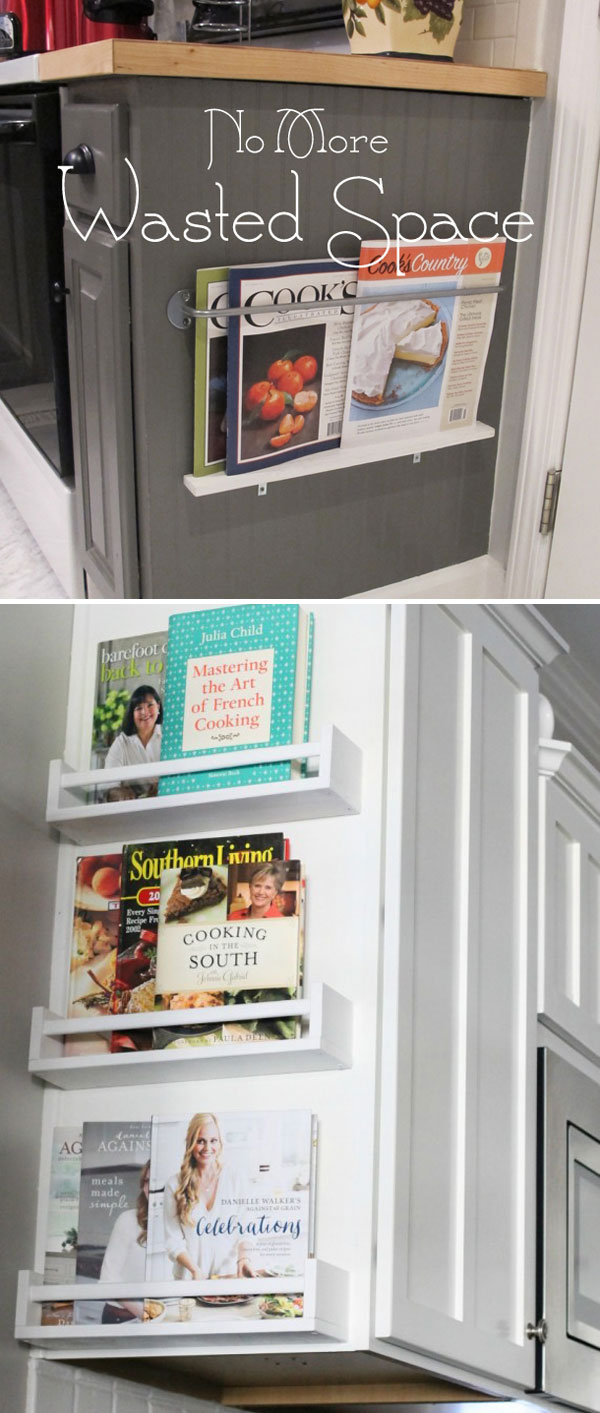 Tutorial: whitetulipdesigns.com   and   the2seasons.com
9. Hang a wire basket from the end of your cabinet to create a tea rack filled with loose leaf or bagged tea:
Or used to storage kitchen napkins, plates and silverware:
Source: goldenboysandme.com
10. Set up a ground level drawer at the end of cabinet, which has hidden storage space and can be turn into a chic and cozy seat:
Source: myparadissi.com
11. Create a message center with a mail pocket and key hooks, on the end of kitchen cabinet:
Source: huntedinterior.com   and   thisoldhouse.com
12. End the cabinets with a shallow utility cabinet: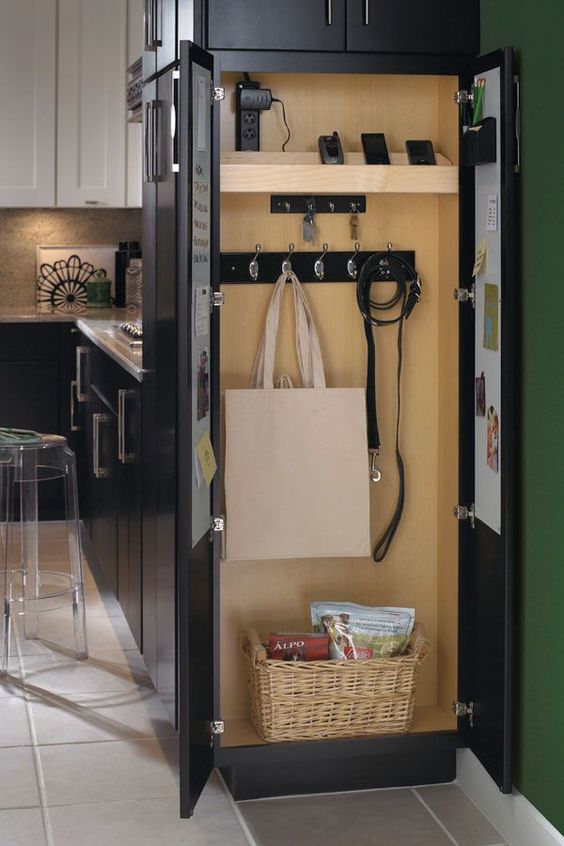 13. Add wine storage to end of cabinets: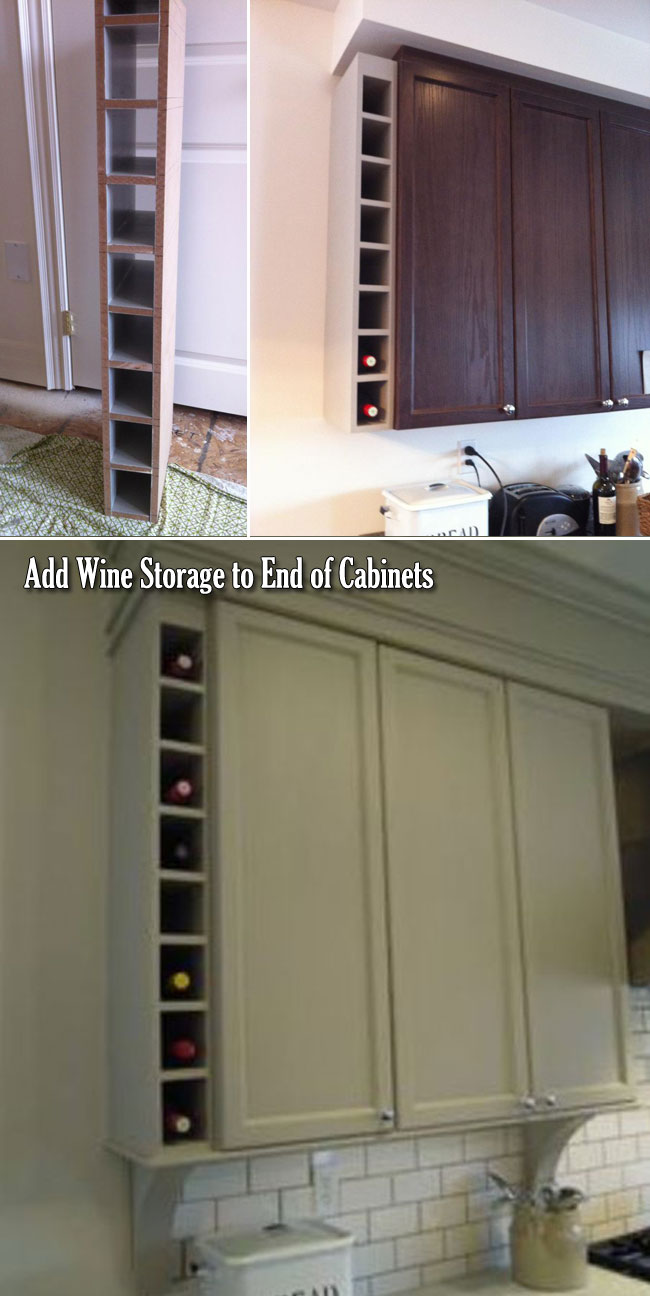 Tutorial: chriskauffman.blogspot.com
14. Hang heavy kitchen tools at the end of kitchen cabinet, by using pegs or hooks, so next time they will be easy to grab and put away: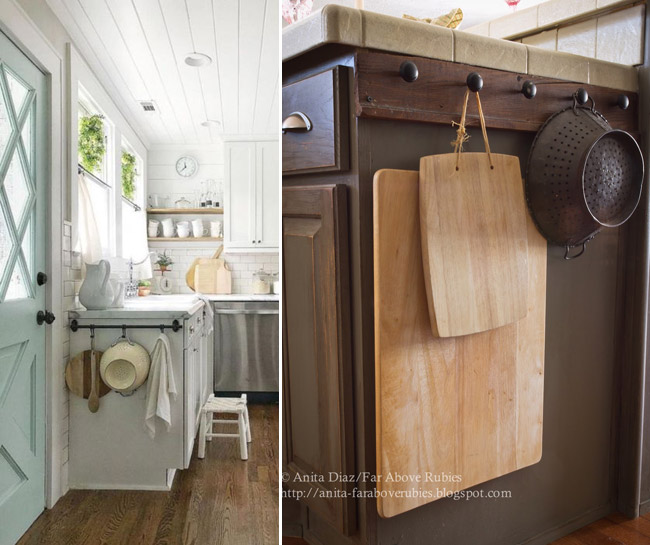 Source: anitafaraboverubies.com
15. Add a built-in shelf to the end of your kitchen island that used as microwave or woven baskets storage: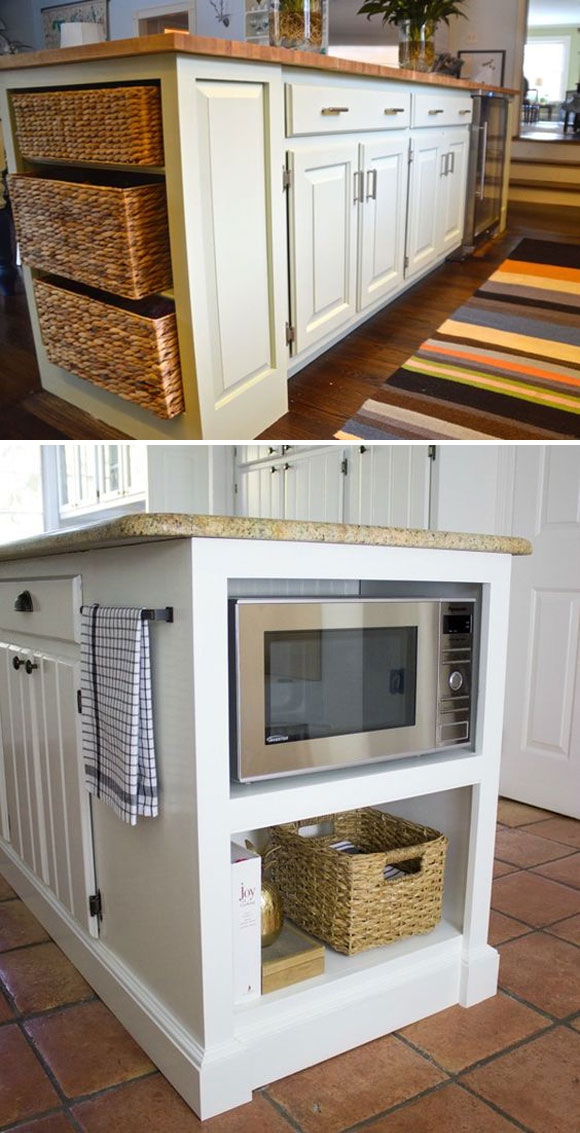 Source: atcharlotteshouse.com   and   drivenbydecor.com
16. Utilize vertical space in your kitchen with these cool little shelves. (mount them flush with the side of the cabinets, and reinforce them with basic shelf supports from the hardware store.)
More great details at: myperfectnest.blogspot.com
17. Install a shower caddy on the end of your cabinet to hold fresh veggies or fruit:
Tutorial: domesticdivadomain.blogspot.com
18. Expand your kitchen storage by placing an IKEA raskog cart at the end of cabinet:
Source: apartmenttherapy.com
19. Create built-in dog bowls at the end of a kitchen island: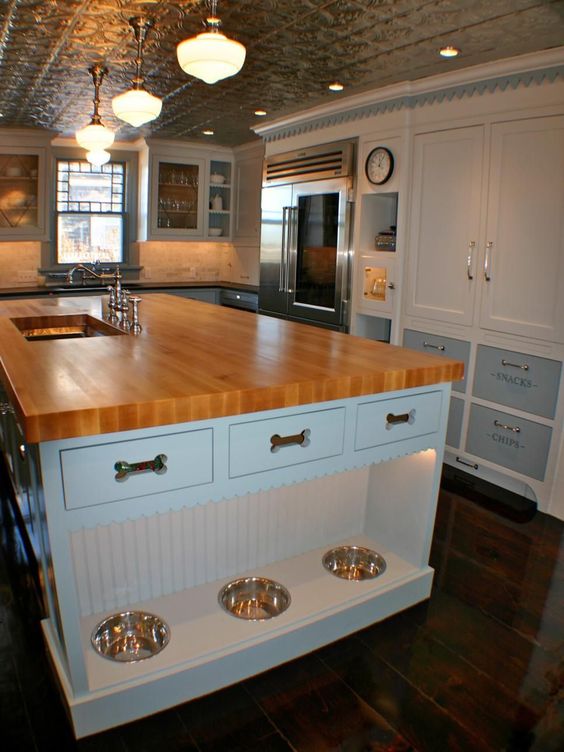 Source: hgtv.com
20. Add open shelve to the end of cabinet to display your colorful accessories:
Source: makinglemonadeblog.com