Top 29 DIY Ideas Adding Rustic Farmhouse Feels To Kitchen
Farmhouse decor is really awesome, whether your home is in the rustic style itself or you just want to bring it to some places of your house. The most suitable place in your home to decorate with country style is probably the kitchen. Compare to contemporary kitchen decor, the soul-calming appeal of a country style kitchen would be so inviting. If you're ready to take the blissful plunge into redesigning your own kitchen sanctuary, take a look at some wonderful farmhouse inspired kitchen decor ideas below:
#1. Replace glass or wood cabinet doors with chicken wire.
Source: ciscopisco.blogs.sapo.pt
#2. Hang a vintage pharmacy clock from the kitchen wall.
Source: shabbyandcharme.blogspot.hu
#3. Transform an old desk with a shelf beneath into a farmhouse kitchen island.
Source: graciebluetheblog.blogspot.hu
#4. Turn an old perforated milk pail into a hanging lampshade.
Source: comepiaceate.it
#5. Brick wall and chalkboard barn door.
Source: peaceloveanddecorating.com
#6. Add a deep color kitchen island to a white kitchen, made from reclaimed walnut.
Source: ourvintagehomelove.blogspot.hu
#7. Add a bit more rustic style to your kitchen by creating this DIY rustic shutters.
Tutorial at: designdreamsbyanne.blogspot.hu
#8. Turn a chicken wire lantern to this chic and farmhouse paper towel holder.
Source: ebay.com
#9. Countertop storage station repurposed from a wooden shoe cubby.
Source: instagram.com
#10. Sliding raw wood barn doors are not only beautiful points of your kitchen, they are also great space saving solution for a pantry.
Source: housebeautiful.com
#11. Store your favorite dry goods in these country style mason jars having paint markers.
Tutorial at: manhattan-nest.com
#12. Hang a seasonal wreath from the middle of these vertical mirrors that decorated with reclaimed wood frames.
Source: yeugiadinh.vn
#13. Store your favorite cloth napkins and cutlery in the galvanized metal basket for easily access and to keep your countertop clear.
#14. Antique Produce Shelf with Wire Baskets
Source: redoityourselfinspirations.blogspot.hu
#15. Farmhouse Kitchen Baker's Hutch
Source: instagram.com
#16. Use a little braided jute rope to make these pottery barn inspired placemats.
Source: cityfarmhouse.com
#17. Use a little deep color to liven up your all-white kitchen, just like this door painted in deep gray and these X-back chairs made up of walnut.
Source: lovegrowswild.com
#18. Turn a weathered gray tiered cake stand into a piece of art by displaying trinkets, fruits and flowers on it.
Source: dearlillieblog.blogspot.mk
#19. DIY farmhouse style nesting boxes.
Source: lizmarieblog.com
#20. Open up the top of dutch door for a little breeze from your favorite kitchen garden.
Source: tumblr.com
#21. Add country blue and white skirt across lower cabinets to hide the eyesores in your kitchen cabinets.
Source: countryliving.com
#22. Display farm-chic baking supplies and tools in a wall shelf.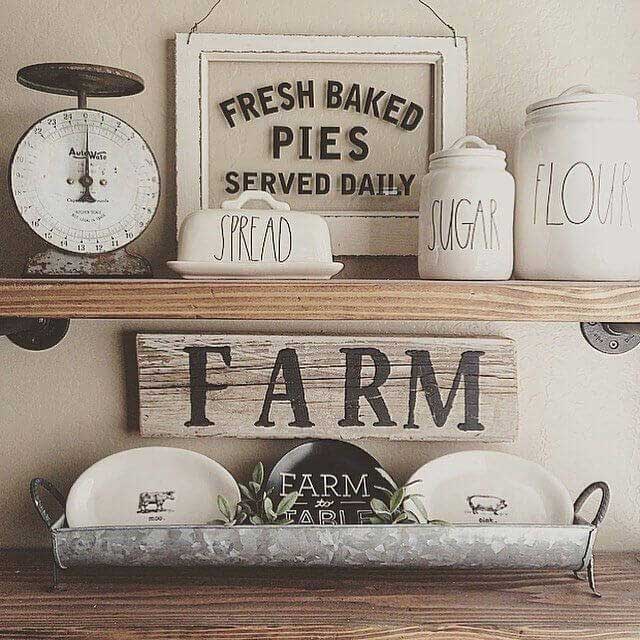 Source: instagram.com
#23. Decorate kitchen shelf in the seasonly country style by adding a cotton wreath, bread baskets, a vase with dried Fall flowers.
Source: theturquoisehome.com
#24. The sink cabinet like a piece of furniture that has been converted for use in the kitchen.
Source: homebunch.com
#25. DIY Primitive Cabinet from a Repurposed Wooden Crate and Frame
Tutorial at: knickoftime.net
#26. Blend farmhouse with contemporary style with crate drawers.
Source: hometreeatlas.com
#27. Fill a tin pitcher with wheat stalks to create a warm fall tablescape.
Source: casaydiseno.com
#28. Install rustic shelves and store grains in glass jars as fun farmer's market sign.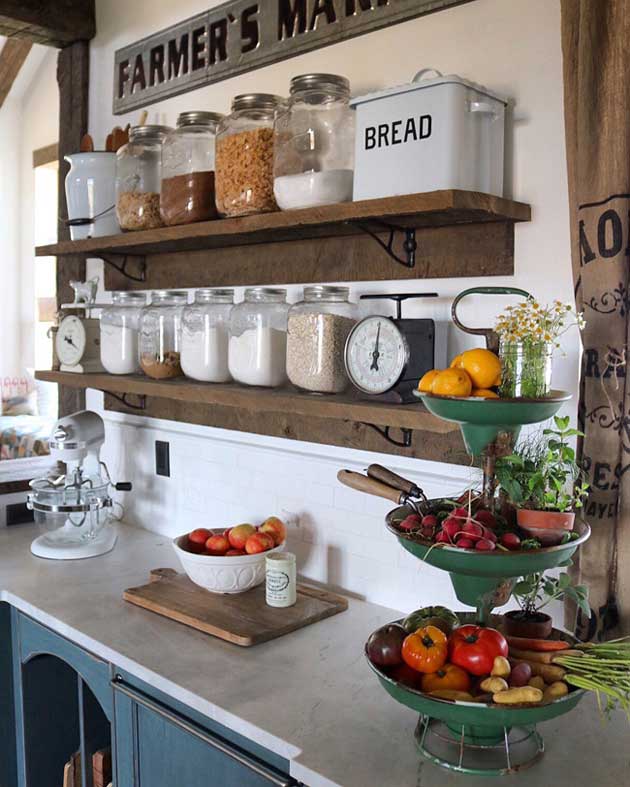 Source: desiretoinspire.net
#29. Get Unfinished Hardwood Flooring
Source: houzz.com