15 Cool Uses of Space Between Countertop and Wall Cabinet
People will never be satisfied with their kitchen space, whether it is big or small. To get rid of the chaos and storage limitations of the kitchen, need some smartly organizational ways. After the clever design, some kitchen spaces can be used for many purposes. For example, how would you use the SPACE BETWEEN THE COUNTER TOP AND WALL CABINET? You might not think of that it has as many as 15 different ways of using it. If you are interested in this, take a look at these 15 surprising ideas we have gathered for you below.
#1. A few screw C-hooks help you storage pot lids, which look like flying saucers floating up under the cabinets:
Image via: WooHome.com
#2. Just use an IKEA magnetic knife strip and baby jars to build a floating spice rack under kitchen cupboards: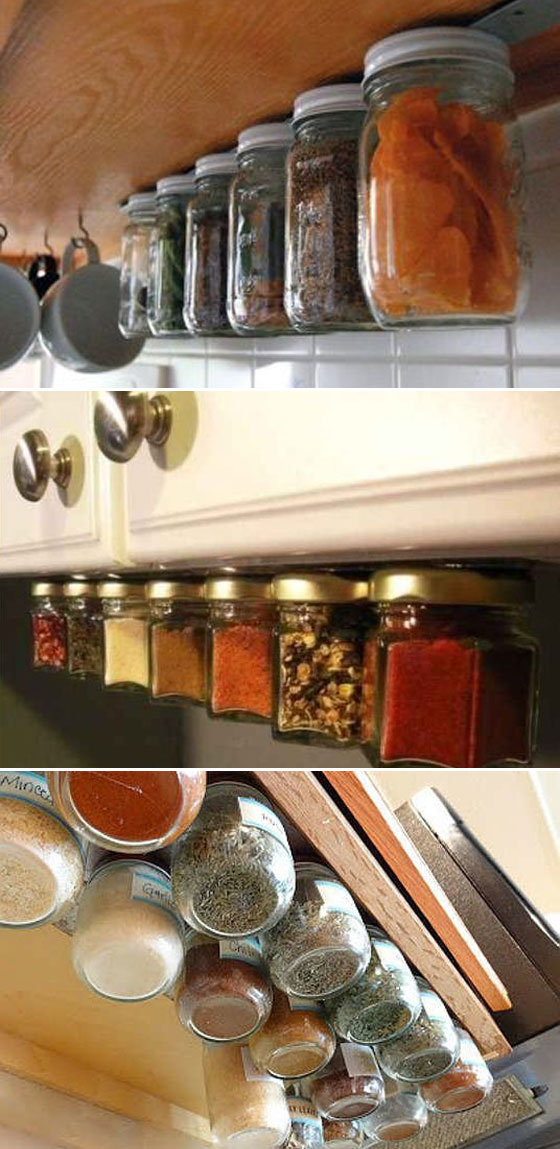 Similar project TUTORIAL: instructables.com
ALSO READ:  20 Genius Ideas for Using Wasted Space on Kitchen Ends Of Cabinet
#3. Create kitchen appliance garages under the cabinets to stow everything from mixers to coffeemakers: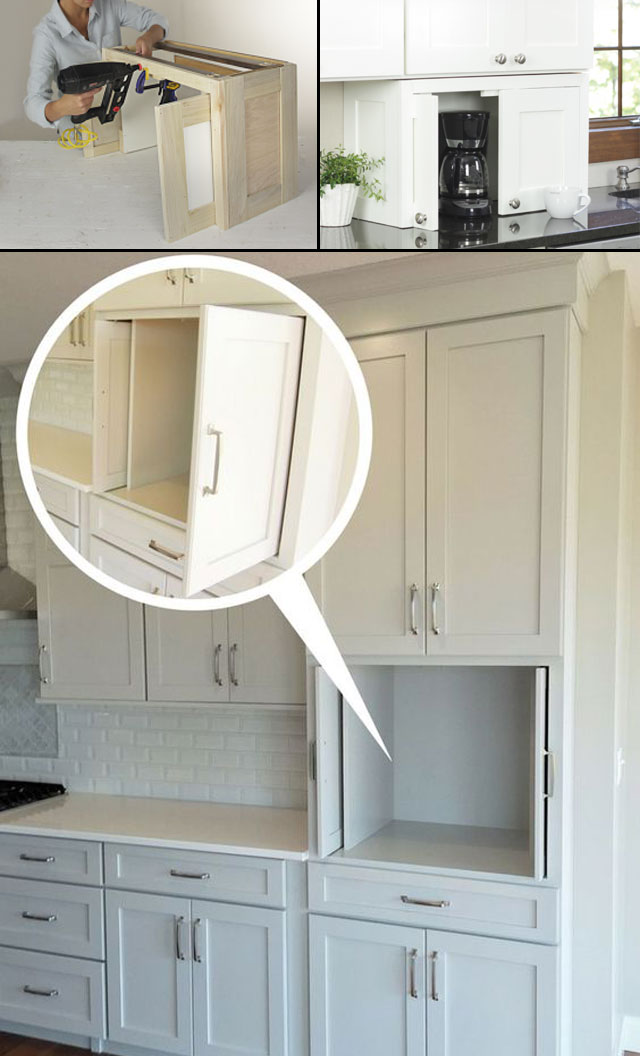 Image via: kitchenremodelingquadcities.com    Tutorial: build-basic.com
ALSO READ: Top 23 Cool DIY Kitchen Pallets Ideas You Should Not Miss
#4. Mount the swing down hinges with racks under the kitchen cabinets to storage spices, cookbooks or knives: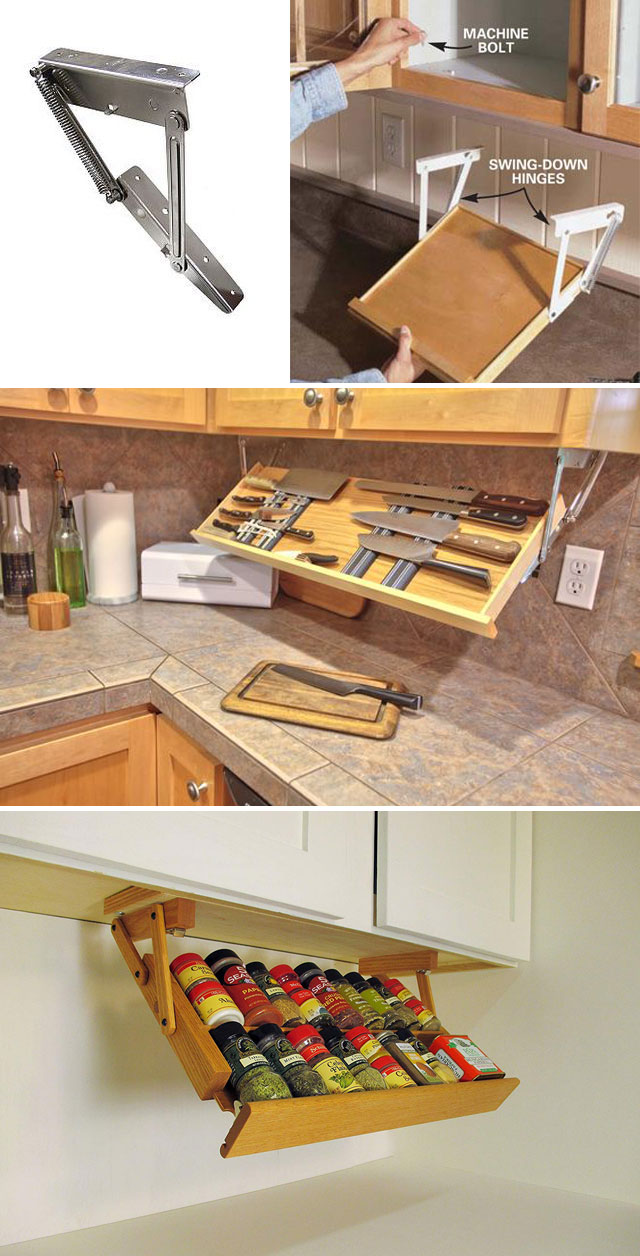 You can buy swing down hinges at: thehardwarehut.com  or  amazon.com
See the Tutorial: familyhandyman.com
#5. Install a long floating shelf along the backsplash to stack your extensive spice collection. The idea lets you easily read labels and find flavors while cooking:
Image via: jencaputo.typepad.com    Similar project TUTORIAL at: Youtube.com
ALSO READ: 17 Practical Tips to Easily Organize Your Baking Supplies
#6. Through hanging curtain rods and holders, matching S hooks and coordinating baskets you're able to eliminate the clutter on kitchen counters:
Image via: redfarmhouse.blogspot.com
#7. Raise the cabinets to the ceiling and add a shelf under them to squeeze out some more storage space: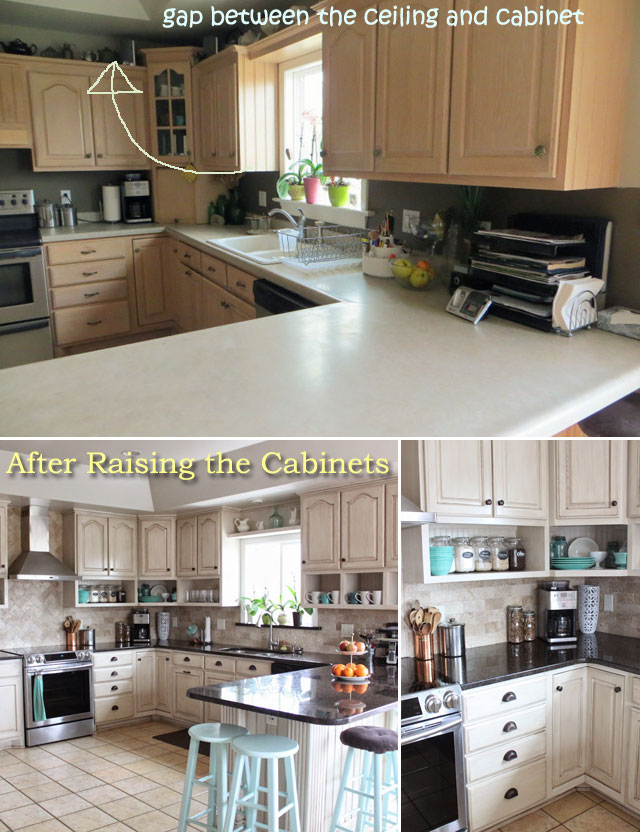 More details at: Namely Original
#8. This basket helps utilize air space under your cabinets that would otherwise go empty: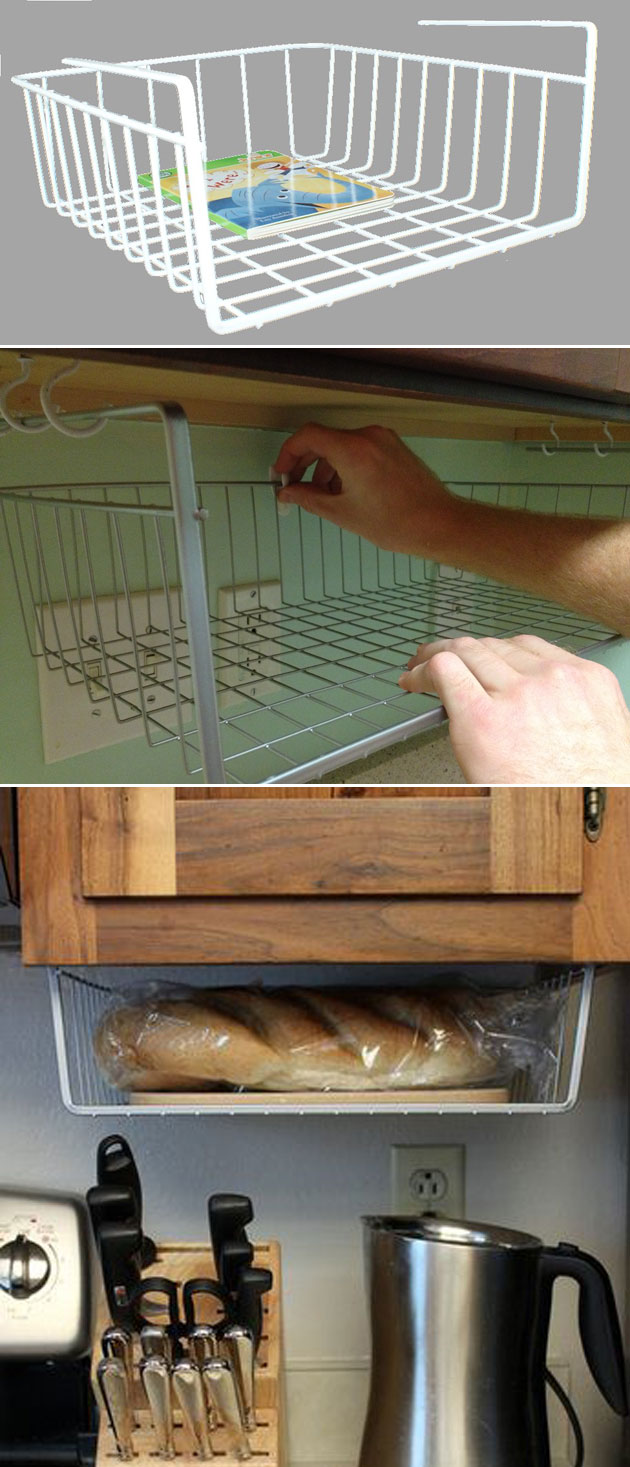 Image via: charlestoncrafted.com     You can buy it at: Amazon.com
#9. Move cabinets up to the ceiling height, then add under-cabinet shelf for cookbooks storage:
Baskets and butcher-block are also great.   See the video TUTORIAL here: beneathmyheart.net
#10. Stacking fruit baskets to free up countertop space, under your kitchen cupboards: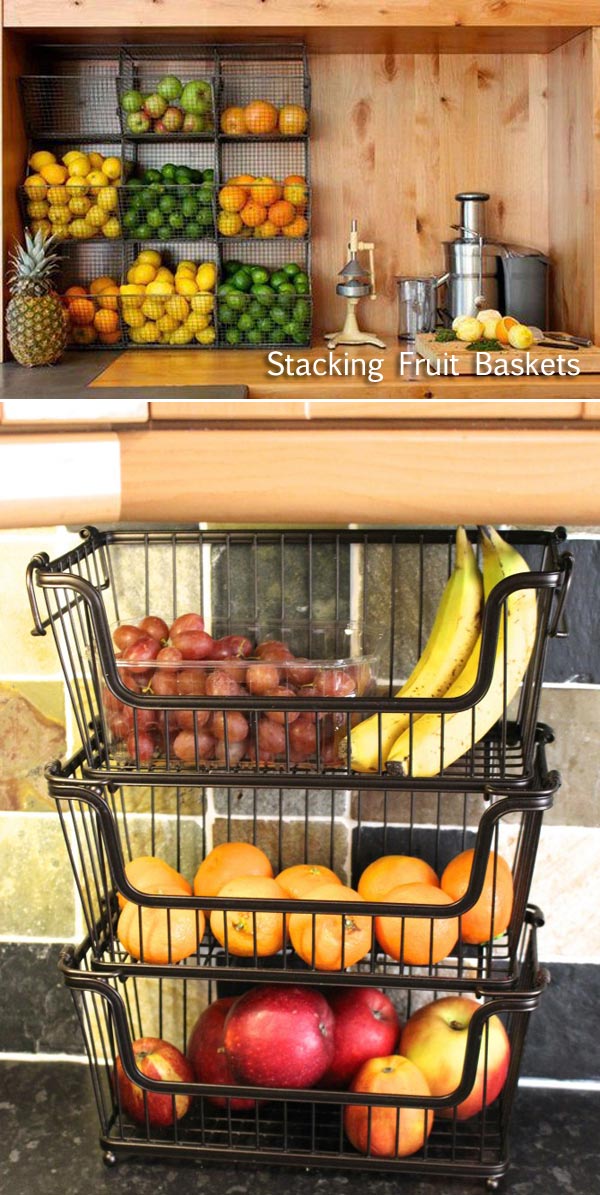 Image via: homeheartharmony.com
#11. Mount a lazy susan upside down and add hooks to organize utensils: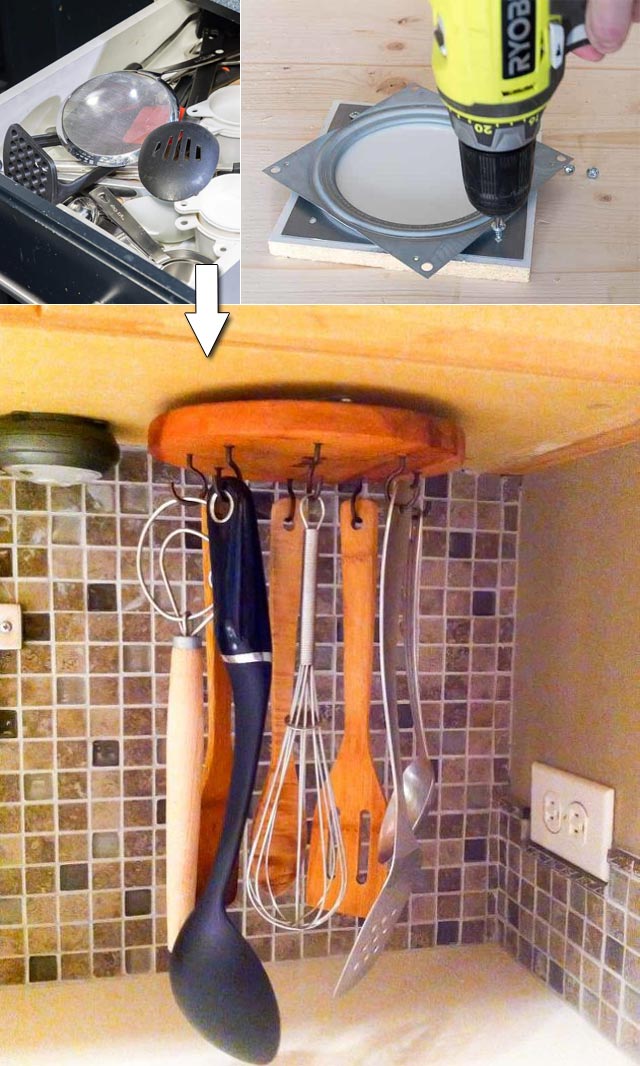 See the TUTORIAL here: fromhousetohome.com
#12. Putting a few oversized cookie jars to store coffee and tea bags makes you easy to access them: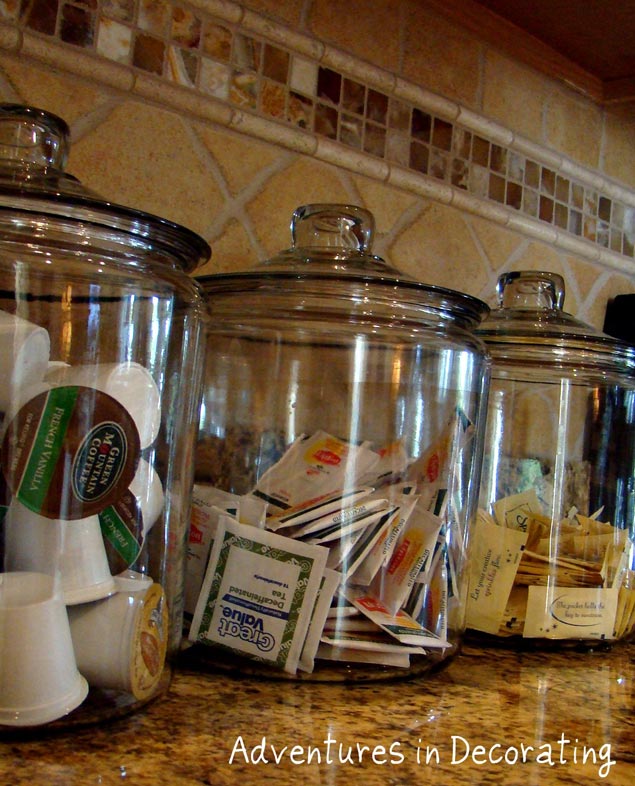 Image via: adventuresindecorating1.blogspot.com
#13. No space to place your microwave? Please consider the space under the cabinets and front of backsplash. Set up sturdy brackets that let you mount the microwave under cabinets: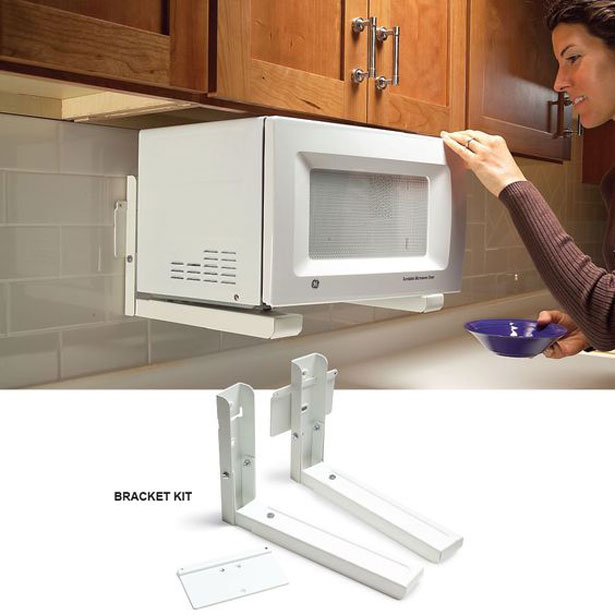 More details at: Family Handy Man   You can buy wall mounted Microwave Oven shelf stand at Amazon.
Below is another DIY project for Microwave Oven Shelf: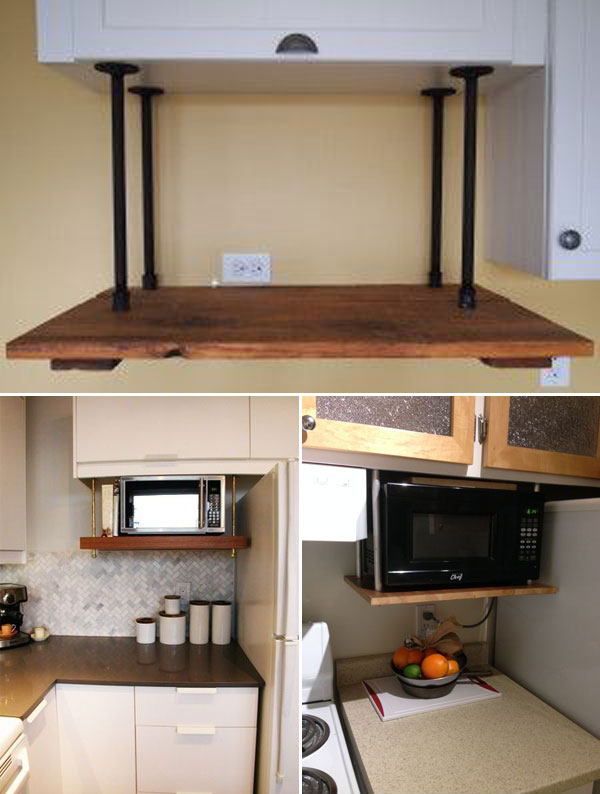 #14. Declutter kitchen countertop with a curtain rod and s-hooks, especially when you want to set up a coffee station and no space for coffee mugs storage: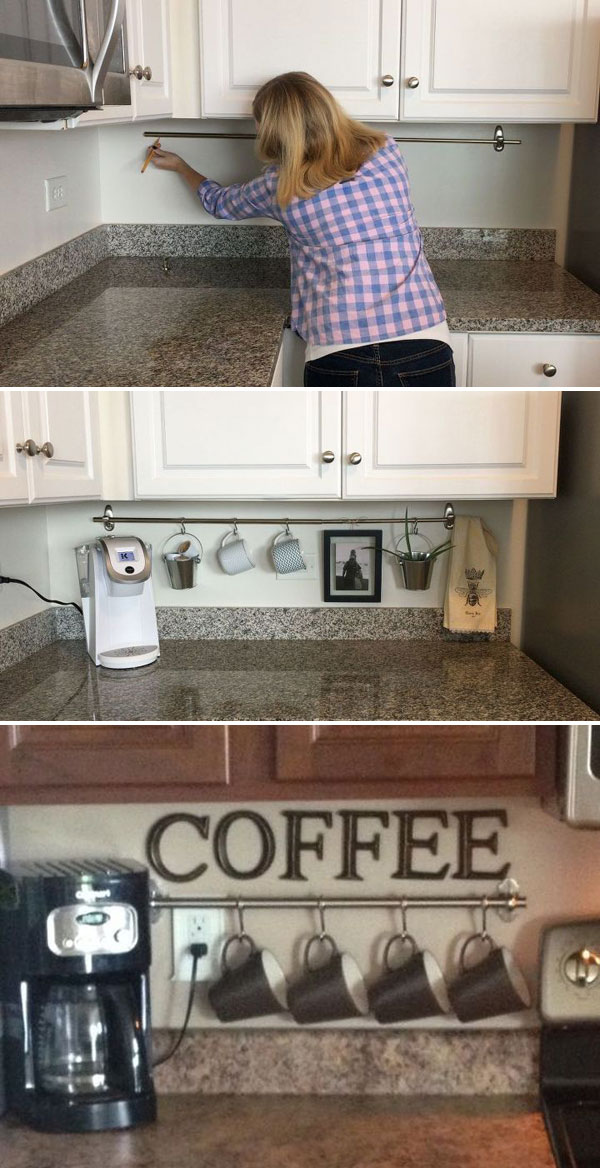 More details at: hometalk.com
#15. Mount an eccentric paper towel holder inside the kitchen cupboard near the sink. That makes it easy to tear off a sheet: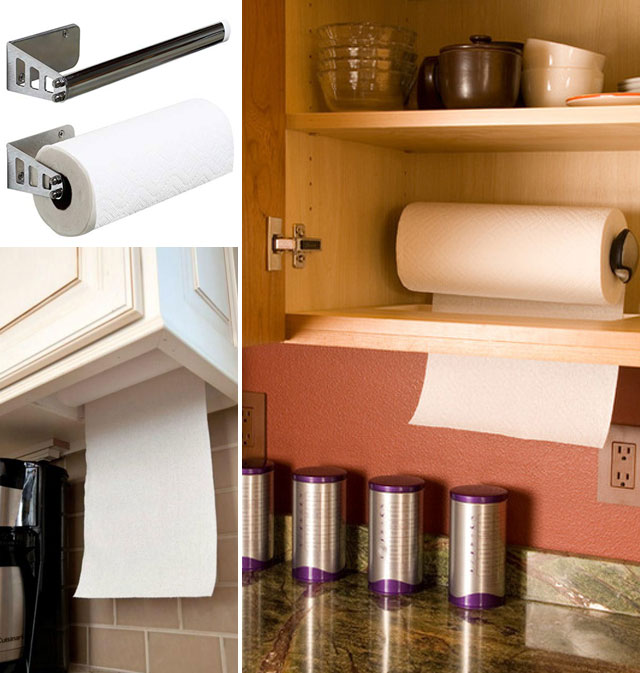 "Cut a slot in the bottom of the wall cabinet and pull the end of the roll through. Shut the door, and the roll is hidden, yet the end of the roll is easily grabbed"
Image via: cabinet-s-top.blogspot.com