17 Practical Tips to Easily Organize Your Baking Supplies
If you love to bake like me, do you always have trouble finding some little things that you need when you start baking, and cleaning your kitchen counter that has lots of cookie sheets and baking trays after baking? If your answer is YES, then you need some helpful and clever ways to organize your baking supplies. After being well organized, they will look tidy and will be easy to access at the time of need. Many of these baking supplies organizing ideas are easy, so sit back and have a look these little Baking Organizing Tips!
#1. Place acrylic container box inside of kitchen drawers to storage baking supplies.
In this way,
flour and sugar

can be scooped easily and measured with just a yank of the drawer.

Image Source: finecooking.com and finecooking.com
#2. Use different sizes of wire baskets in the drawer to store the baking tools.
Image Source: kimmccrary.blogspot.com
#3. Clean the cabinet and place the pot organizer to hold the baking dishes.
Image Source: porch.com
#4. Turn a thrift store magazine rack into a baking pans organizer to help keep the kitchen neat!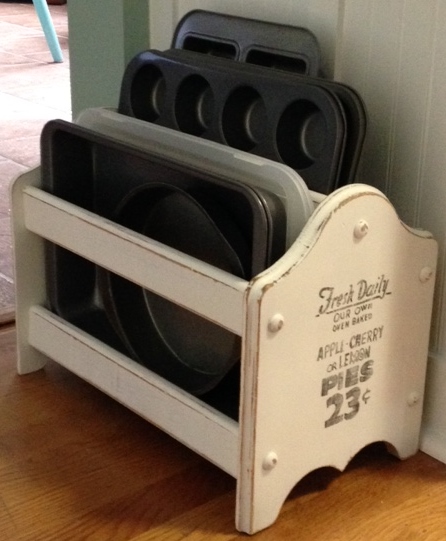 More details: cookiescraftsandchaos.com
#5. Do not waste space on the back of the cupboard door, which can be used to store measuring spoons and cups.
Check out the full instruction here: modishandmain.com
#6. Put all the cookie cutters, cupcake cases and piping tips or nozzles in a glass jar.

Image Source: designimprovised.com and alwaysacollector.com and thehowtohome.com
#7. Add vertical storage rack in the exist kitchen cabinet to hold your lots of baking pans.
"install strips of wood along the bottom and top and leave a space between them to slide dividers in and out of."
See the tutorial at: takingontoday.com Image Source: thekitchn.com
#8. Turn an IKEA or any other kitchen cart into a baking station.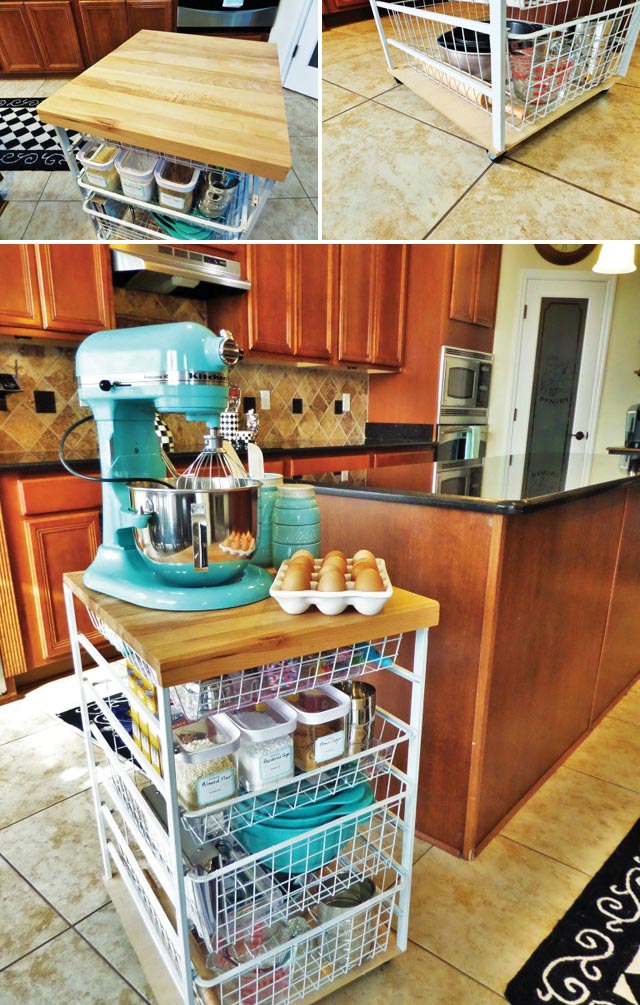 When you plan to bake, a mobile baking station makes it easy to get all the baking supplies.
Image Source: bemyguestwithdenise.com
#9. Build a pullout baking sheet drawer that help you easily access your baking supplies.
This project requires

a little woodworking skill

, and the crafter recommend using cabinet grade plywood because it is a stronger wood.
Get the full tutorial here: twofeetfirst.net Image Source: instagram.com
#10. Store your cupcake pans in this wicker basket. It works absolutely perfectly!
Image Source: iambaker.net
#11. Keep the baking supplies organized with these IKEA dry food containers.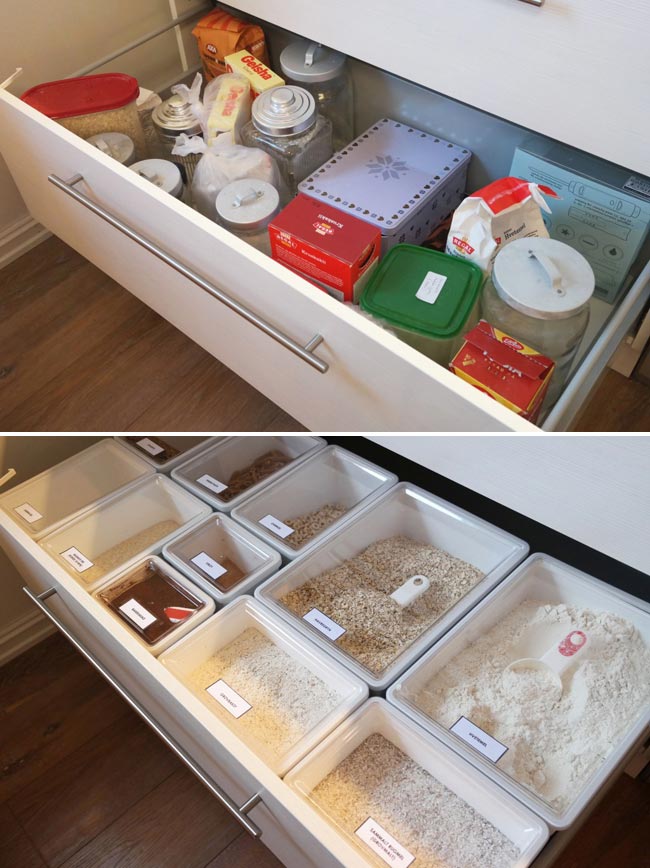 Print some simple labels, and then

write down what is inside the container

.
See the more details at: organzia.com
#12. Organize baking supplies using jars and give them adorable labels.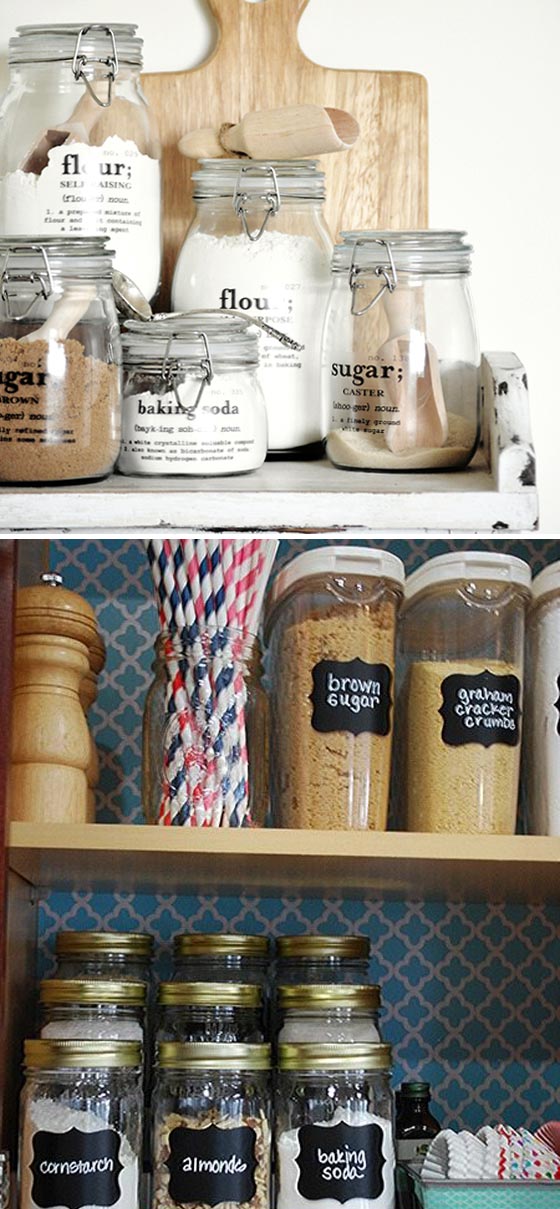 Labels

will let you never mix up your different flours or baking powders again.
Get the tutorial "Magic Decal Transfer Tutorial with Free Printables". Bottom Image Source: 11magnolialane.com
#13. Take full advantage of the vertical space in the cabinet by hanging measuring cups, measuring spoons, mixing bowls, KitchenAid mixer attachments, and other baking-related items on the key rails or command hooks.
See the more details at: twotwentyone.net
#14. Install the pegboard in the drawer and use the dowels to hold the baking utensils in place.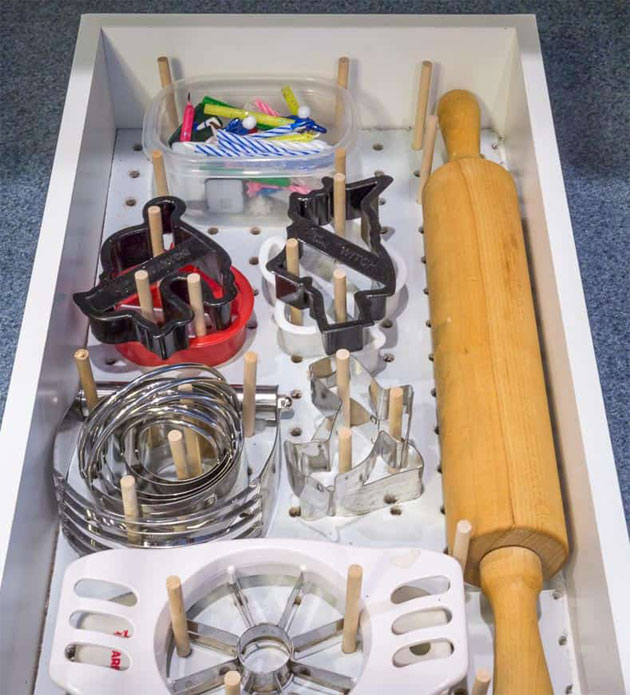 Get the full tutorial here: fromhousetohome.com
#15. A baking station that rolls out only when needed.
Image Source: finehomebuilding.com
#16. Turn a $50 bookcase into a very organized and functional baking station.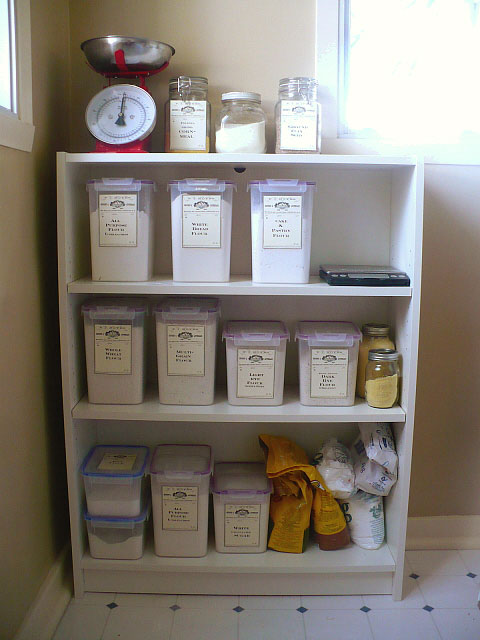 Image Source: clockworklemon.com
#17. Do not let the space of toe kicks go wasted, it can be used to build drawers for baking supplies storage.