Garden bed is not only a place for growing vegetables, fruits and other plants in your home's outdoor, it will also create beautiful landscape. If you need ideas to liven up your garden then creating a cool garden bed would be great. We thought of bringing you some ideas of round garden beds. A round garden bed is an excellent way to combine beauty with function while reducing labor. And more, the round garden bed enhance the landscape and is in view from every angle in the garden. There are a lot of ideas and many recycled things can be applied to the construction of round garden beds. Take a look and get inspired!
#1. Stack painted cinder blocks to create a colorful garden bed:
#2. Make Round Garden Beds In No Time with Bricks:
#3. Make a Garden Bed with Square Logs:
#4. Create a landscape accent around your garden tree trunks with stacked stones:
Source: woohome.com
#5. Transform a Metal Water Trough into a Raised Bed:
Source: houzz.com
#6. Recycle an old wagon wheel for a divided succulent or herb garden bed:
Source: growsonyou.com
#7. Create a keyhole garden that has a compost pile in the center:
How to build it visit here.
#8. Edging the garden bed with white pebbles:
#9. The ring and the circular garden bed landscape built with rocks:
#10. Make a cool bed with old painted tires:
#11. Grow the plants as the round garden bed edging: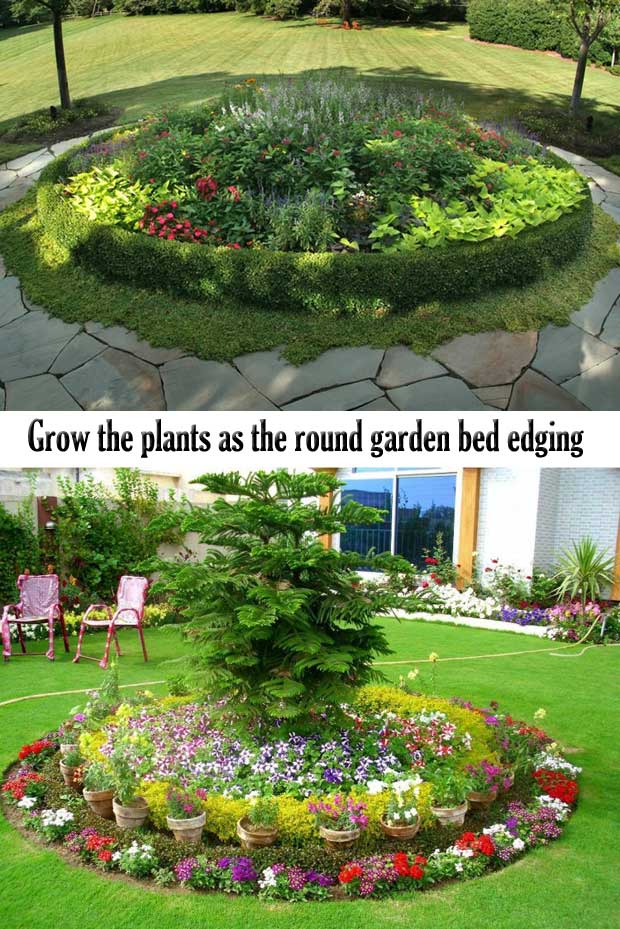 Source: landscapingnetwork.com
#12. Round raised beds built with tepee trellises:
#13. Turn the industrial steel pipes into incredible round garden beds:
#14. Flowers bed around mailbox:
#15. Woven Willow Beds Look Interesting As Well:
#16. Re-think giant concrete drain pipes into raised bed:
#17. Nice way to accent a tree with stacked stones:
#18. Circular flower bed from recycled bricks:
#19. Round raised garden bed by frame it all: