10 Exciting DIY Ideas to Build a Shady Space for Patio
In hot weather, are you planning to give up the outdoor time? The outdoor space soaked in the sun is really prohibitive. So you need a way out of the sun so that you and your family can still relax outdoors.
You can create a new structure or enhance an existing patio or pergola by adding a shade screen. In addition to turning your patio into a SHADY OASIS, they also enhance the curb appeal. If you use lattices to reach the shade, you will be shocked by them, as they cast delicately dappled light onto the outdoor living space beneath or behind. There are many examples like this… please take a look at below 10 cool ways we found how to CREATE A SHADY PATIO.
#1. LATTICE PANELS are great pergola canopy. Although they will not provide protection against rain, they look especially beautiful as the light effects created by sunlight are really amazing: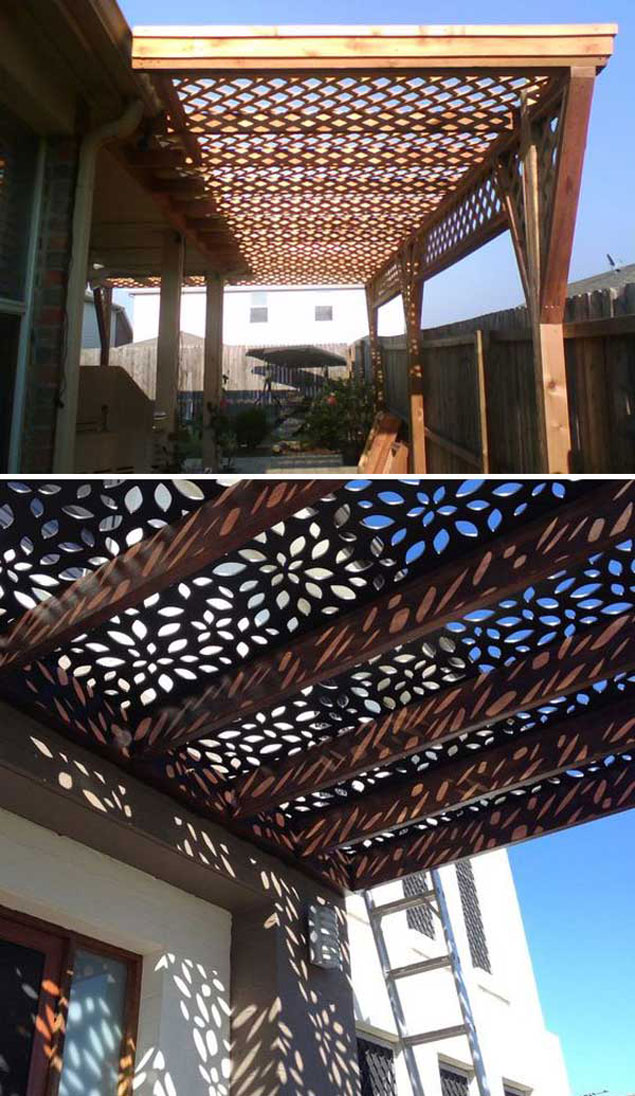 Image found on fencedeckdallas.com & deavita.net
ALSO READ: 27 DIY Backyard Projects For Summer Are Extremely Cool
#2. Hang Outdoor Curtains with String
If you're looking for a way to add extra shade to your pergola, outdoor curtains could be a great option! With some sturdy canvas tarps and a little DIY know-how, you can create attractive and affordable shades to keep you cool and comfortable in the heat. It's a natural and charming way to enhance your outdoor space and make it more functional. So why not give it a try and enjoy a shady oasis right in your own backyard? Via: centsationalstyle.com
#3. Add Some Charm to Your Outdoor Space with a Half Pergola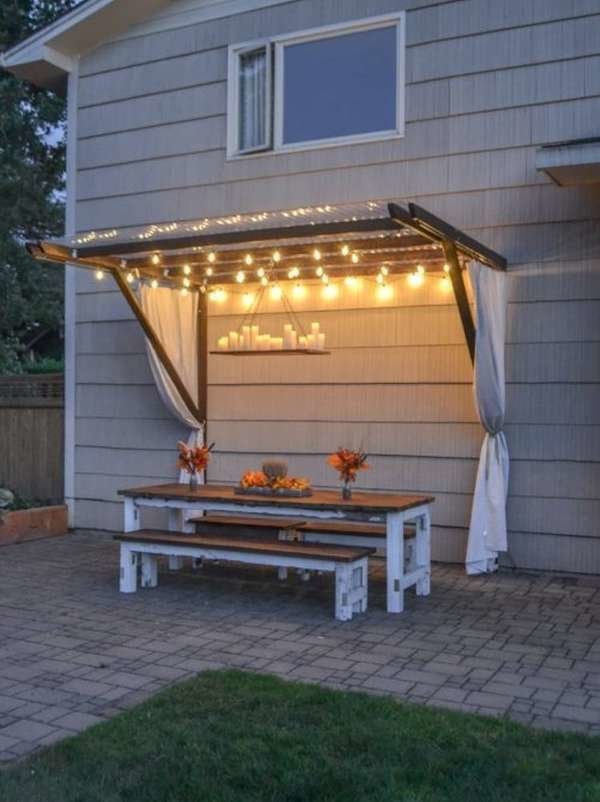 The Created Home has a wonderful DIY idea that shades just one corner of your outdoor space, creating a cozy and romantic setting for some mood lighting. Best of all, it won't break the bank! With a few simple materials and a little creativity, you can create a budget-friendly shade solution that enhances the beauty of your backyard.
#4. Create a Timeless Look in Your Outdoor Space with a Versatile Canopy
Stay cool on your patio with a classic and stylish outdoor canopy. These versatile shades not only offer much-needed protection from the sun, but they also add a touch of elegance to your outdoor space. Opt for a convertible canopy to have more control over the amount of sunlight you let in. With the ability to retract the roof, you can enjoy the sunshine when you want it and create shade when you need it.
#2. Rethink a TRAMPOLINE frame that can be used to build a backyard shady retreat:
Image via: kriselkeeper.wordpress.com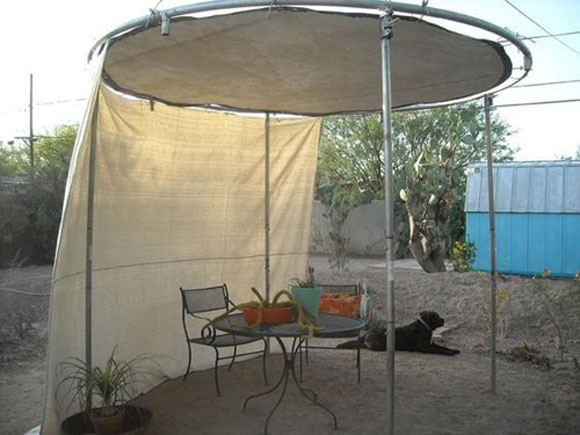 ALSO READ: Top 21 Easy and Fun Ideas with Glowing Sticks
#3. Training VINES to climb the center pole to get a free tree umbrella: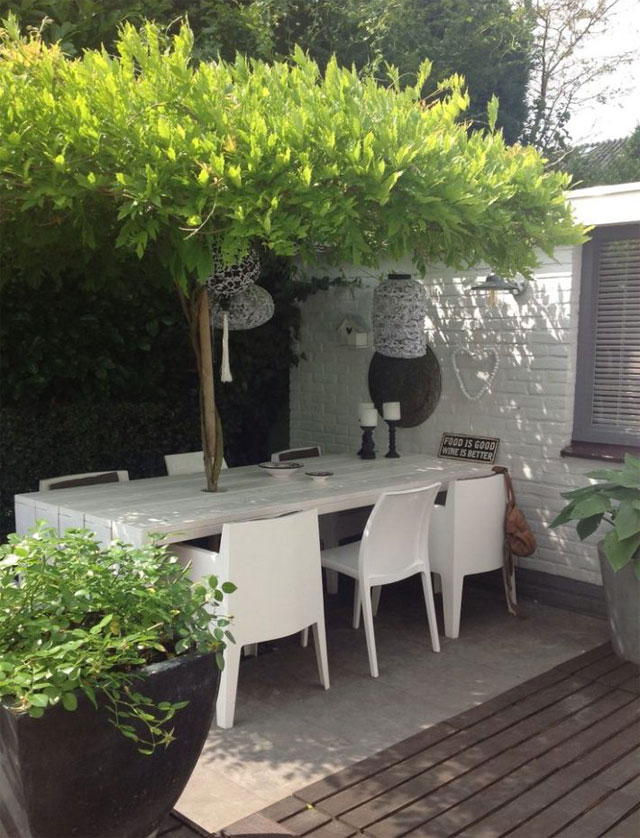 Image found on thevintiqueobject.blogspot.ro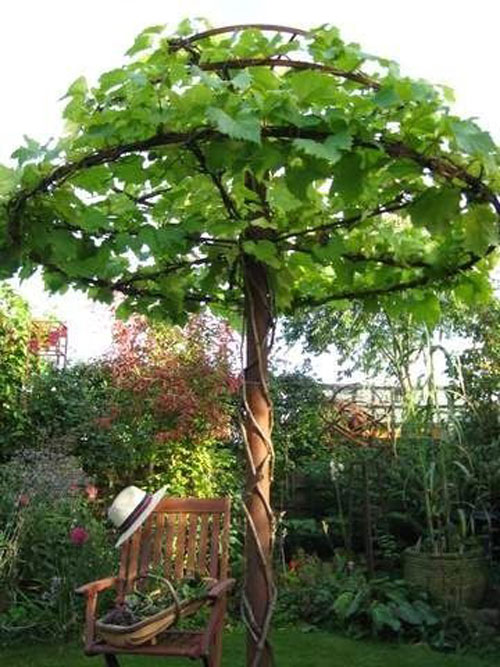 Image found on favoritephotoz.blogspot.com
There are so many climbing plants that can be guided over a pergola to get a welcome shade in warm weather. Check Out 8 CLIMBING PLANTS perfect for pergola:
#4. A SHADE SAIL CANOPY easily provides cool patio space with a beautiful look. To build it, just need three points up to four to secure the shade. Cup hooks and S hooks are also easy to get:
More details at: zodirowe.blogspot.com Image via: houzz.com
#5. Build a SLIDE-ON WIRE HUNG CANOPY for your backyard wooden pergola. Slide the roof closed to create a shady retreat; open it to let in the sun or gaze at the stars: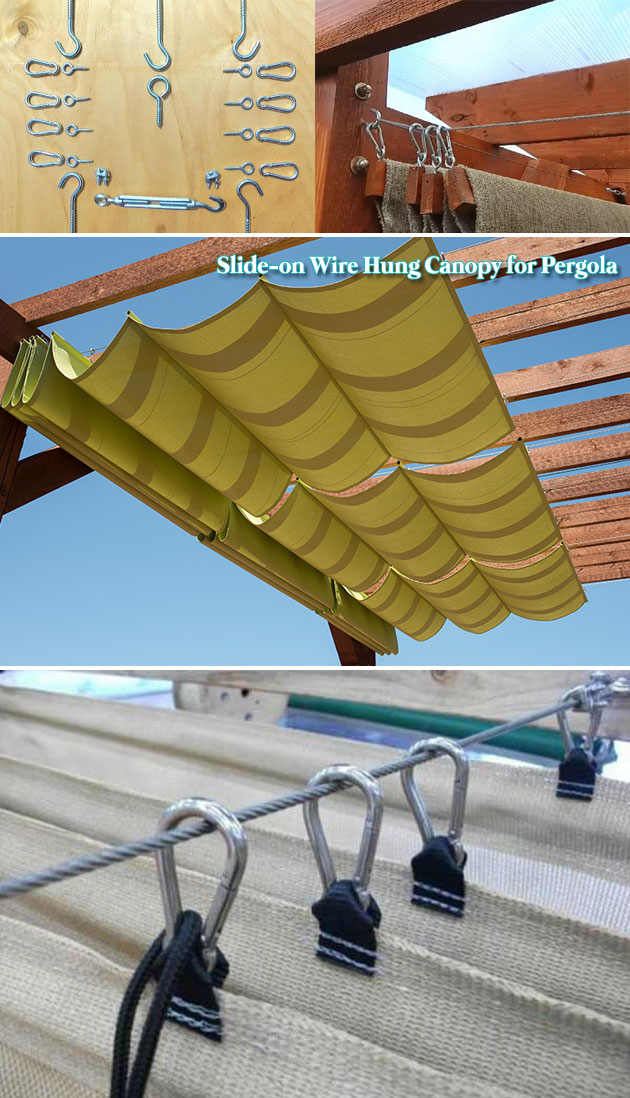 For above projects: On Sailrite, they have a VIDEO that allows you learn how to sew stainless steel spring snap hooks onto the fabric, and work with the wire ropes to make this retractable awnings.
Another method is to use the CURTAIN TRACK SET to install the retractable canopy: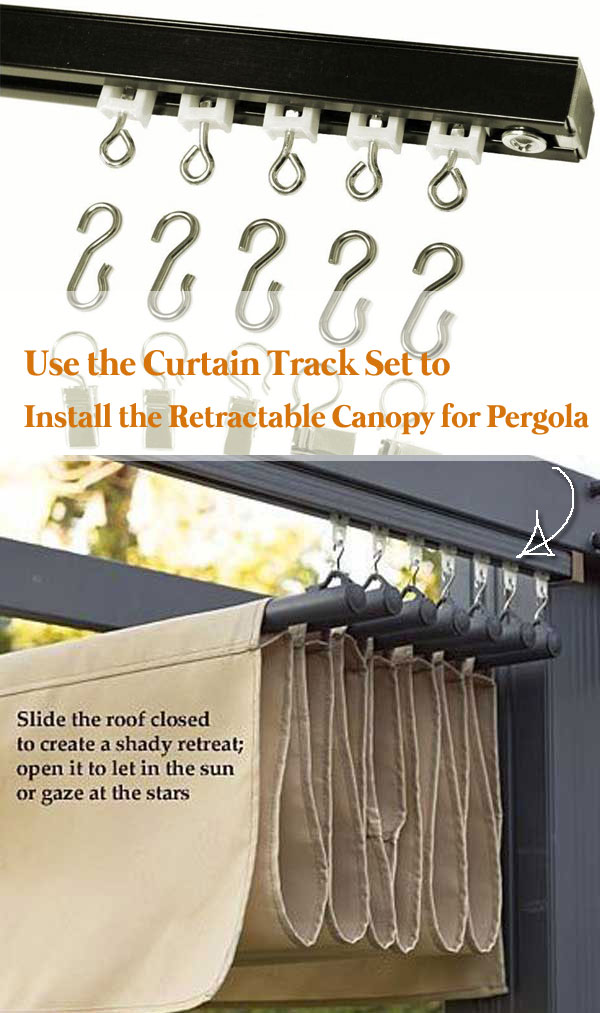 #6. A patio or deck with colorful fabric awning will keep the sunlight away with style: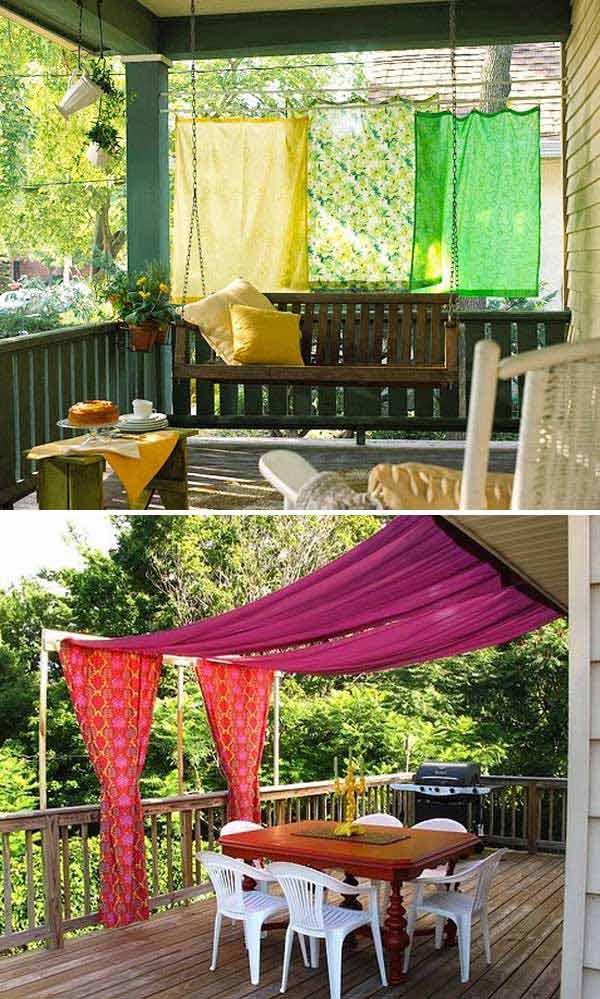 Image via: soulouposeto.gr
#7. Vines climb up the LATTICE created by STEEL CABLES AND NETS to form a natural green screen. The cool winds will get into the room by cool effect of nature, when there is a green screen in summer:
Found on archdaily.com
#8. The REBAR POSTS are used to support the ARCH shaped PVC pipe sunshade. This is a very flexible method, because you can set it almost anywhere in the backyard, including the kid's sandbox:
myhappycrazylife and thekreativelife.com provide the full instructions on how to create PVC pipe canopy.
#9. Build a metal frame structure attached to your patio, then use BAMBOO BLINDS as the roof. It is a brilliant way to add a mediterranean feel to your space: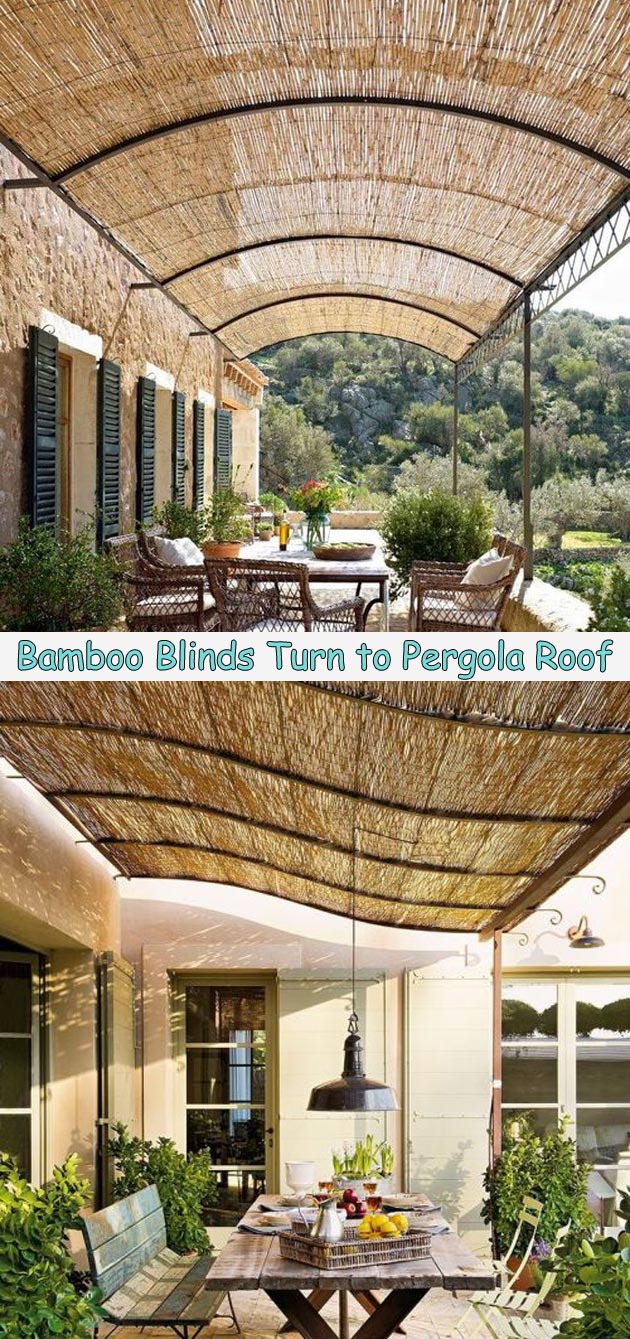 Image via: WooHome
#10. If you don't have a FRAME, PORCH OR DECK already in place, you can still create an AWNING by using part of the house to secure it:
Image via: decoratedlife.com Similar instructions: ronhazelton.com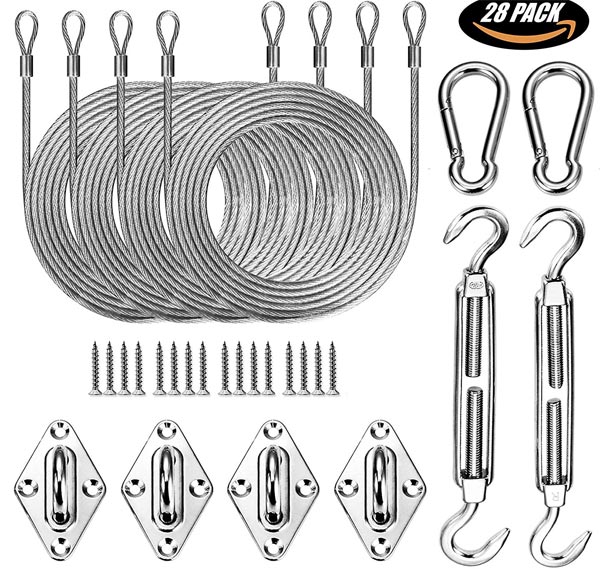 (This hardware kit has almost everything you need to create your own sliding awning with shade sail.

Make sure your shade sail has grommets or your fabric can tear and ruin your awning. Its inexpensive and available at almost any hardware store.) You can get from amazon.