Are you a big fan of glow sticks? Glowing sticks in the dark of the night fascinates us all. Maybe you have know some usual uses of glow sticks, but there are a lot of different, fun and unexpected ways you didn't know before.  From kid's crafts to diy game stuff and party decor, they are tons of fun. Here we have gathered the best 21 easy and fun tricks to use them. Take a look at these ideas, then grab your sticks and throw your glowing pool party…
#1. Glow in the Dark Easter Egg Hunt.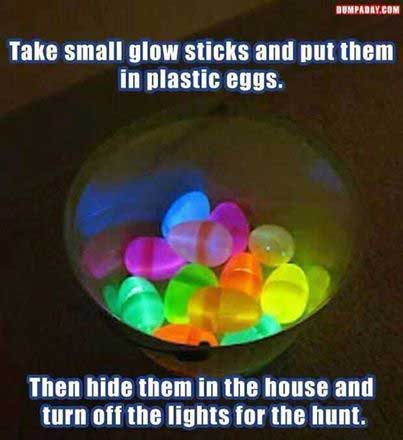 Source Unknown.
#2. Ninja Turtle Watermelon-O-Lanterns
Image via: imgur.com
#3. Put them in a cooler for easy drink grabbing without needing a flashlight.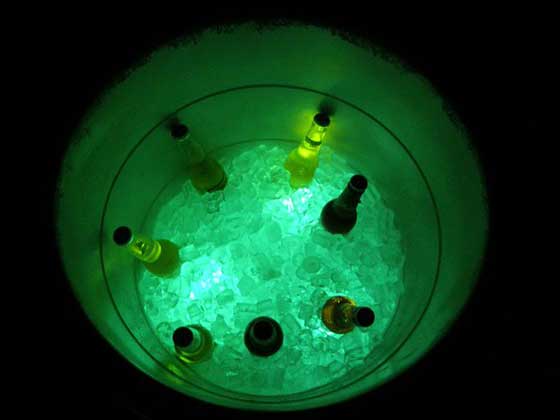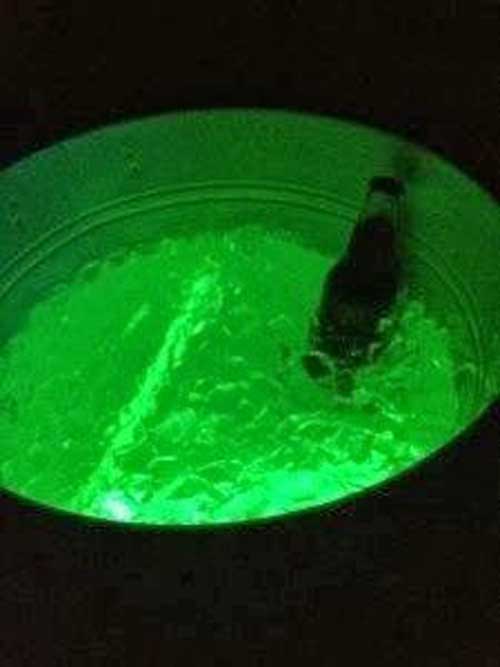 Source Unknown.
#4. Creepy floating hands can be great decorations for Halloween.
Image via: flickr.com
#5. Toss them into the tub to make bath time more funny.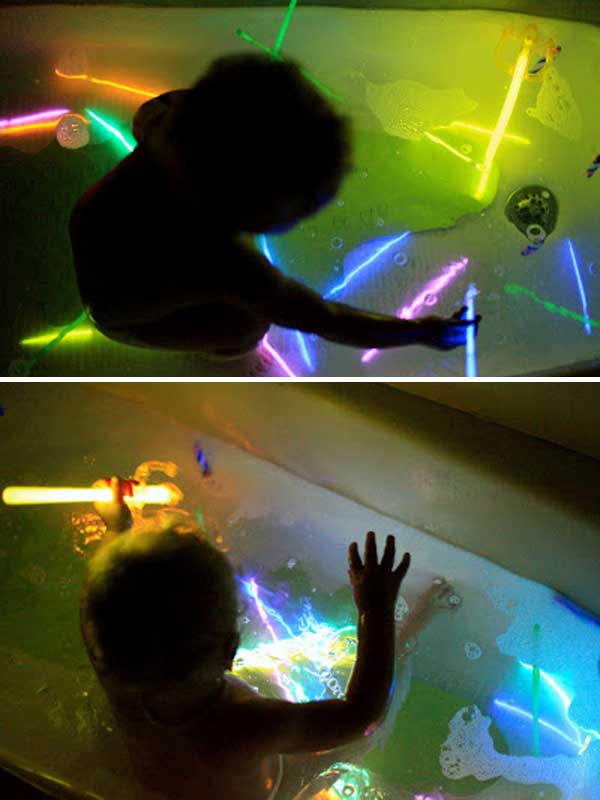 Image via: racheldomesticated.com
#6. Wrap cotton candy around it.
Image via: amazon.com
#7. Play a nighttime ring toss game.
Source Unknown.
#8. Glowing balloons let guests know where the party is.
Source Unknown.
#9. Add them into the bottles of water to continue your bowling exercise at night.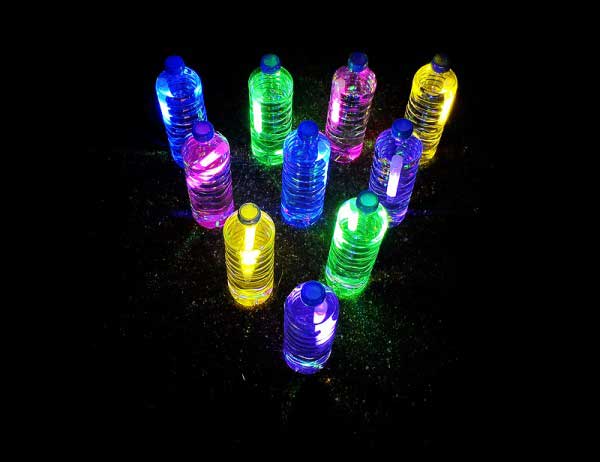 Image via: craftsbyamanda.com
#10. All the kids love playing on the water blob with glowing sticks.
Get Tutorial here: lifewithmoorebabies.blogspot.com
#11. So cool glow in the dark drinks.
Get Tutorial here: (1)cometogetherkids.com     (2)mommysavers.com
#12. How about a glow stick chandelier?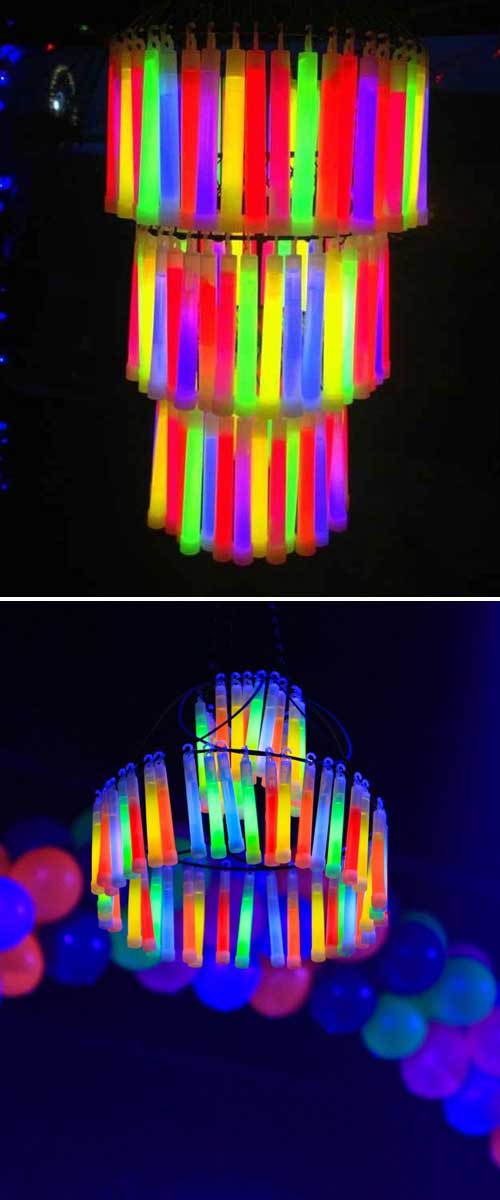 Source Unknown.
#13. Make a glowing fairy jar with glowing sticks and a piece of tulle.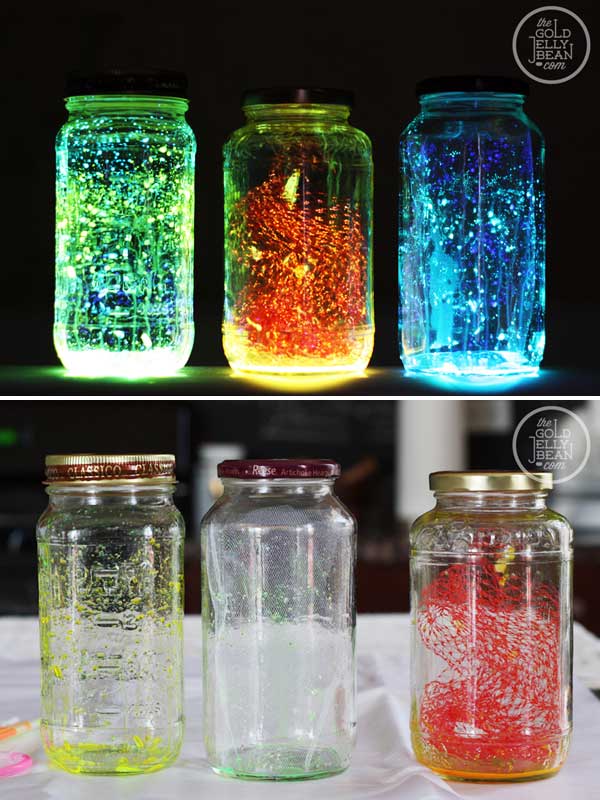 Get Tutorial here: thegoldjellybean.com
#14. Host a nighttime dinner party.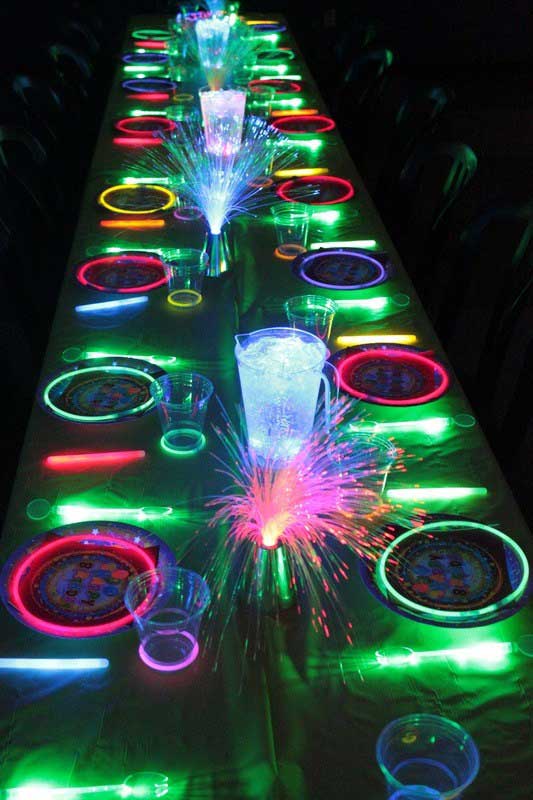 Image via: blovelyevents.com
#15. Create glow words and phrases on the outside wall of house.
Get Tutorial here: smileandwave.typepad.com
#16. Put them in balloons to jazz your party.
Get Tutorial here: kiwicrate.com
#17. How about a glowing pool party this summer?
Image via: activedark.com
#18. Tape glow sticks to ceiling fan.
Source Unknown.
#19. Play a glowing tic tac toe game in the dark.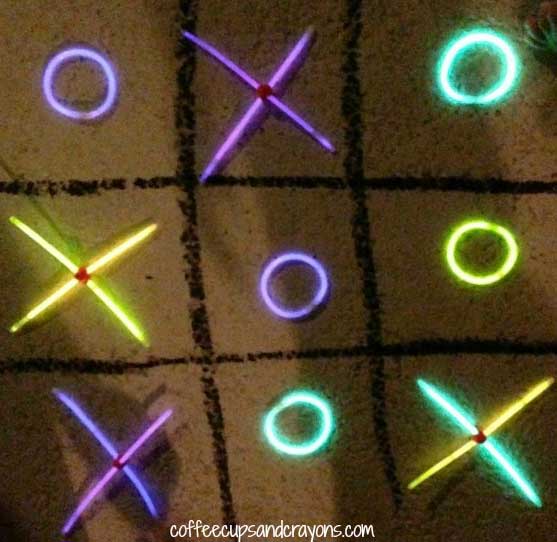 Image via: coffeecupsandcrayons.com
#20. How cool idea to make glow in the dark sprinklers.
Get Tutorial here: thepinklab.blogspot.com
#21. Use toilet paper rolls and glow sticks to make terrifying glowing eyes.