Storing fresh produce correctly and safely is also a great way to save your money and food. Tomatoes, potatoes, garlic, onions and other non-refrigerated foods if stored properly can last many days. There are a lot of creative and useful DIY produce storage ideas that you can do yourself on a budget. A little creativity and some scrap materials are all you need. You can make vegetable stand, wooden crate drawers and even some hanging wall baskets for produce storage.
#1. Built-in vegetable storage to keep non refrigerator veggies safe from pets.
Source: kitchendesigns.com
#2. Paint an old blanket rack and then add some wire baskets to turn it into a farmhouse vegetable stand.
Tutorial at: redoityourselfinspirations.blogspot.com
#3. Hang some wire baskets on a rod that fixed on the kitchen backsplash.
Source: thekitchn.com
#4. Potato, onion, bread storage cabinet at the end of the cabinet.
Source Unknown.
#5. Use reclaimed wood and baskets to create the wall storage of fresh produce.
Source: facebook.com
#6. Add farmhouse style to kitchen by replacing cabinet drawers with these old wooden crates.
Source: apartmenttherapy.com
#7. Kitchen island with pantry storage.
Tutorial at: mylove2create.com
#8. Attach wire baskets to the side of kitchen wall or cabinet.
Source: instagram.com  &  livejournal.com
#9. Build a multi-layer shelf as produce storage.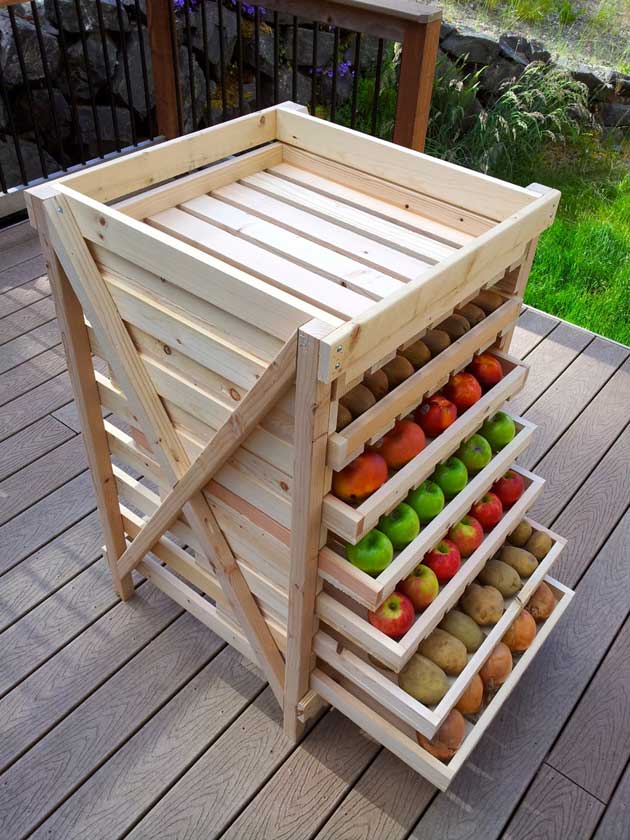 Source: fordiyers.com
#10. Woven baskets fixed in wooden frames.
Source: houzz.com    Source: houzz.com
#11. Ventilated drawer to store non-refrigerated foods (tomatoes, potatoes, garlic, onions).
Source: byyourhands.blogspot.com
12. Build a produce storage stand with reclaimed wood and some woven baskets.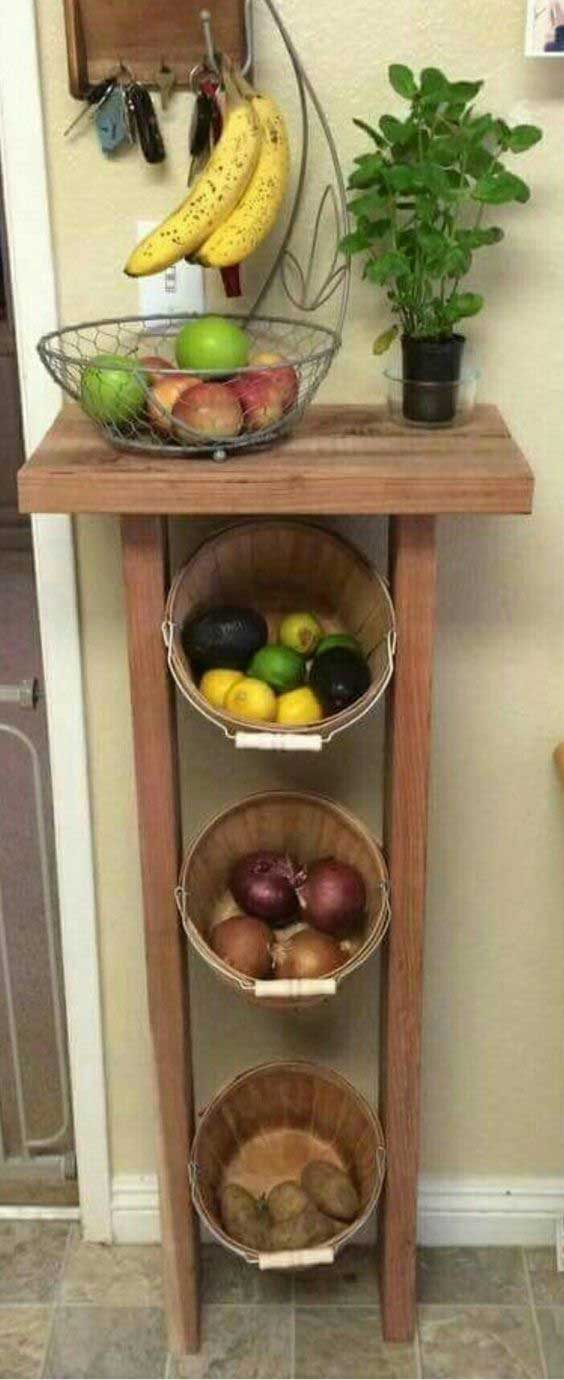 Source Unknown.
#13. DIY Stackable Produce Crates
Tutorial at: thewoodgraincottage.com
#14. Add Baskets to an Old Ladder.
Source: instagram.com
#15. DIY Multi-Tier Wood Produce Stand
Tutorial at: kj.com    Source: littlepieceofme.com