Do you agree that the main fun of the biggest spooky holiday is not only the day of the actual Halloween, but all the process of preparing the decorations for home and yard? Besides the interior decor of holiday, you do not ignor your house exterior, since it will help you to create a perfect ambience on Halloween and amaze all those who passby your house. October is the perfect time for fabulous halloween outdoor decor when the nights are long and dark, but you can also prepare them in advance.
If you haven't decide yet how to decorate your home's outdoor then here's ideas can be very useful and interesting for you. These DIY projects we've gathered will turn your garden, yard or front porch into an exquisitely enchanting and spooky landscape this Halloween, just have a look below! You can decorate your outdoor space with ghosts, zombies, scarecrows, bats, black crows, skeletons, witches, lanterns, wreath, spiders and more…
#1. Artificial spider and tombstones turn the yard into a graveyard.
Source: avso.org
#2. Ghost made from clear packing tape.
Source Unknown.
#3. Arch of Terrifying Pumpkins.
How to create it: crazicarlos.blogspot.com
#4. Add these frightening hanging spider sacks to creep out the night-time visitors.
Source Unknown.
#5. Light up any spooky corner of your yard with these glowing glass luminaries.
How to make it: craftsbyamanda.com
#6. Haunting hooded ghouls created from pieces of wood, a metal pole and some chicken wire.
Source: flickr.com
#7. Decorate your front door with a scary grapevine wreath, pumpkin pillars and a pair of jack-o'-luminaries.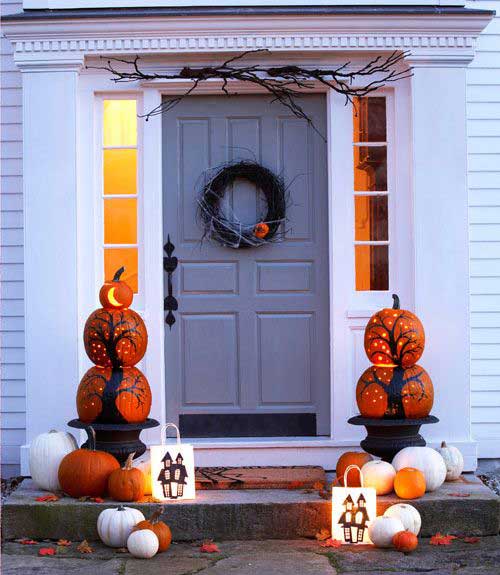 Source: goodhousekeeping.com
#8. Take some burlap, chicken wire, skeleton hands and a convincing styrofoam stone to create this grim warning.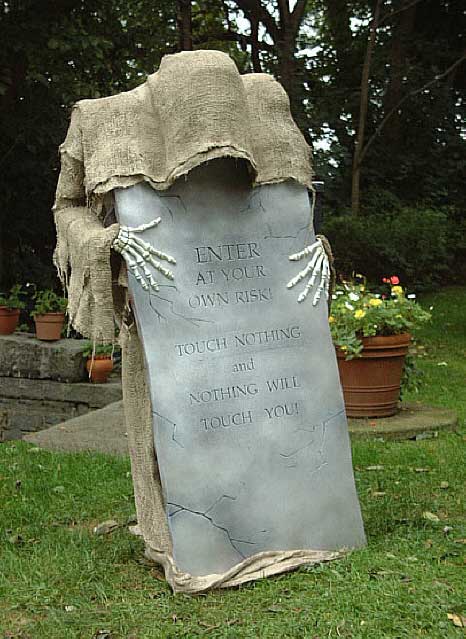 Source: fulcrumsites.com
#9. Shuddersome Spider Webs
Source: apartmenttherapy.com
#10. Save a bloody hand print or blood-scrawled messages on the window of your front door.
Source Unknown.
#11. This bloody footprints runner will create the illusion of a murderous scene inside the front door.
Source: partycheap.com
#12. Scare your guests with a coffin made out of pallets.
Source: pandashouse.com
#13. Give your visitors the scare with one of these arched black cats in the walkway.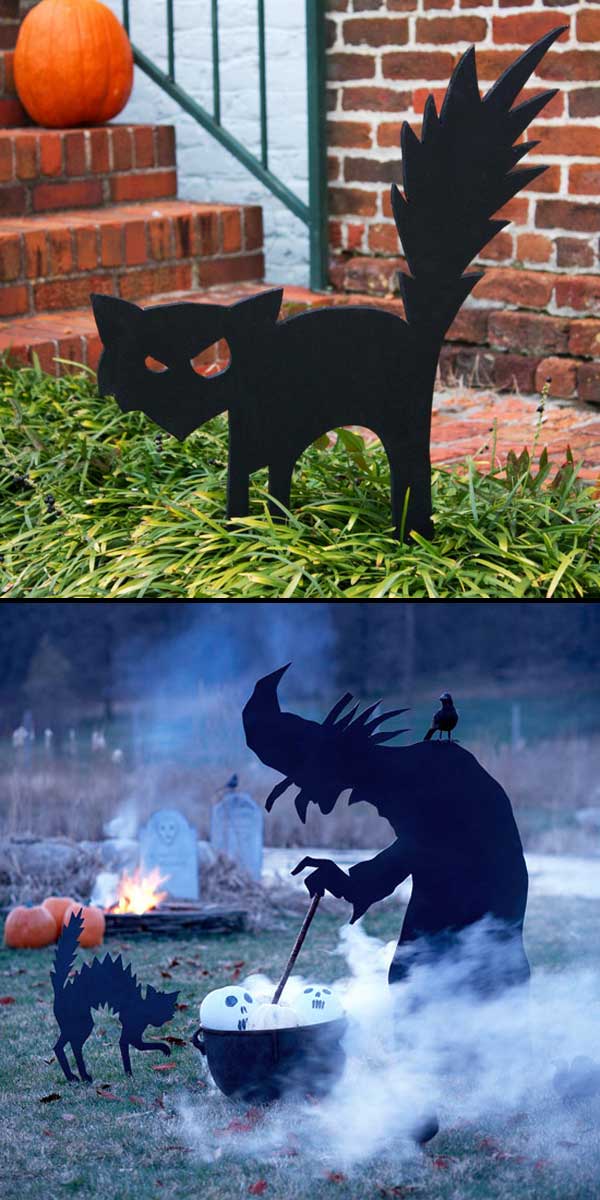 How to make it: hgtv.com & bhg.com
#14. These hanging ghosts can be created from simple materials (such as a styrofoam ball, a blank marker and some cheesecloth) and easy steps.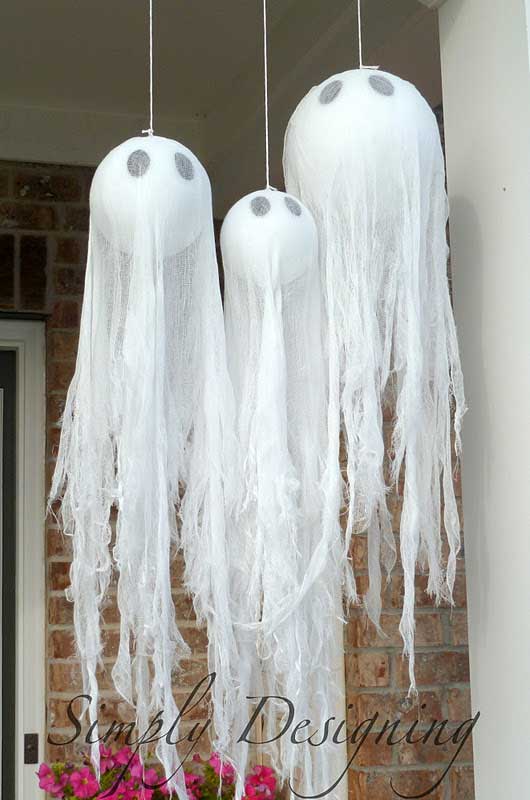 How to make it: simplydesigning.porch.com
#15. Place a lighted pumpkin head on top of a tall post covered in black gauze material to make this creepy pumpkin scarecrow.
Source Unknown.
#16. Take use of reclaimed wooden boards to board up your exterior windows.
Source: WooHome.com
#17. Scare your guests with a creepy wreath. You can replace skull cutout with other thing like a pumpkin.
How to create it: creativemeinspiredyou.com
#18. The Walking Dead inspired Halloween pallet project.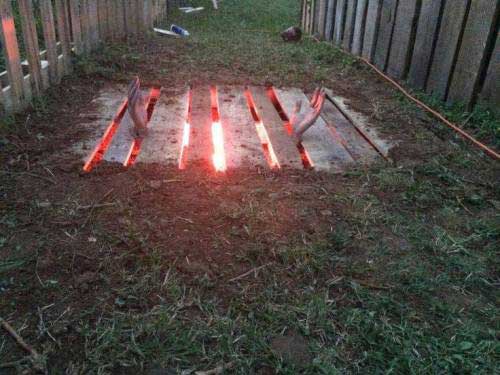 Source: boogedyboogedyboo.tumblr.com
#19. Creepy looking arm will startle those people who pass your house.
How to build it: allyou.com
#20. Make a steaming and bubbling witches cauldron this Halloween.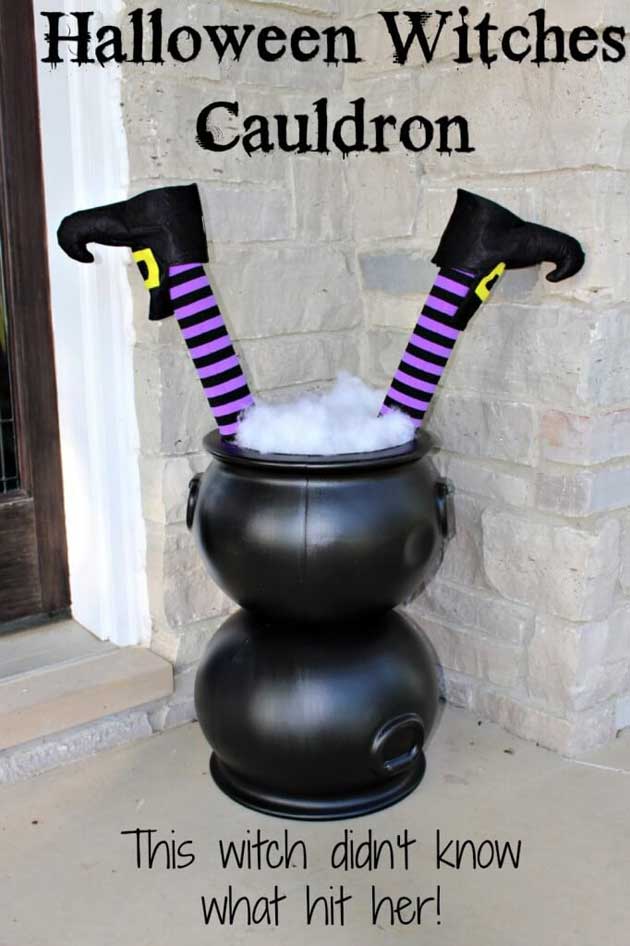 How to create it: princesspinkygirl.com
#21. Fairy tree house sure to be a whimsical and magical decoration for this year's Halloween.
Source Unknown.
#22. Some black material under the drop cloths create the effect of the faceless ghosts "floating" in low light.
How to make it: grimhollowhaunt.blogspot.com
#23. Tomato Cage Ghosts can make a great form for some amazing Halloween yard decorations.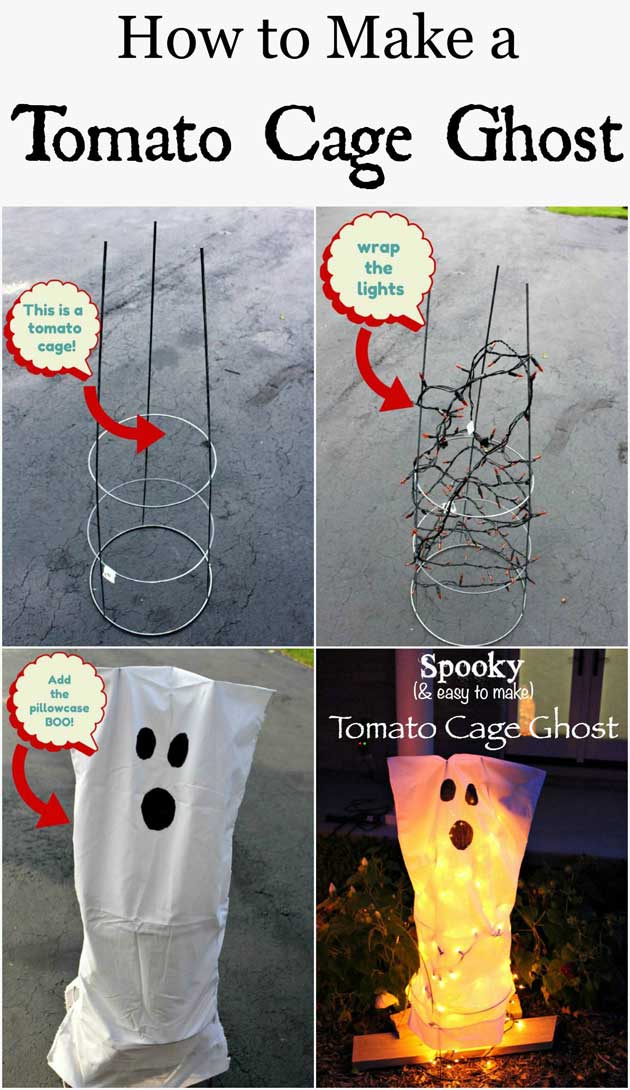 How to create it: princesspinkygirl.com
#24. Giant Spider in Spiderweb for Your Hallowen Yard.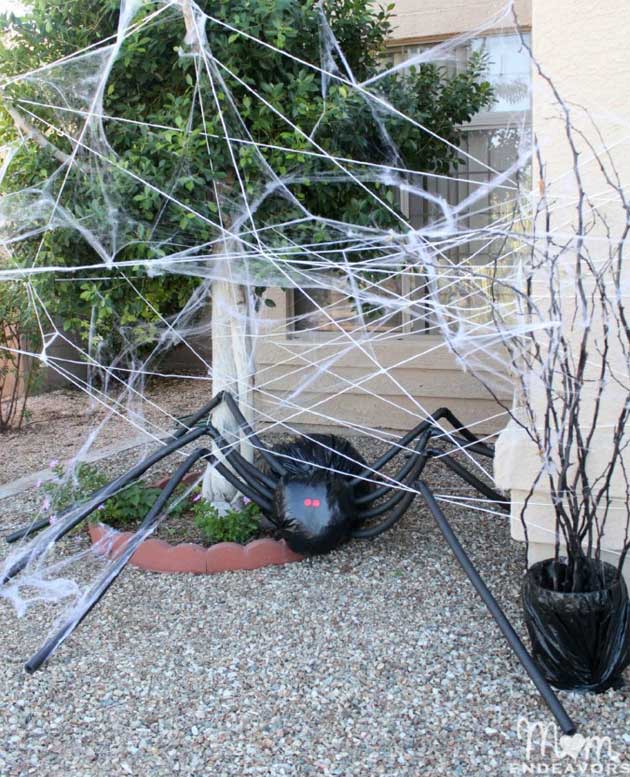 How to make it: momendeavors.com
#25. This wheelbarrow carring lots of bones can help bring a bone-chilling cemetery right outside your house.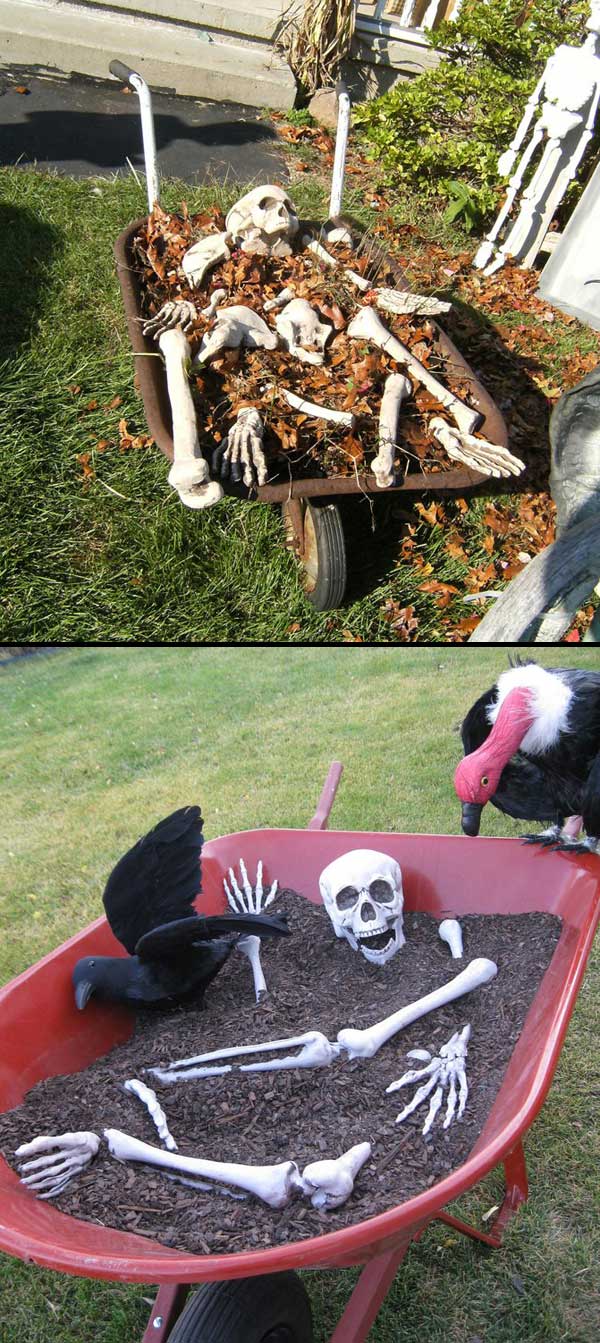 Source: countryfair-joanne.blogspot.sk
#26. DIY yard sign as well as sporting two freaky jack-o-lanterns takes your outdoor Halloween decoration to the next level.
How to build it: birdsandsoap.com
#27. Balloon Spider Web

Get Great Tutorial at: youtube.com
#28. Front door Halloween using unbleached cheese cloth.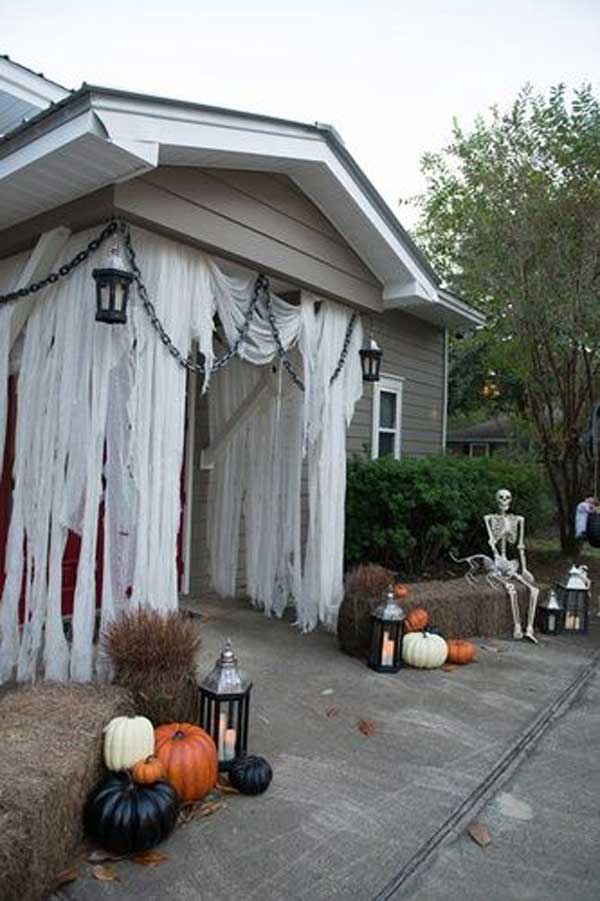 Source: halloweenforum.com
#29. Fill the trash bags with leaves and then decorate them with black or yellow eyes to make some fun looking ghosts scattered throughout the yard.
Source: our-everyday-art.com
#30. Glow in the Dark Vinyl Pumpkins.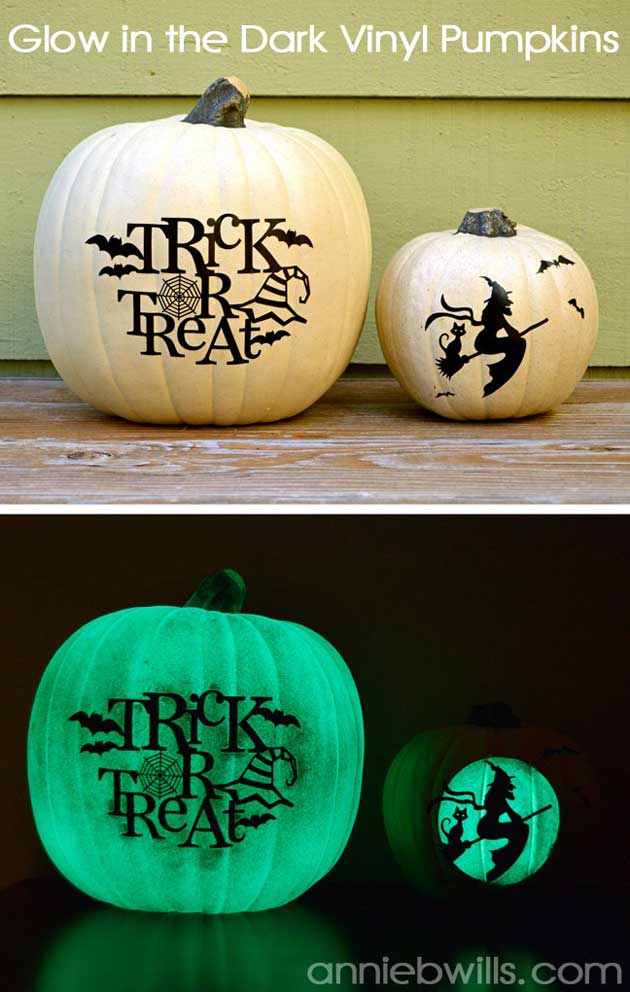 How to make it: anniebwills.com
#31. Grab a dollar store fake hand and a DIY sign to make this creepy yard decoration.
Source: simplemadepretty.com
#32. Chicken wire and cheesecloth can be made this huge and scary ghost added to your yard.
How to create it: diyshowoff.com
#33. Take some paper towel tubes and led tealights to create these creepy floating candles.
Source: livemaster.ru
#34. These spooky corn husk witch brooms are perfect to enlighten your front porch in the festive spirit.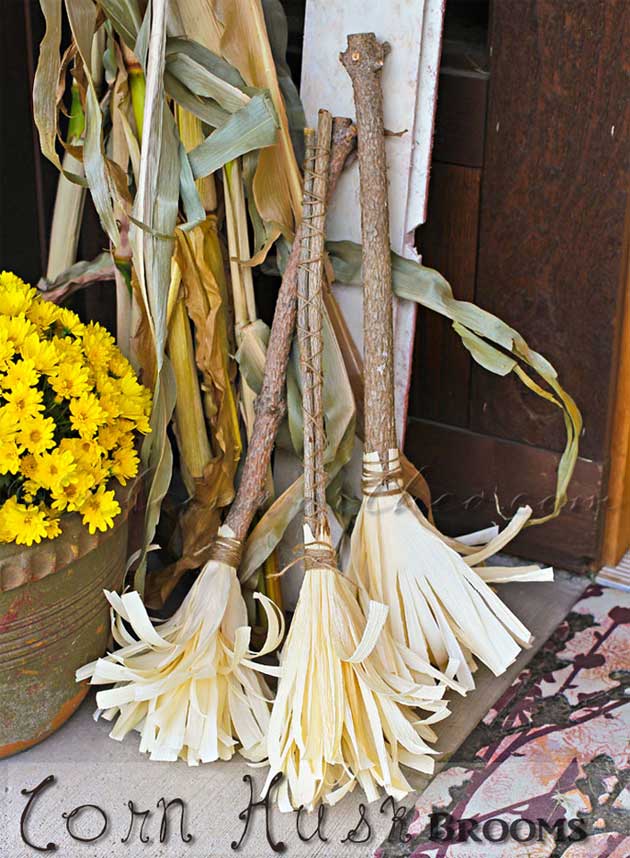 How to create it: kleinworthco.com
#35. Black plastic cut in strips and pulled to create these awesome strands to hang all over the porch.
Source: photos-ramblingsofrorikochphotography.blogspot.com
#36. A life-size spider victim on a tree will scare off the night-time visitors.
How to make it: instructables.com
#37. Spine-chilling Pumpkin Scarecrow
Source: flickr.com
#38. Horrify everyone who passes by your house with a truly easy-to-make chicken wire ghost.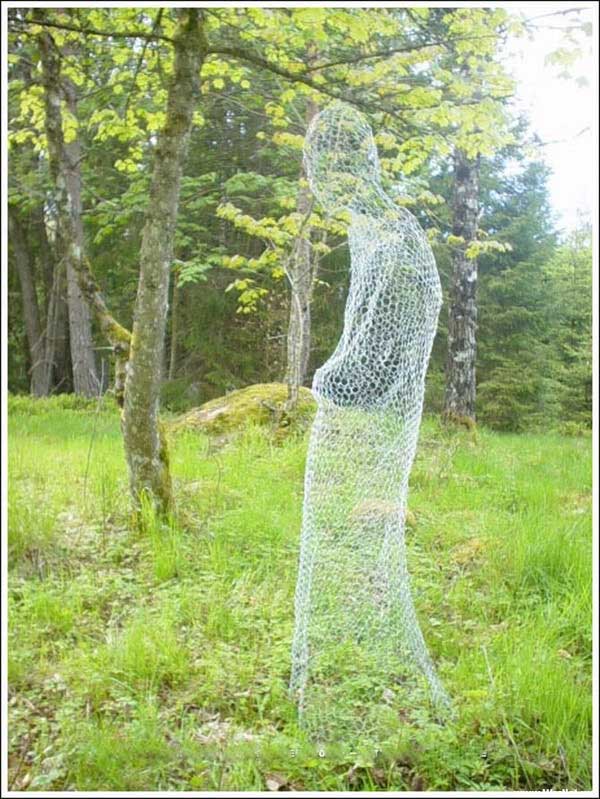 Source Unknown.
#39. Hang skull ghosts from your front porch to spooky up your Halloween visitors.
How to create it: housefulofhandmade.com
#40. Witches cauldron, hanging luminaries, some Jack O'Lanterns and a few menacing witches, this brewing setup is an absolutely amazing Halloween yard decor.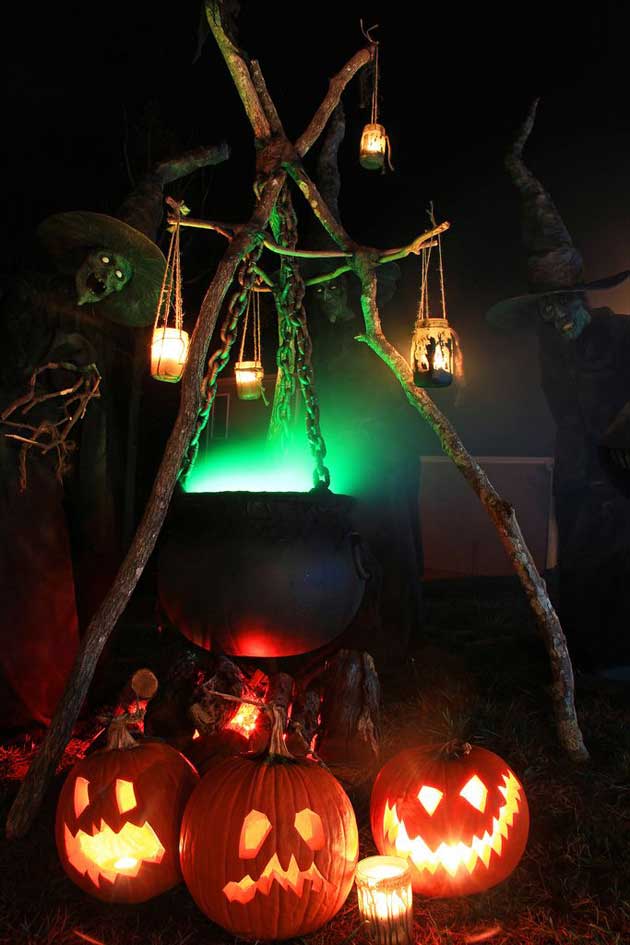 Source: grimhollowhaunt.blogspot.hu
#41. Taking some old cardboard boxes, black paint and a bit little of your creativity you can turn your entryway into a creepy cemetery entrance.
Source: pinterest.com
#46. Transform some cheap plastic drop cloths into these creepy ghosts.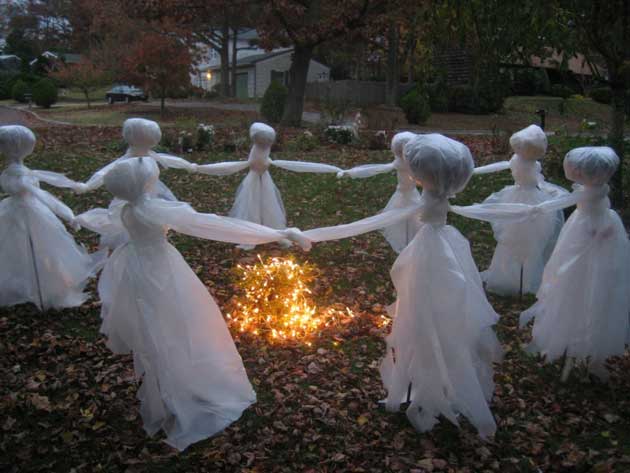 How to make it: pinkpixieforest.blogspot.com