Add Spooky Touch to Porch this Halloween
Halloween is soon going to arrive and it is the time to bring Halloween spirit to your home. If you want to really pull off a best Halloween ambiance without big budget, then you ought to create a nice Halloween porch. The porch is a perfect spot to create a fun and spooky setting for the upcoming Halloween. So, you can concentrate your firepower on porch to surprise your guests and make your neighbors jealous. There are so many different ways you can decorate for Halloween porch – cute, creepy, scary, or spooky. No matter which way you go, you can show off your creativity. We have gathered a bunch of amazing ideas that might inspire you and provide you with cool and interesting ideas that will help you to decorate your porch. Have a look!
#1. Arrange Fall mums and pumpkins on the steps, and hang some painted paper lanterns for a little bit of character: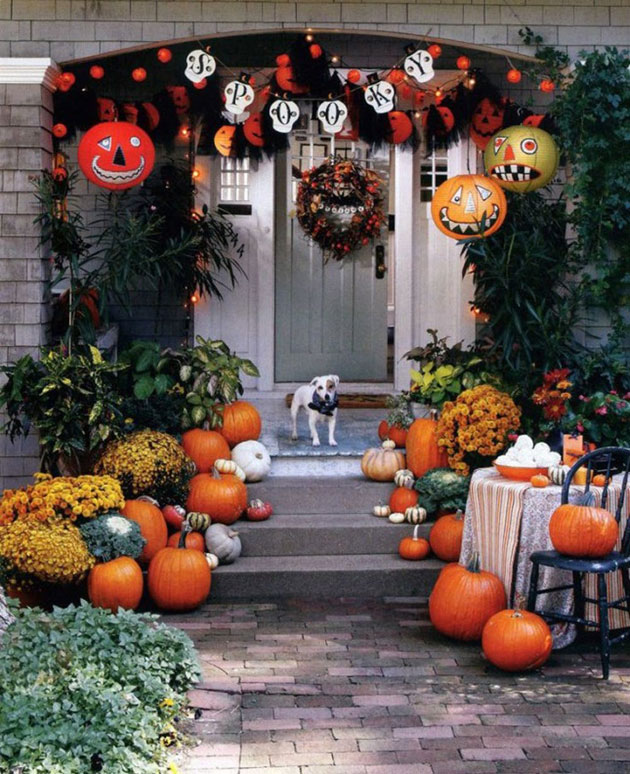 #2. Add tons of orange and black lights and some eyeballs and skulls to the dead branches:
#3. Winding vines, black wreaths and gourd ghosts create a creepy front porch scene:
#4. Place the dried corn stalks on either side of the door, and then add the black birds to the vines wrapped around the wall:
#5. Porch garlands for Halloween are decorated with black tulle, paper lanterns and a string of lights:
Source: labohememagique.blogspot.com
#6. Assemble a lot of faux ravens on your fence and door of front yard to create a scary scene:
Source: bhg.com
#7. White pumpkins, black crows on dead branches and tombstones, these Halloween decorations will be terrible if you add fog to the porch: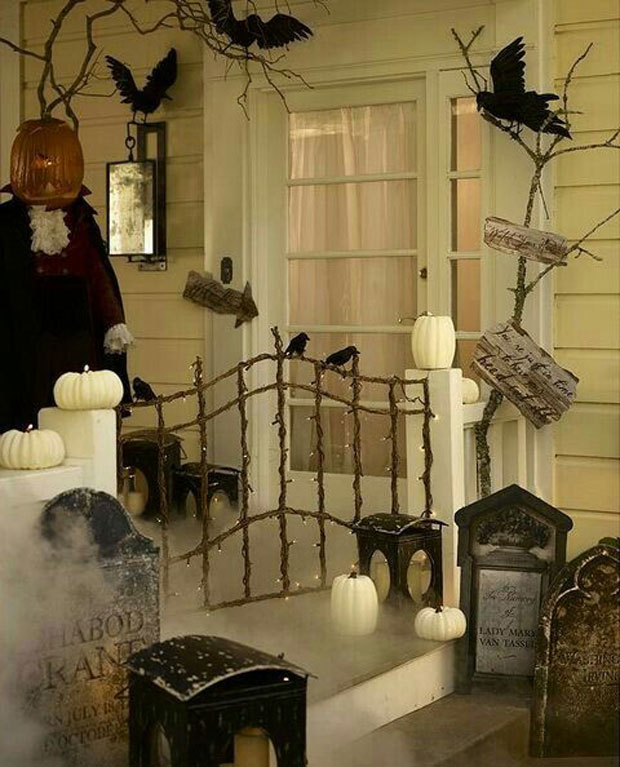 Source: dekorella.hu
#8. Fabulous Halloween lighting decor for your entry, such as amazing jack O' lanterns, hanging bat lanterns, etc:
#9. Make spider web with rope and throw a spider on it:
#10. Take a few bare branches from your yard, then let a pair of wide-eyed owls stand on them to guard the front door: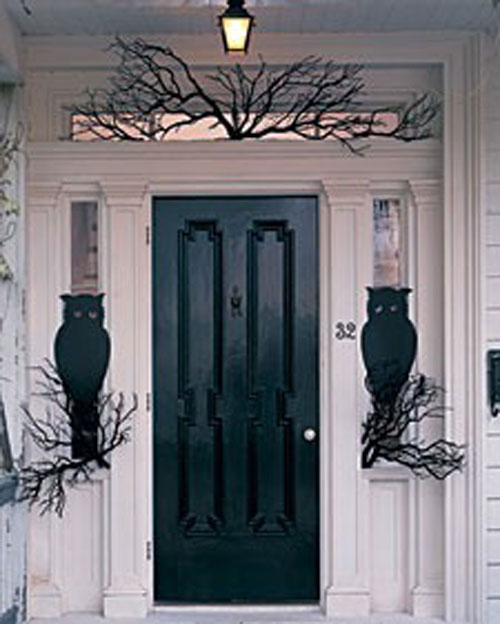 Source: prepinthemidwest.tumblr.com
#11. Simple but classic Halloween decor with paper bats for your front door:
Source: itallstartedwithpaint.com
#12. Artificial spider and tombstones turn the yard into a graveyard:
Source: avso.org
#13. Turn the front door into a scene of a dead tree, with broken cheesecloth decor:
#14. Taking some old cardboard boxes, black paint and a bit little of your creativity you can turn your entryway into a creepy cemetery entrance:
#15. Build these framed grave from recycled wooden board in the front yard:
#16. Decorate your archway with this Monster face Archway: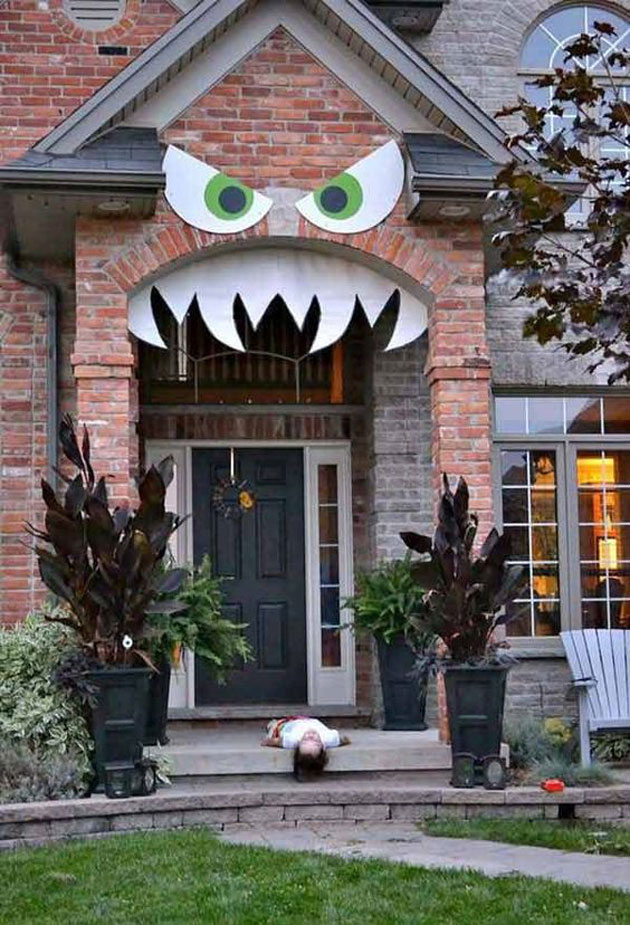 Source: niftythriftythriving.blogspot.com
#17. Torn burlap sure makes for spooky decor. That sign doesn't hurt either!
#18. This definitely looks like the layer of a witch. The broom is at the entrance and the little sad and scared faces are quite suggestive:
Source: craft-o-maniac.com
#19. Spray painted in white upside-down gourd is a great looking scary ghost if you draw a face on it:
Source: createcraftlove.com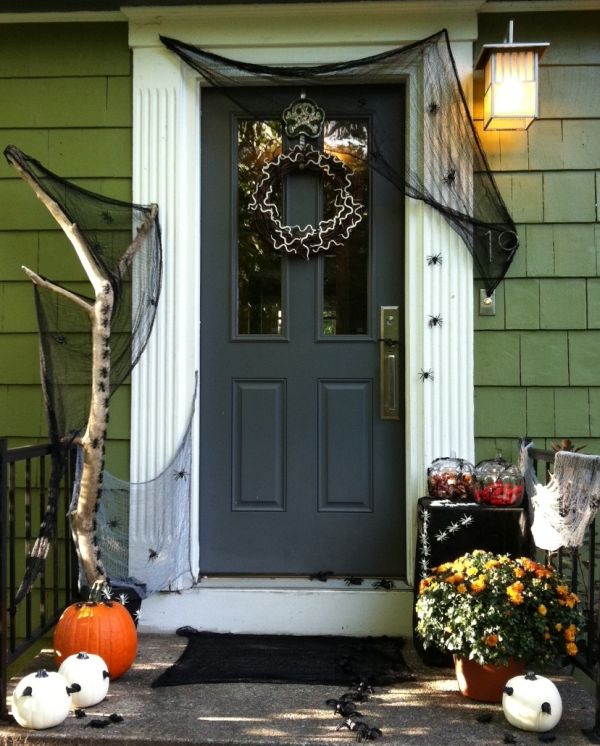 Source: onegoodthingbyjillee.com