I can't imagine a kitchen without windows. They are definitely one of the most important elements in a kitchen. The right windows provide light, air, plus a view, and most importantly, they add beauty to your space and make a pleasant and positive atmosphere in the kitchen. So as a special decorative element, if you want your kitchen to be outstanding, you should choose the right styles of the windows while you're planning to remodel that room.
#1. An Oversized Arch
The oversized arched windows is definitely an eye-catching feature of your kitchen, and also is a practical design can bring in tons of natural light. Image via: thekitchn.com
#2. Kitchen Extension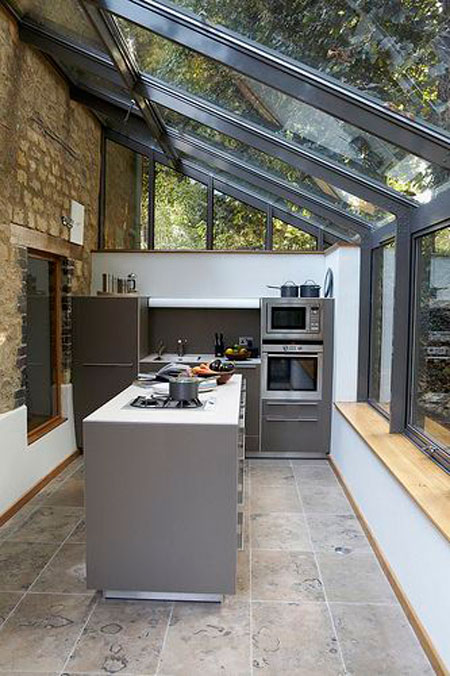 A modern kitchen extension blends brilliantly with the farmhouse-style of its host building. It is a great way to get a light kitchen that allows maximum daylight in. Image via: flickr.com
#3. Garage Style Windows
It is a really brilliant use of a full view glass garage door that will give your kitchen an entirely different look. Image via: pacifichomebuilder.com
#4. Bay Windows
Bay windows have a magic feature that makes space look brighter and feel bigger. A bay with a window seat can be often seen in many kitchens, but an angled bay also gives you a surprise, especially if you want a fresh herb and small veggie garden.
#5. Folding Passthrough Windows
Folding windows offer you an excellent way to connect the inside of the kitchen with the outside world. You can add an outdoor breakfast counter for extra dining space or set up a cocktail bar for a relaxing time after a busy day.  Image via: bobedre.dk
#6. Round Window
To make your kitchen look special and stand out from all the usual designs, create a round window that is definitely a brilliant design that will create a nice focal point for the sink area. Image via: theinspiredroom.net
#7. Stained Glass Window
Not only it adds a unique and artistic design for your kitchen, but it also offers a great solution to provide the privacy that is required while letting in daylight. And more, adding stained glass windows to your cooking space is a clever way to Add Value To Your Home. Image via: hgtv.com
#8. High Windows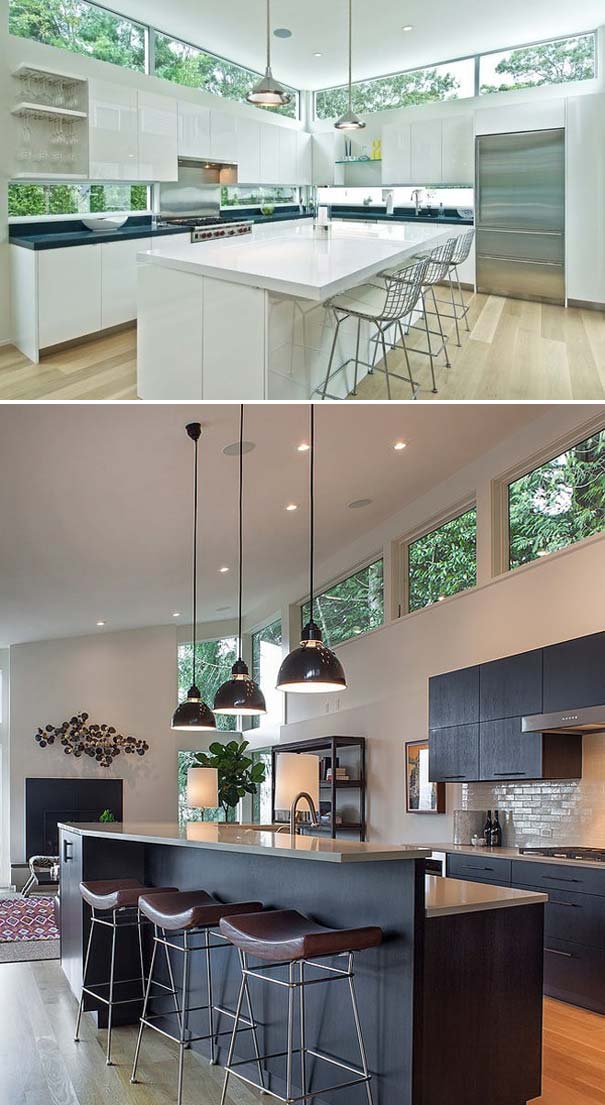 Giant glass windows placed high up in the kitchen wall let natural light in smoothly and embrace stunning views of the sky. Image via: onekindesign.com