Top 20 Creative Ideas for Incorporating Rocks into Your Home's Landscape
Rocks are an incredibly versatile material that can be used in a wide variety of ways to enhance the beauty and functionality of your outdoor space. Whether you're looking to create a stunning walkway, add visual interest to your garden, or incorporate a unique feature into your landscaping, rocks can help you achieve your goals.
As experts in home improvement and landscaping, we've seen firsthand the incredible impact that rock ideas can have on a property. From the natural and rustic charm of river rock gardens to the modern and sophisticated look of smooth gravel walkways, rocks offer endless possibilities for homeowners looking to transform their outdoor spaces.
In this post, we'll explore some of our favorite rock ideas for your home's outdoor projects, along with tips and tricks for choosing the right rocks and incorporating them into your design. Whether you're a seasoned DIY enthusiast or a first-time homeowner, we're confident that you'll find plenty of inspiration and practical advice in this post. So, let's get started and discover the many ways in which rocks can enhance your outdoor living experience.
#1 Revamp Your Rock Garden with a Water Feature.

Incorporate both functionality and artistry into your rock garden with crushed gravel and a two-tier system. Conceal unsightly electrical wiring for spotlights with flat stones, while larger stone slabs serve as a striking centerpiece for a fountain oasis. Utilize a simple pump to circulate water between two granite slabs.
#2 Immerse Yourself in Traditional Japanese Garden Design.

Discover the significance of rocks in Japanese gardens, where they divide spaces, serve as stepping stones, and enhance water features. Achieve the appearance of sand in a Zen garden by using finely crushed white marble. Additionally, larger boulders can effectively restrict the growth of trees close to your home.
#3 Create a Stunning Waterfall and Koi Pond for Your Rock Garden.

Exude an air of prosperity and success with a Koi pond finished with rocks to blend seamlessly with the natural landscape. Elevate the pond's perimeter with large rocks to reduce both cost and construction time.
#4 Artistic Garden Sculpture: Dragonfly Stepping Stones and River Rocks.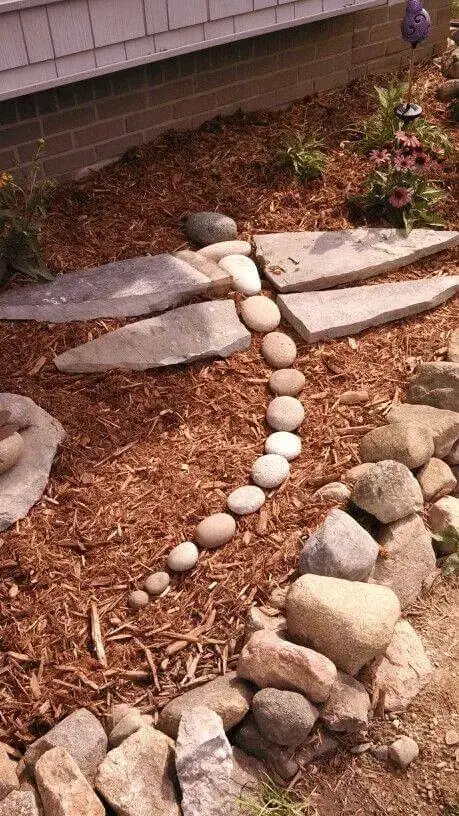 Transform your garden with an affordable yet striking rock sculpture. Acquire a set of chiseling tools and carve basic shapes such as dragonfly wings from chiseled stones. Use rounded rocks with flat bottoms as tortoise shells.
#5 Elegant Pond Design with Large Rocks and a Pea Gravel Pathway.

Craft a visually engaging backyard by sectioning different areas with rocks of varying hues and textures. Use brown crushed gravel for a low-maintenance path that effectively deters weeds, while white rocks provide an attractive border for your natural-looking pond.
#6 Build a Beautiful Bench Using Leftover Flagstones.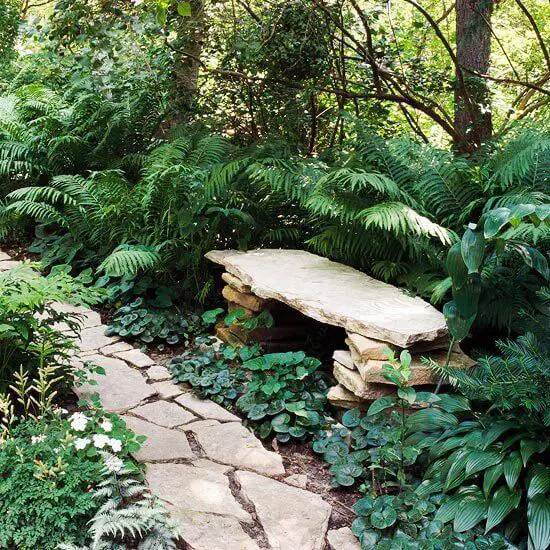 Discover creative ways to repurpose excess materials from your path construction, such as creating small seating or side tables.
#7 Innovative Seating Ideas for Your Rock Wall.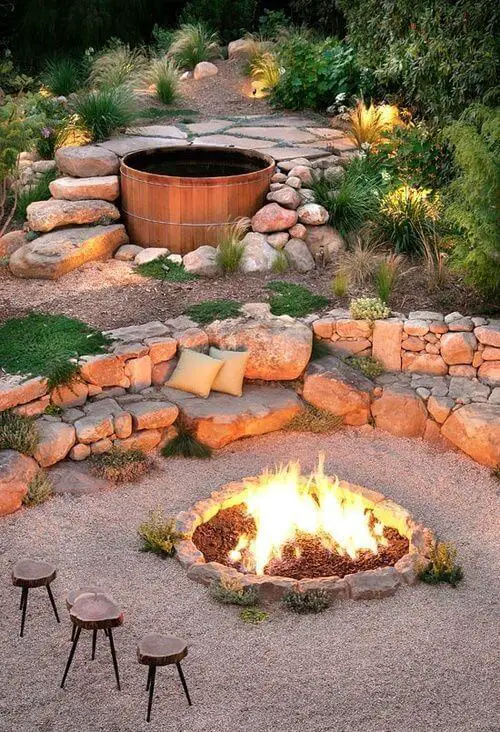 Utilize locally sourced rocks and boulders to create two distinct areas in your backyard. The upper platform functions as a hot tub deck, while the lower seating area blends seamlessly with the hillside. Crushed gravel is a safe choice for placement around a large fire pit.
#8 Edge Your Pond with Large Rocks for Safety and Style.

Enhance the visual appeal of your pond while increasing safety by placing large rocks around its perimeter.
#9 Elevate Your Garden with Quarry Stone Raised Beds.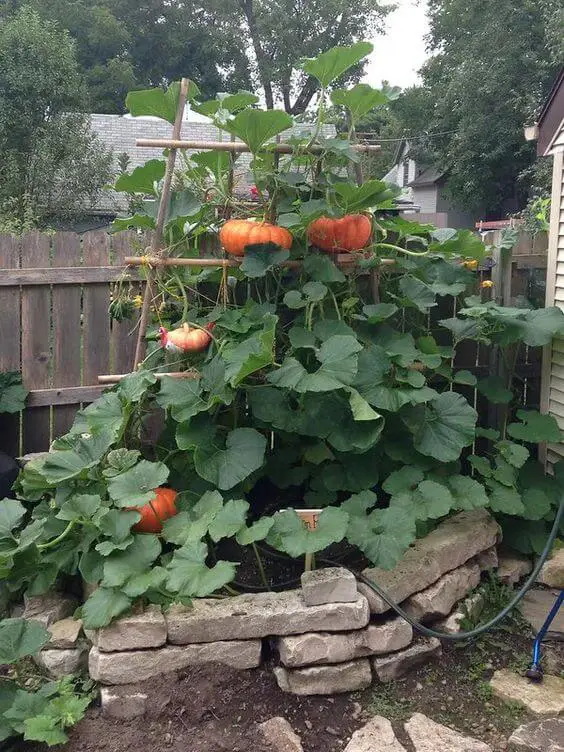 Maximize your garden's potential with a durable raised bed constructed from flat stone slabs. Avoid using railroad ties that deteriorate rapidly.
#10 Add Charm to Your Yard with a Rock Stream Water Feature.

Amplify your outdoor ambiance with the beauty of a rock stream. Prevent erosion with large rocks along the banks, while smooth rocks facilitate water flow.
#11 Build a Stunning Tall Rock Waterfall Fountain.

Impress guests with a captivating waterfall built from large rocks and a fountain water pump. Smaller rocks camouflage plumbing, and larger rocks create a stable foundation.
#12 Create a Beautiful Dry Creek Bed with Smooth River Rocks.

Elevate your garden with a dry creek bed composed of smooth white and black river rocks. Larger rocks provide a decorative accent and prevent small rocks from rolling down the hill. Use a variety of vessels, such as a jug, to act as the waterway's mouth.
#13 Honor Your Family Tree with Personalized Rock Engravings.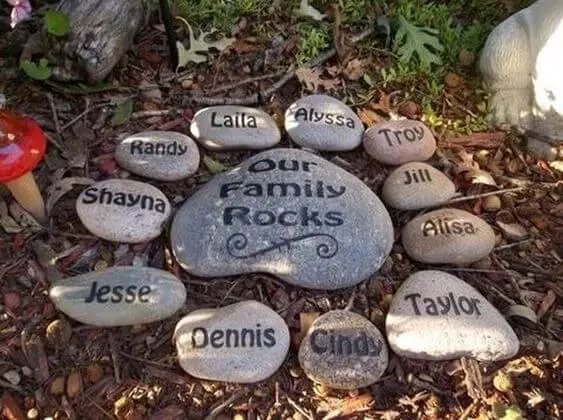 Pay tribute to your loved ones with permanent engravings of their names on smooth river rocks. Utilize an electric engraver or rotary tool with a carbide or diamond tip, depending on the rock's hardness.
#14 Use Large Rocks to Complement Your Flower Bed.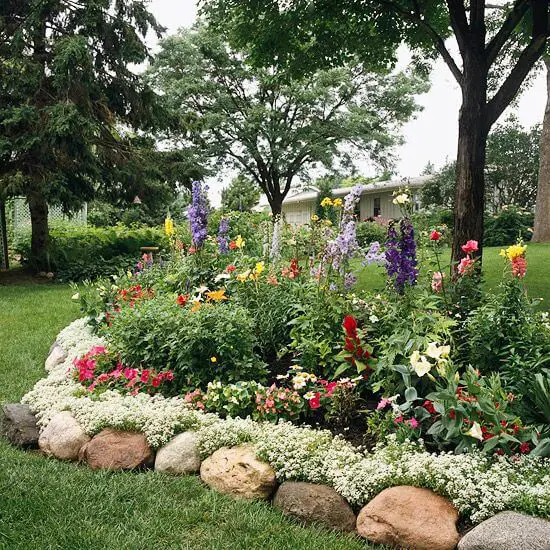 Prevent weeds and soil erosion while creating a stunning contrast with large rocks surrounding your flower bed.
#15 Enhance Drainage with a Smooth Gravel Pathway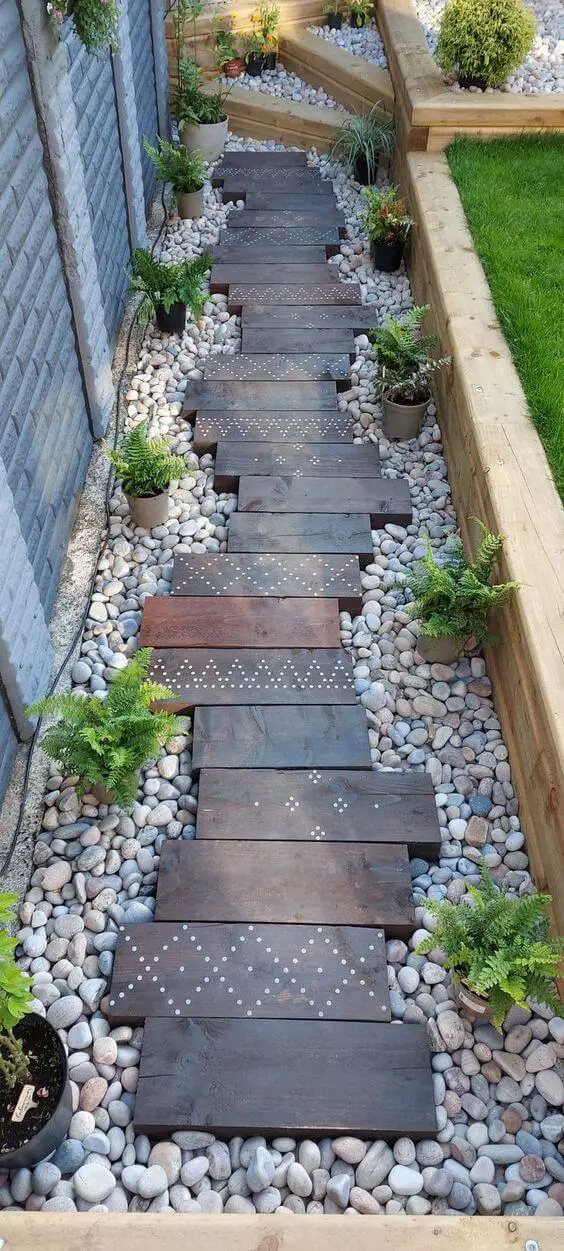 The use of medium-sized gravel for the foundation of a walkway is a great solution to improve drainage and prevent the formation of mud puddles.
#16 Create Long-Lasting Plant Markers with Painted Rocks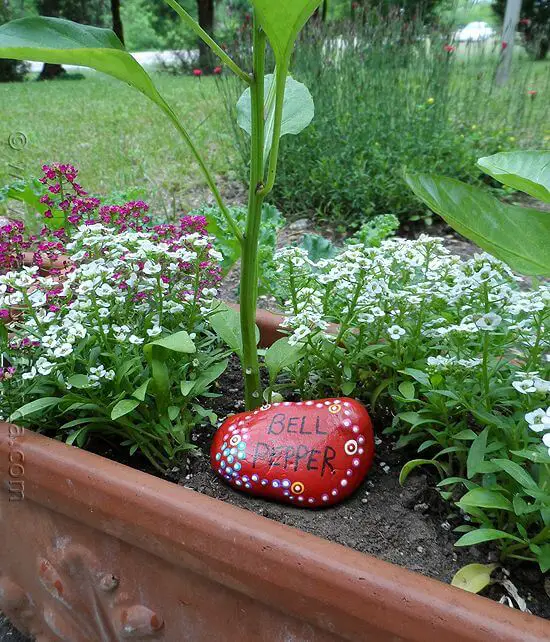 Transform your garden with painted rock markers, a fun and durable alternative to popsicle sticks. These markers are easy to read and will last for years.
#17 Build a Whimsical Fairy Garden with Rocks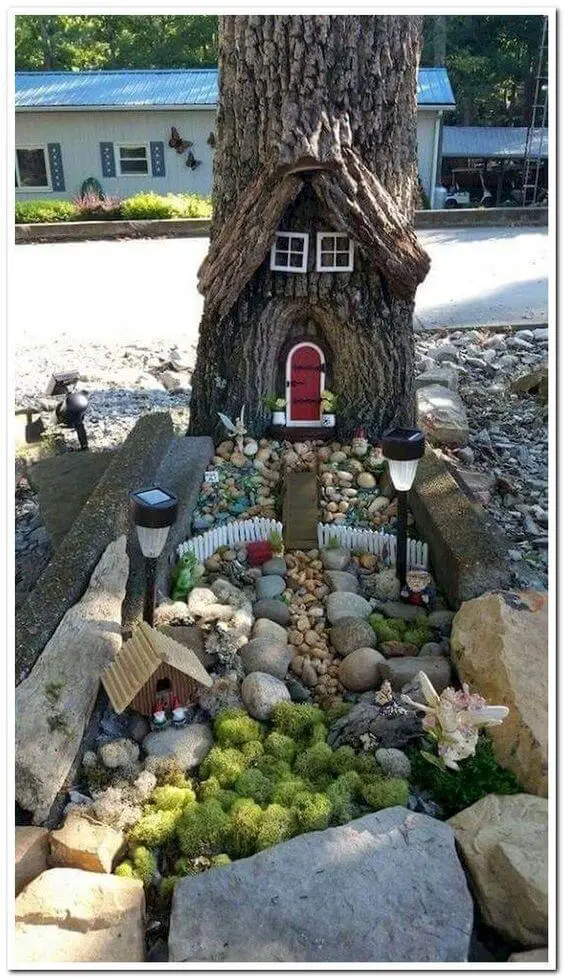 Add a touch of magic to your garden with a fairy garden made with rocks. Define the area with larger rocks and decorate with smaller rocks, moss, and miniature pieces from a hobby shop.
#18 Use River Rocks to Edge Your Garden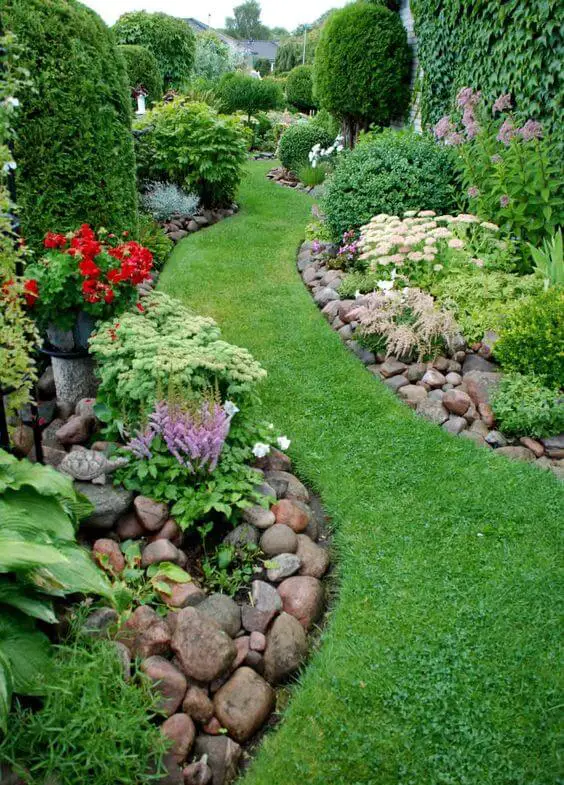 Enhance the look of your garden and protect against unwanted weeds with large river rocks that provide a sturdy barrier.
#19 Low-Maintenance Pathway with Crushed Gravel and Stepping Stones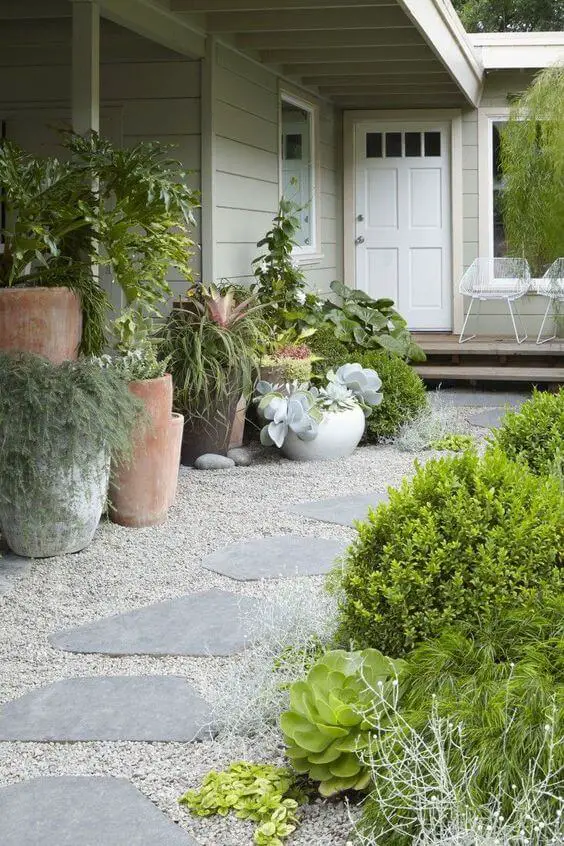 Create a clean and low-maintenance walkway by placing non-slip flagstones on top of crushed gravel.
#20 Tree Edging Idea: Spiral Rock Garden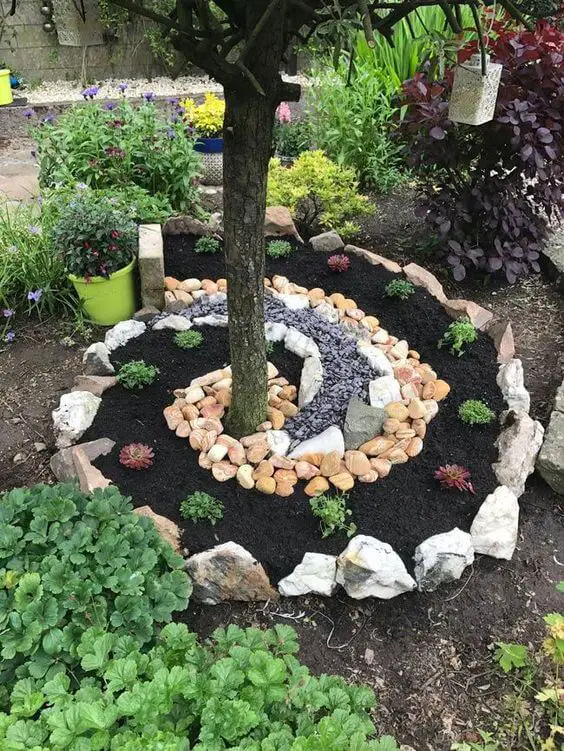 Take your garden to new heights by building a vertical spiral rock garden around trees. Use rocks of different sizes to add dimension and visual interest.