17 Simple and Affordable DIY Outdoor Kitchen Plans
If you're looking to spruce up your outdoor living space without breaking the bank, you're in the right place. In this blog, we've gathered 17 amazing DIY outdoor kitchen plans that won't dent your budget. These plans are designed for those who appreciate the joy of crafting and the beauty of outdoor cooking.
You don't need to be a pro builder to tackle these projects. With a bit of determination and some basic tools, you can create your very own outdoor kitchen oasis. Whether you're a barbecue lover, a pizza aficionado, or simply someone who enjoys the open air while cooking, there's a plan here for you.
We'll walk you through each plan, step by step, making the process easy to follow. From simple grill stations to more elaborate setups, you'll find options to suit your space and needs. So, roll up your sleeves, grab your tools, and let's get started on creating the outdoor kitchen of your dreams. Your backyard will thank you!
#1 Easy DIY Cinder Block Outdoor Kitchen
If you want a versatile outdoor kitchen for small family gatherings or friendly get-togethers, you don't need to spend lots of money on fancy store-bought setups. You can make your own outdoor cooking area using concrete blocks, backer boards, screws, thin mortar, plywood, tiles, grout, and brick veneer. Start by laying out the design with cement blocks and slabs. When cutting the wood for the frame, make sure it fits the kitchen area you want. Later, you can put everything together properly.   Source: bhg
#2 Simple Cedar Outdoor Kitchen Project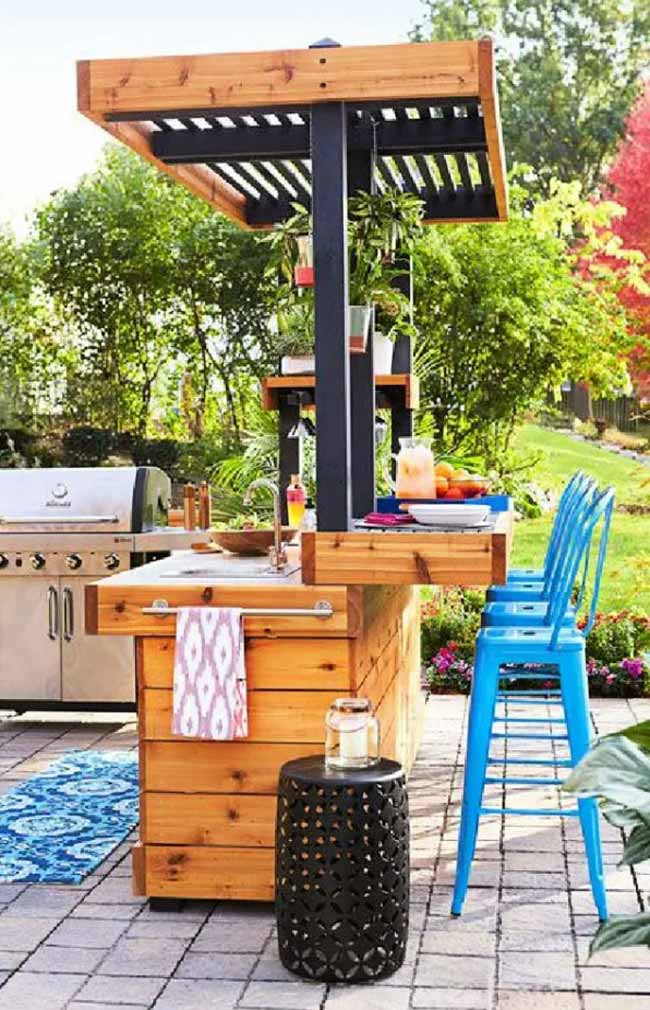 What's better than having your own outdoor kitchen for summer evenings and hangouts? This modern and super comfy cedar outdoor kitchen comes with a sink, seating area, and countertops. You'll need laminate board, polystyrene foam, concrete mix, and cedar posts for this project. You'll also need tools like a miter saw, drill, tape measure, and carpenter's square. Just remember, you might need some advanced crafting skills to tackle this DIY outdoor kitchen.  Source: lowes
#3 Make Your Own Stone-Covered Grill Island
If you have space for it, this DIY grill island makes a perfect outdoor kitchen. With a little help from friends, you can finish it in a weekend. It can be covered in stone, brick, or another material to look wonderful. Building this one is quite simple and saves you money compared to getting a pro to do it. There are many great DIY stone and pebble projects to add beauty to your life.  Plans: thisoldhouse
#4 Outdoor Kitchen Bar with Pergola
This outdoor kitchen is fantastic! It has a lovely pergola on top, and it's not too hard to build. The pergola gives it a relaxing Caribbean look. You could even place it at the end of your deck or have it as a freestanding kitchen. Plans: instructables
#5 DIY Outdoor Kitchen with Concrete Countertops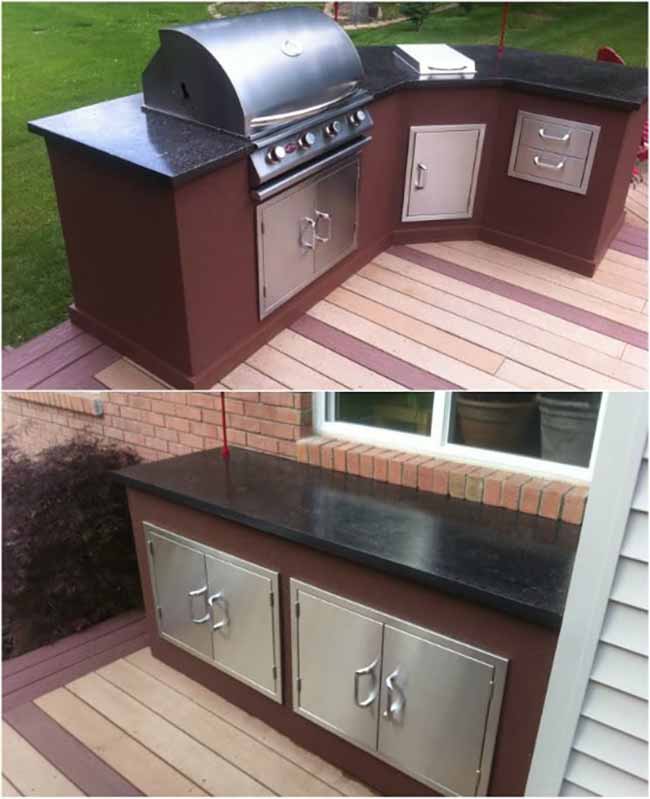 This stainless steel outdoor kitchen has concrete countertops that are perfect for outdoor use. Concrete won't get damaged by the weather. It's relatively easy to build – you start with steel studs and build up from there. You can even add a beautiful tempered glass inlay to the concrete countertops. Plans: instructables
#6 Create a DIY Outdoor Kitchenette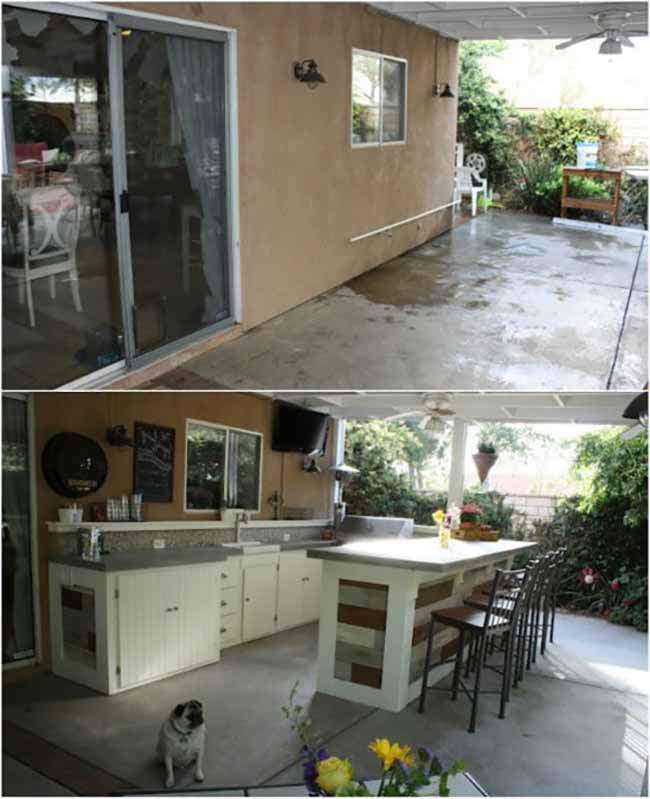 In just a couple of weekends, you can turn a plain patio or deck into a fantastic kitchenette. It takes a bit more time, but it has much more space than a regular outdoor kitchen. It comes with lots of cabinets and even a bar on one side, providing seating and a perfect place to enjoy summer evenings while dining outside. Plans: remodelaholic
#7 DIY Concrete and Corrugated Steel Outdoor Kitchen
This compact outdoor kitchen was made from materials reclaimed from an old barn. If you have the boards and steel, you can create your outdoor kitchen without spending much. Just add an off-the-shelf grill and maybe a small dorm fridge. It's super easy to build, and you can finish it in just a weekend or two. This is a great addition to your list of creative DIY concrete projects! Plans: oldworldgardenfarms
#8 Rustic Wood and Brick Outdoor Kitchen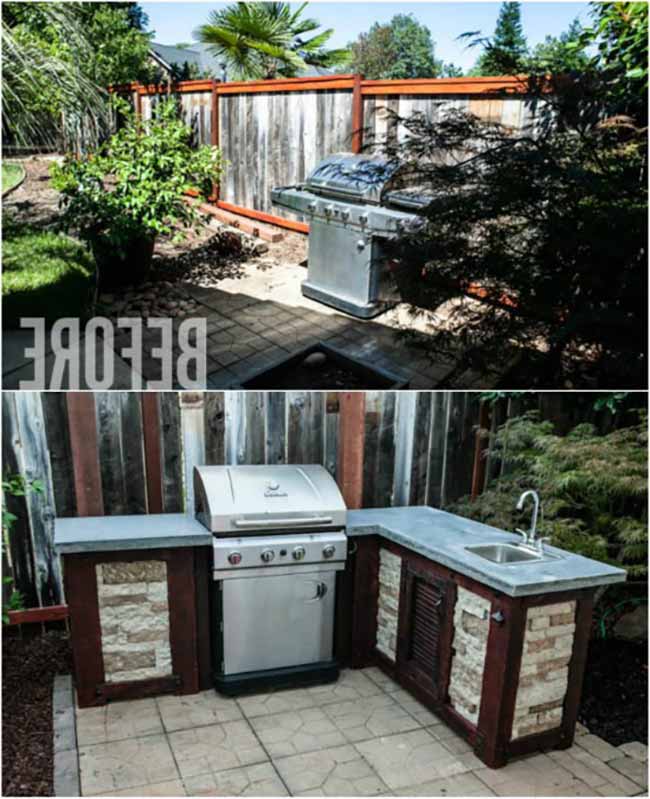 For a charming outdoor kitchen, you can use leftover wooden posts and old bricks or stones to create the perfect cabinets around your grill. It has a lovely rustic look and can be done in a single weekend. Once it's ready, slide your grill in place, and you'll have a fantastic outdoor kitchen at a fraction of the cost of a professional build. Plans: manmadediy
#9 DIY Concrete Countertops for Outdoor Kitchen
With just a few bags of concrete, you can craft your very own outdoor kitchen. This project only takes a couple of days, including drying time for the concrete. Once the countertops are ready, add your grill and other outdoor kitchen appliances. Concrete is ideal for the outdoors since it won't rust, crack, or suffer from the weather. Plans: homedepot
#10 Build Your Own Deck Outdoor Kitchen
Wouldn't it be great to have an outdoor kitchen right on your deck? This outdoor kitchen has everything you need to have fun outside. You can choose what you want to include and the type of finish you like, like stainless steel. It's quite quick and easy to build. And even if you don't have a deck, you can make a small patio area quite easily. Plans: placeofmytaste
#11 Simple Grilling Island DIY
If all you need is a compact outdoor kitchen, consider this grilling island. It consists of cabinets that surround your grill and can be built in a weekend or less. These cabinets offer ample storage for your outdoor cooking essentials and enhance your grilling area. Plans: diynetwork
#12 Budget-Friendly Repurposed Cabinet Outdoor Kitchen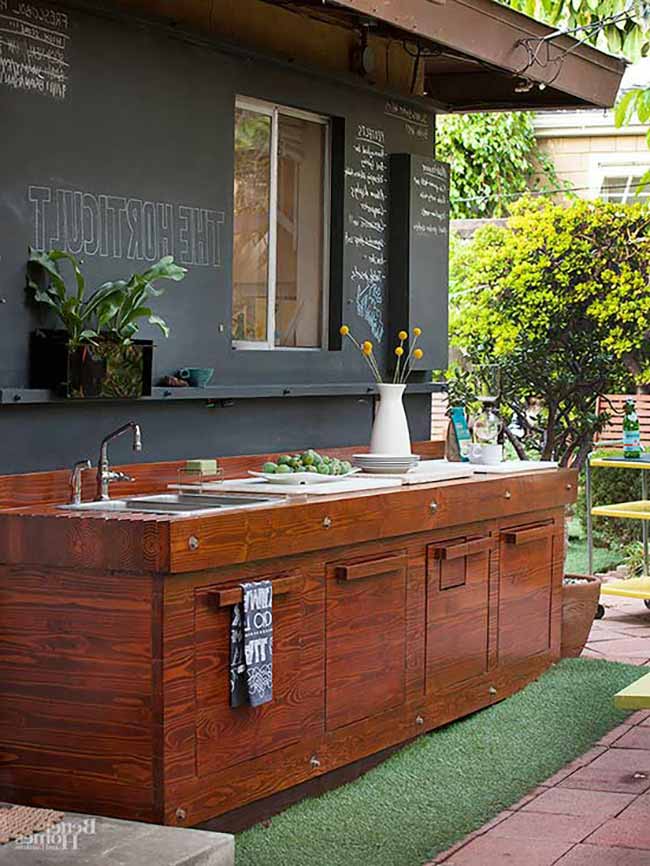 To build an outdoor kitchen on a tight budget, check out thrift stores or salvage yards for old kitchen cabinets. Then, refurbish them and fit them into your outdoor cooking area. Add some bricks or stones for a stylish touch. This is a cost-effective and straightforward way to create an outdoor kitchen, achievable in a weekend. Plans: bhg
#13 DIY Portable Outdoor Kitchen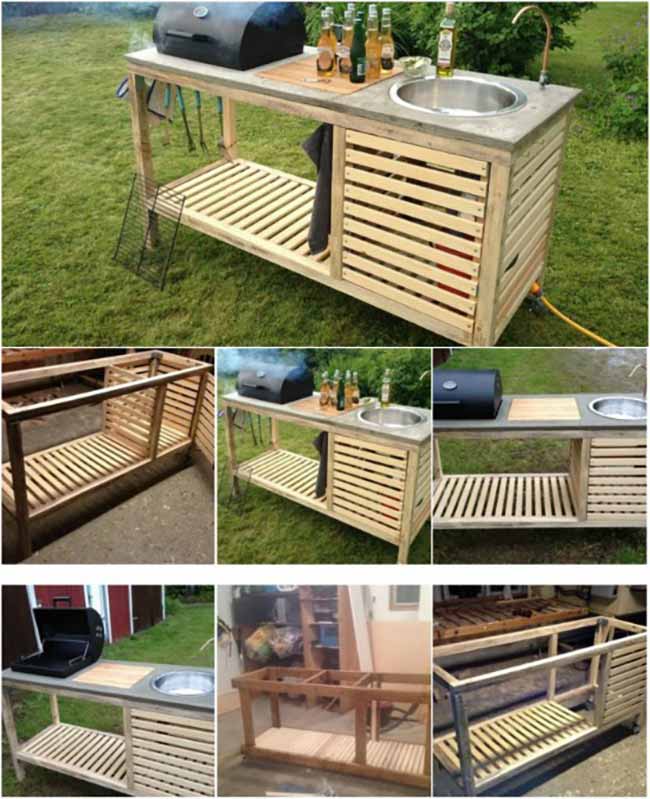 If you don't have space or the need for a full-fledged outdoor kitchen, this portable DIY version is perfect. You can assemble it in just a few hours and it's equipped with everything you need for grilling season. Plus, it's portable, allowing you to easily move it to shelter from the weather and store it during colder months. Plans: instructables
#14 Charming DIY Rustic Farmhouse Outdoor Kitchen

The rustic farmhouse style of this DIY outdoor kitchen is simply charming. If your home has a farmhouse look on the outside, then you'll love this project. It's doable in a weekend and quite straightforward. The design includes a sink, bar, grill, and fridge, with a delightful pallet appearance that matches your outdoor farmhouse décor.
#15 Easy-to-Make Tiled DIY Outdoor Kitchen
Tile is an excellent choice to cover the wood in your outdoor kitchen. It's versatile and affordable, especially if you find clearance deals at your local home improvement store. This DIY outdoor kitchen features stainless steel and tile, and it's a breeze to build. Just create the frame and add the tile as a cover. Plans: thisgreyhouse
#16 DIY Outdoor Kitchen with Wood-Fired Pizza Oven
Imagine having your very own wood-fired pizza oven in your outdoor kitchen! What could be better than making your own pizza outdoors? This project is surprisingly simple to build, and the pizza oven complements the rest of your outdoor cooking setup perfectly. If you've ever dreamt of having your own pizza oven, this outdoor kitchen plan is a dream come true. Plans: popularmechanics