31 Awesome DIY Christmas Gift Ideas to Make You Say WOW
We all love Christmas, is the best time of giving and receiving gifts. But to be honest, it is not an easy task to prepare a satisfying gift for your family, friends, loved ones and neighbors. Buying gifts from stores or online is simple, but it's hard to make your gifts stand out from everybody else's. So have you thought about giving someone a handmade gift for Christmas? Sometimes the best gift is one you create yourself! DIY Christmas gift tells them you took the time, energy, and effort to create something you thought they would like! To give you some inspiration, we brought you 31 of the best cool ideas for DIY Christmas gifts, they're fresh and interesting. Happy holiday and happy craft!
1. Drop two different colored nail polishes into a basin of water and swirling the mug around it to make these really special mug for holiday gift:

See the full tutorial (Water Marble Mugs with Only 2 Ingredients) at: youtube.com
2. The display of origami forest is super cute, and these trees made out of dollar bills are a fun way to give "money gift":
How to fold money tree see the tutorial: Youtube.com
3. It's a Very Sweet Gift to Put Your Handwritten 365 Notes in a Jar:
Source Unknown.
4. Decorate an Inexpensive Pre-made Tree with "Money" to as A Gift for Those Who Always Dreams of Winning the Lottery(he/she could scratch off a ticket each day of December leading up to Christmas.):
View the more details at: mydancingrain.wordpress.com
6. Stick Ferrero Rochers and Leaves on Wine Bottle or Other Plastic Bottle to Create a Candy "Pineapple"(You can use double sided tape or hot glue gun to stick):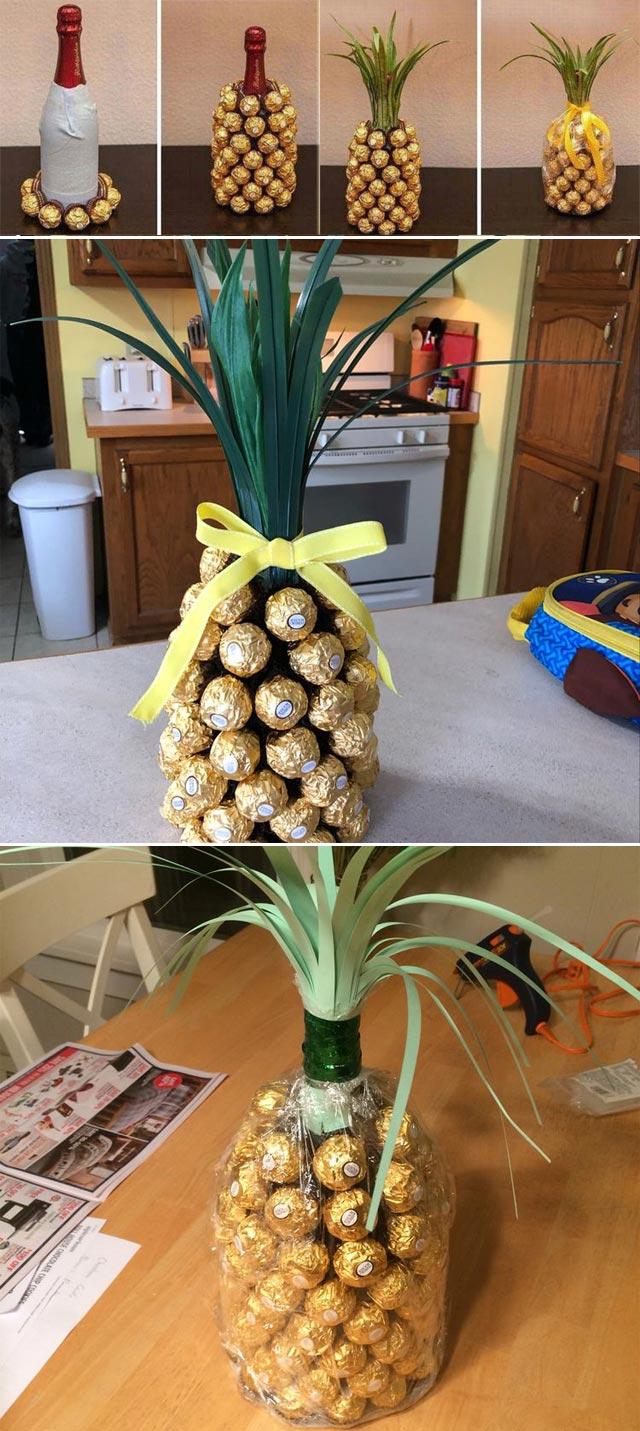 7. These Christmas Tree Tea Bags Are Both Perfect Either as Small Gift or Party Favour:
See the full instructions here: dearedna.com
8. Homemade bath bombs adorned with green, red, and white pearl sprinkles are especially suitable as Christmas gifts:
Here is the recipe how to make it: fleecefun.com
9. A Fun Way to Gift Utensils is Wrapped Inside Kitchen Towels and Potholders:
See the instructions here: hip2save.com
10. Make a more lighter, prettier and best of all healthier "Candy Topiaries" with tea bags: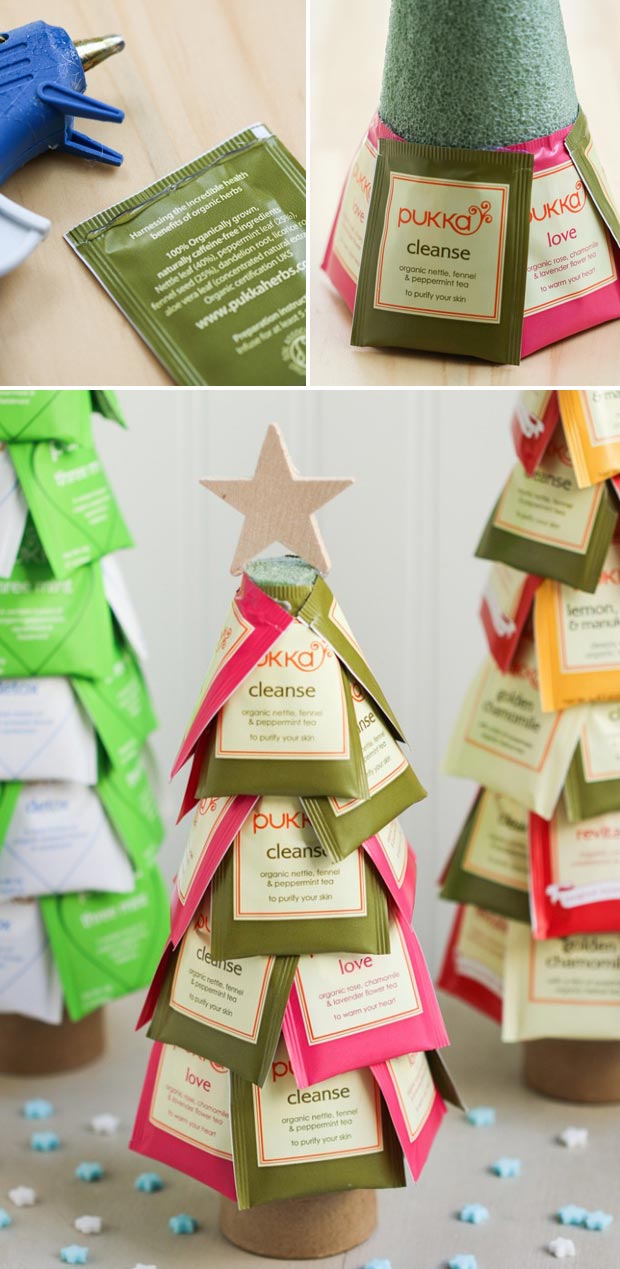 Visit the full tutorial here: thirstyfortea.com
11. Grab a Hot Glue Gun and Stick a Kitkat Bar, Two Candy Canes and 10 Mini Hershey Bars Together to Make a Cool Candy Sleighs:
See the instructions here: ellynsplace.blogspot.com
12. Prepare a Glass Cup, then Fill it with the Ginger-Lemon Fruit Gums and Marshmallows You Will Get a Cool Gift:
Source: utes-scrapblog.blogspot.com
13. Snow Man Hot Chocolate in a Jar:
Similar tutorial for this project: hammerandthread.blogspot.com
14. Basket and wreath create out of garden hose and filled with essentials(zip ties):
15. Stretch a rubber band around a vase, then stick in candy canes until you can't see the vase. Fill with red and white roses or carnations:
(Tie a silky red ribbon to hide the rubber band.)
16. Hot Cocoa Mix Ornaments – You Can Choose From Different Hot Cocoa Varieties and Dress Up a Variety Of Little Candies:
Check out full instructions here: sprinklesomefun.com
17. Build portable Lego tray with a plywood board, four wood strips, a standard Lego baseplate and other simple tools: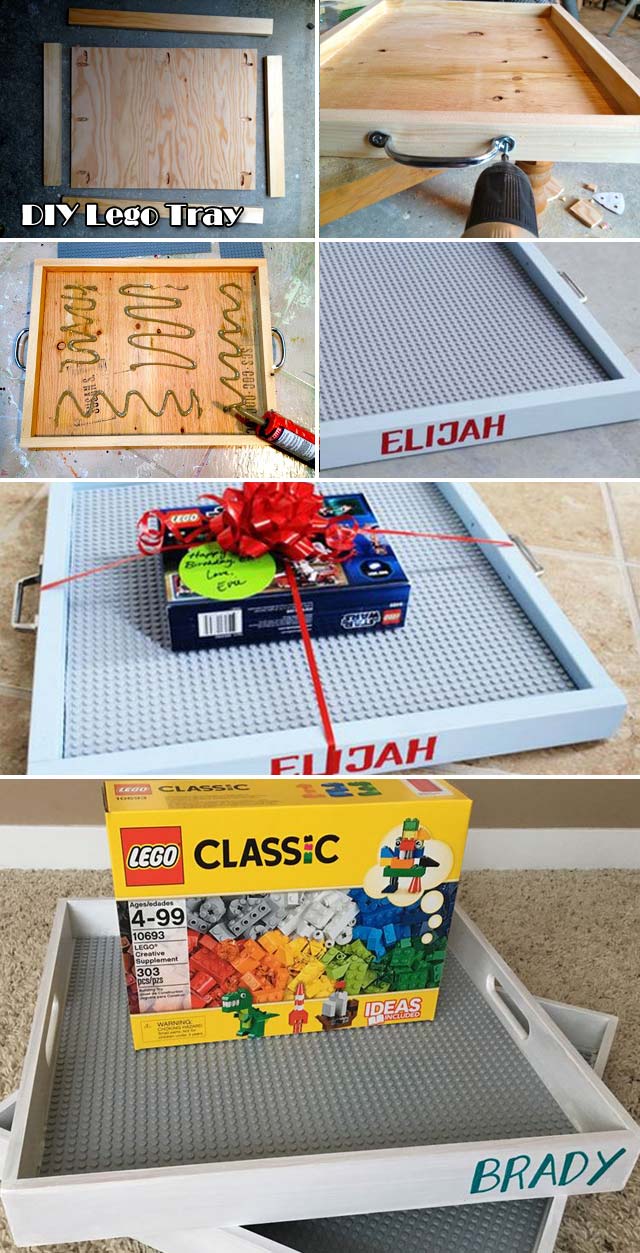 See the step by step tutorial here: jaimecostiglio.com
18. DIY Reindeer Cocoa Cones for Little Ones:
The tutorial and materials can be learned in the image.
19. Simply a roll of Christmas wrapping paper,a 3 pack of tape and a tag:
Get more details at: itsalwayscrafttime.blogspot.com
(The tag reads:

Since November you've been shopping,
barely sleeping, hardly stopping.
Now it's late you're in a scrape, out of paper, out of tape.
Hope this wrap helps save the day!
Have a Happy Holiday! )
20. Hershey's Christmas Tree:
Check out the step by step tutorial here: qbeesquest.blogspot.com
21. Create a sweet little winter scene in a vintage lantern, and this gift may take a little time and skill:
22. Little burlap treat bags to fill with candy, cookies or any other goodies you can think of:
See the more details at: ahomemadeliving.com    Full tutorial:  livelaughrowe.com   and   ahomemadeliving.com
23. The township candles will add a bit of magical and cozy atmosphere to your Christmas home: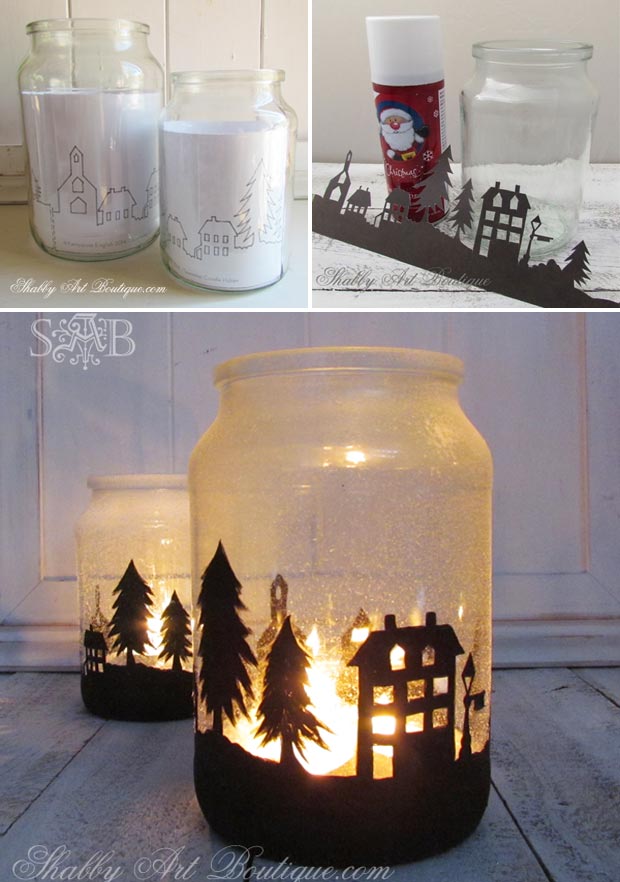 (There is no template for this project, you should make townships by hand… first drawing the design and then cutting it out with a scalpel knife.)   Check out the full instructions here: shabbyartboutique.com
Source: pinterest.com
24. Mix spices and fill ornaments with mixture using a funnel:
You can buy these "Hobbies Clear Plastic Bulb Shape Ornaments" on amazon.com    See the full instructions here: sprinklesomefun.com
25. Grab a box frame then fill inside of it with your 'emergency supplies' of sweets, chocolates, alcohol…and use the sticky letters to write your wording and use plastic sheeting to hold the wording and placed it behind the glass:
(You can buy an Ikea box frame 10 (w) x 10 (h) x 3 (d) inches)   Source: oliharricreations.co.uk   and  etsy.com
26. Simple supplies like: paper boxes, tissue paper, washi tape and small gifts, can be used to make a lovely punch box:
Source: bysophialee.com
27. Make these easy candy filled ornaments:
28. Cookies stacked in a spaghetti canister:
Source: acasarella.net
29. Snowflake Stocking Stuffer Gift:
30. Fill a sturdy box with lightweight balloons filled with candy, cash etc…
Tutorial: shescraftycrafty.com
31. Dollar Tree Gift Baskets Baking Set: