Top 24 Cheap & Easy Last-Minute DIY Gifts for This Christmas
This is the week of Christmas, and you still haven't got your Christmas gifts prepared. Don't worry. You still have time! It is still not too late, prepare a great gift for your family members, friends or your teachers. We all know that gifts giving is one of the best and important things about this awesome holiday. Shopping the store for gifts is not only your choice, because you can make them by yourself. DIY gift tells your loved ones you took the time and effort to create something you thought they would like. we belive that Christmas is not about consuming, it's about love. Here are 24 last-minute DIY gifts sure to surprise your family and friends. They are easy and cheap to make and are just as good as anything you'd buy in a store.  Have a look and most of them have tutorial links.
#1. Homemade Moss Terrarium – It's a jar full of adorable gnomes.
Source: alldressedinblue.blogspot.com
#2. Transfer your favorite image onto a leather jewellery.
Get Tutorial at: lanaredstudio.com
#3. Paper pyramid gift box
Get Tutorial at: linesacross.com
#4. An easy way to homemake delicious butter and spread.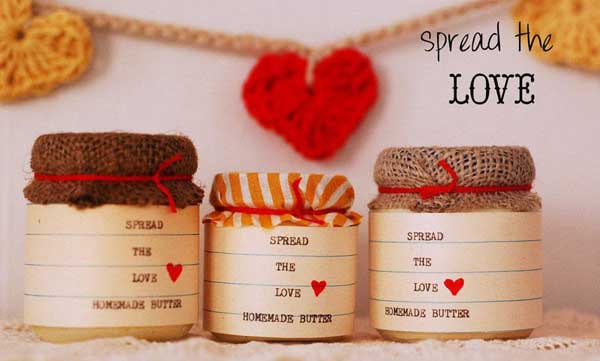 Get Tutorial at: cutoutandkeep.net
#5. An old t-shirt and simple tool, you can DIY a stylish multi-strand scaft for your friend.
Get Tutorial at: rabbitfoodformybunnyteeth.com
#6. Chalkboard Coaster Set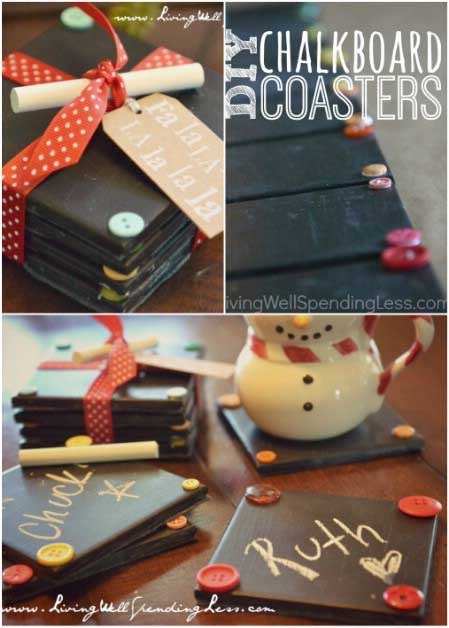 Get Tutorial at: livingwellspendingless.com
#7. Surprise your friend with a tissue box of $$$
Source: lotsofcraftyideas.com
#8. DIY Strawberry Santa Christmas Cake
Get Tutorial at: youtube.com
#9. Handprint Calendar
Source: teacherspayteachers.com
#10. Fun idea to wrap your Xmas present.
Source: facebook.com
#11. Giving someone a cup of starbucks latte soap that you made all on your own.
Get Tutorial at: buzzfeed.com
#12. Get kitchen lover a lovely pair oven gloves like this.
Get Tutorial at: iheartnaptime.net
#13. These hot cocoa cones are extremely simple to make and can be perfect holiday gifts.
Get Tutorial at: simplyjessicamarie.com
#14. The golfer in the family will love getting these decorating golf balls.
Get Tutorial at: laughingkidslearn.com
#15. They are not only for Valentine's day, try these kiss shaped rice krispies treats.
Get Tutorial at: homestoriesatoz.com
#16. There is no easy and cheap DIY gift project than this pom-pom branch bouquet.
Get Tutorial at: wayaiulandia.com
#17. Roll of Coins Stocking Stuffer
Source: marthastewart.com
#18. Friend who gets your gift will admire your effort on making these cool earrings made of paper clips and string.
Get Tutorial at: evie-s.com
#19. Rudolph hooded towels for little ones.
Get Tutorial at: crazylittleprojects.com
#20. If you love to sew, you can make this cute "on the go reading pillow" as a gift.
Get Tutorial at: polkadotchair.com
#21. Lovely clementine wreaths.
Get Tutorial at: omiyageblogs.ca
#22. Gold Leaf Honey Bears
Get Tutorial at: abeautifulmess.com
#23. Christmas tree chocolate box.
Get Tutorial at: qbeesquest.blogspot.com
#24. DIY geode rings are a lovely idea to wish the ones you love a happy holiday season.
Get Tutorial at: uniquemarkets.com