How to create a unique, comfortable, and alluring ambiance inside and outside of your home? You need to discover the best modern farmhouse decor ideas to provide an inviting atmosphere with a homey touch. Beautiful, modern farmhouse decor ideas always make your home more appealing, inviting, and special.
Here are some of the best modern farmhouse decor ideas that help you transform all rooms in your home into something special and inviting. You don't need to spend a lot of money when it comes to implementing these wonderful ideas. These are simple, creative, and practical ideas to make your home incredibly beautiful.
1. This appealing entryway comes with doors made using knotty alder.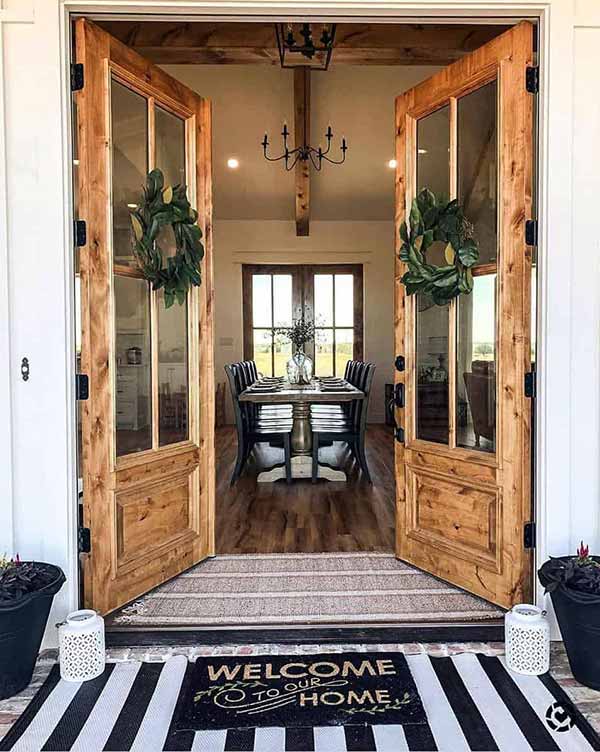 2. This inviting and visually appealing bedroom offers everything you need, including wood accents, a sliding barn door, and many other comforts associated with a farmhouse style.
3. This elegant farmhouse kitchen blends white and wood harmoniously. It is one of the most inspirational modern farmhouse decor ideas you can ever come across.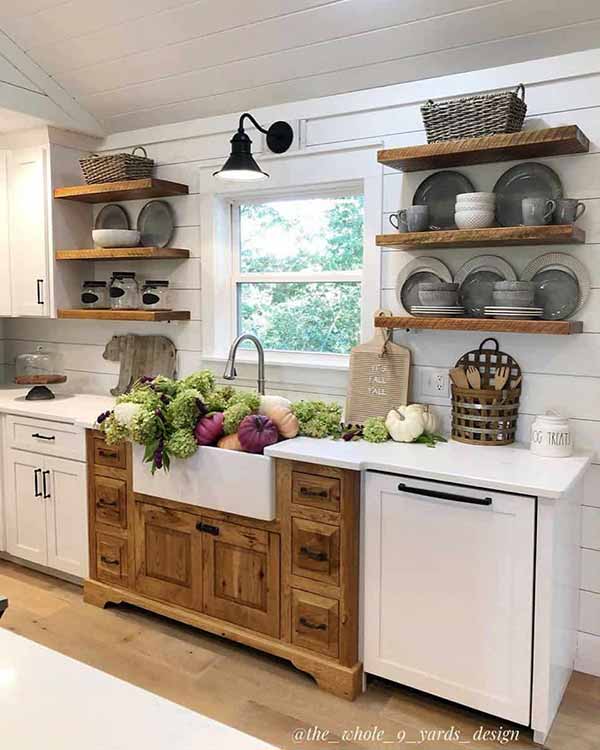 4. This is a perfectly styled rustic staircase that has been decorated beautifully using an elegant Turkish rug and bench.
5. It is an appealing laundry room equipped with a DIY wood countertop, a drying rack, and a fabulous sink.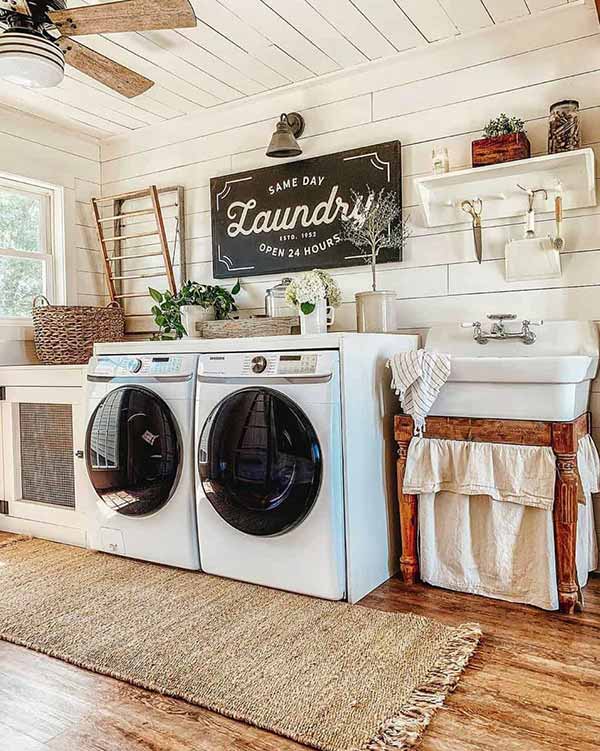 6. This attractive backyard paradise comes with a brick patio and an outdoor rug. The string lights, combined outdoor furnishings, and the sheltered umbrella create a magical ambiance.
7. It is an inviting and cozy sitting room with modern farmhouse touch.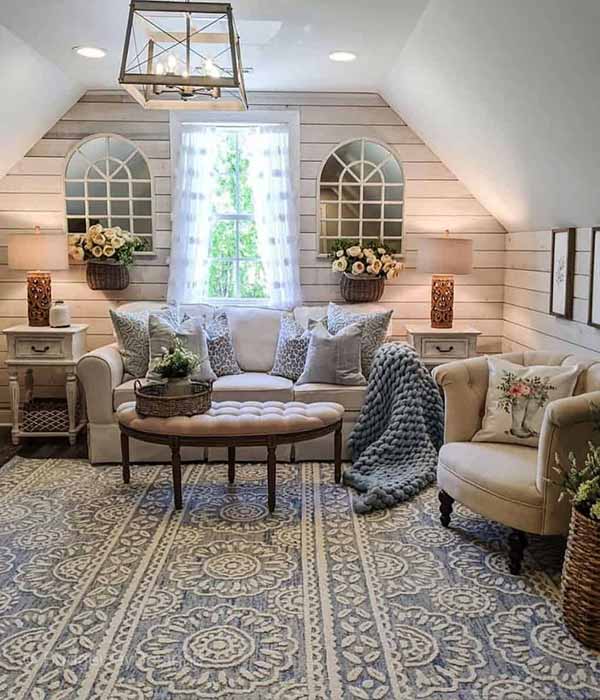 8. With a majestic decor and alluring charm, this magnificent farmhouse laundry room meets your expectations perfectly.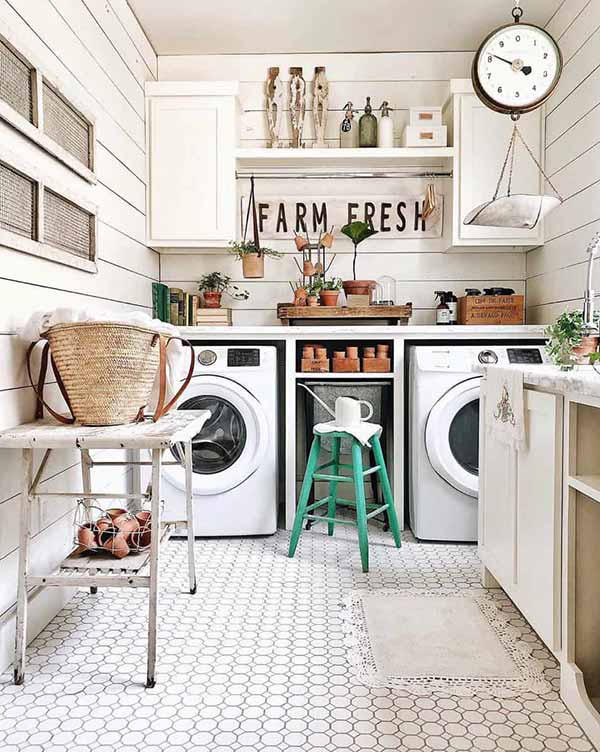 9. If you want to create a stunningly appealing outdoor spot that offers perfect relaxation, this one is a perfect choice.
via @beyond_gray
10. Featuring a beautiful lamp, a wooden console table, and lovely baskets, this spacious and light entryway surpasses your expectations in many different ways.
11. If you want to make a pleasant, spacious, and light farmhouse kitchen with a custom wood hood and white cabinetry, this one is the ideal choice.
12. It is an elegant butler's pantry in a farmhouse kitchen with fall décor elements and glass wood doors.
13. This beautiful bedroom comes with a bench, an area rug, and a trio of arch door frame plaques for the bed.
14. It is a rustic farmhouse kitchen with DIY, stenciled, and painted floors, a vent hood, and a pantry door.
15. This boy's bathroom comes with a concrete countertop, vanity, mirrors and, a white subway.
via @ourhavenbliss
16. This is an elegant entry with an inimitable farmhouse vibe. It also contains a console table, chairs, and a flower vase.
17. This is a perfect outdoor space for the ultimate relaxation. It comes with a fringed hammock, a beautiful table, and string lights to provide an inspiring environment.
18. It is a blissful built-in bed nook to relax with your favorite book. You can even host an overnight guest perfectly.
19. This inviting farmhouse bedroom comes with beautiful end tables, appealing lamps, and romantic light fixtures.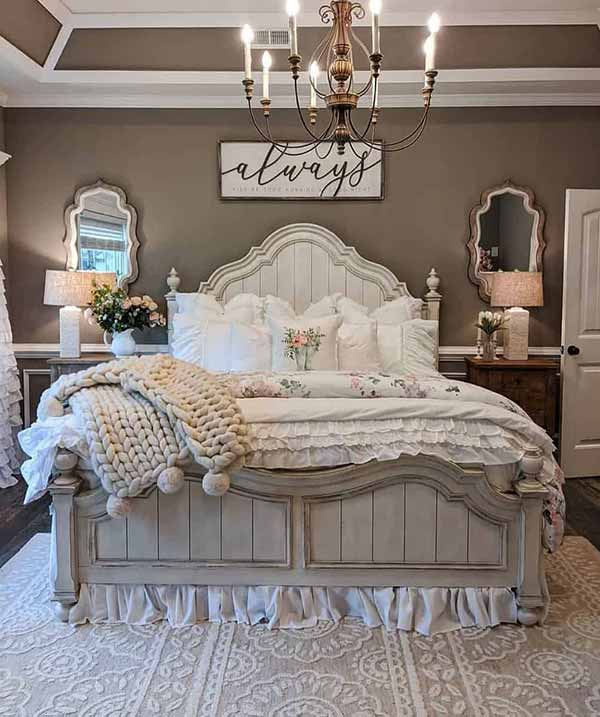 20. This unique, modern farmhouse décor offers the best comfort and style. It features a beautiful rug, quality bedding, and a lovely sign.
21. This elegant modern farmhouse kitchen is perfectly designed to offer the ultimate comfort and convenience. It is one of the most appealing modern farmhouse decor ideas that you can even come across.