If you are thinking of renovating your bathroom, it is likely that you have been overwhelmed by the large number and variety of tiles that exist in stores. In addition, it is very difficult to choose size, shape, and color when you do not know how they will look on your wall.
In this article, you will find some ideas, tips, and visual references to choose the one that best suits the shape, size, and lighting of your bathroom.
1. Black tiles
The black tiles give a very aesthetic appearance to the bathrooms, combined with small hexagonal pieces you will achieve a very sophisticated look.
2. Gray tiles
If you want to opt for a lighter-toned option, you can combine it with larger, classic-shaped pieces, such as rectangular ones. They are very well combined with mosaics made with a ladder of colors that oscillate between the lightest and the darkest.
3. Textured tiles
Textured tiles are a very original way to give your bathroom a unique look. But its main counterpoint is how difficult it is to maintain good cleaning.
4. Flake tiles
The fish scale tiles give your bathroom a magical touch. In addition, you can choose different shades to combine them and represent landscapes or convey certain emotions.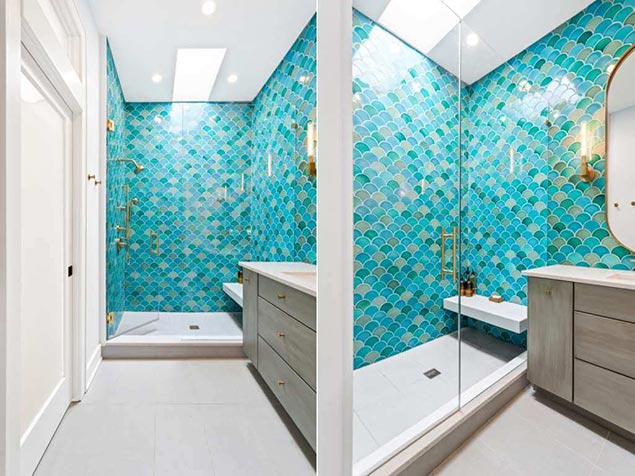 5. Aztec tiles
Those are tiles that have exotic patterns based on different cultures. In this particular case, the Aztec. To do this, use the triangular patterns and angles, resembling the stairs of the Aztec pyramids. A good choice of colors will give a feeling of having a clean, tidy, and spacious bathroom.
6. Classic tiles
Opting for the classics will never be a mistake. The white, rectangular, subway-style tiles are always a good idea because they give lightness and a feeling of spaciousness in your bathroom.
7. Relocate the classic tiles
If instead of using the classic rectangular tiles in a landscape shape, you fit them diagonally, you will get unique patterns that will give a sophisticated and renewed touch to your bathroom.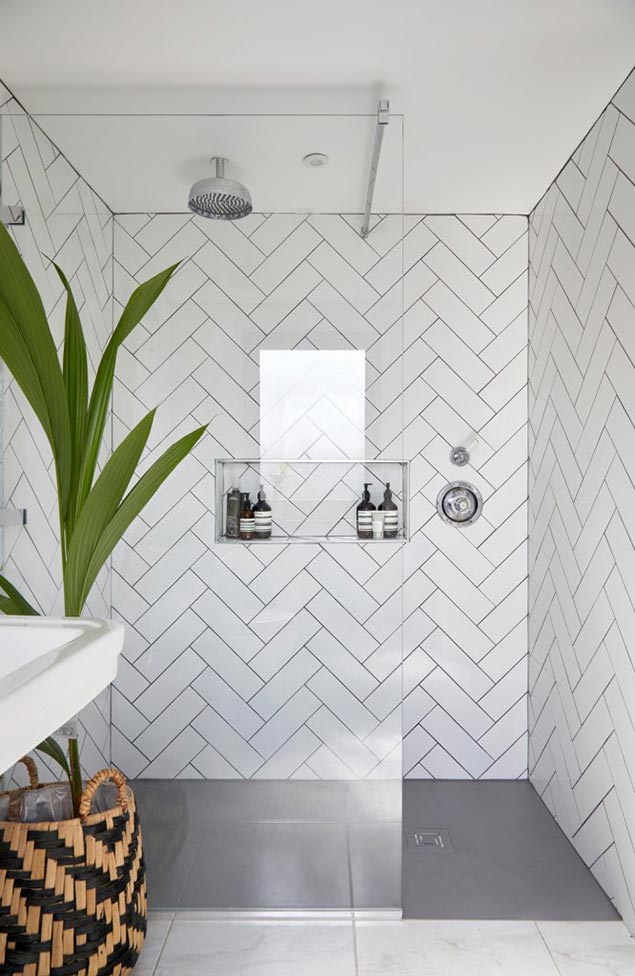 8. Paint the joints
If you want to give it a new look but don't want to invest in a complete renovation, you can apply your budget to paint the joints between tiles. Black, for example, will stand out a lot with basic white tiles and will give your bathroom a modern look.
9. Coin-shaped tiles
There are also very, very small circular tiles, the size of a coin. You can put many together to create very cool designs and you can combine small tiles of different colors to make colored patterns, such as horizontal stripes in gray and white.
10. Pencil-shaped tiles
For bathrooms with high ceilings, tiles placed vertically can look great and give the feeling that you are even taller. You can use pencil-shaped tiles -those that are very narrow and very tall- side by side like a bamboo screen.
11. Tiles that look like wood
For a comfortable, rustic look, you can use tiles that are decorated like wood. It is more recommended than using real wood because this would have to be sealed so that the water does not leak inside.
12. Marble tiles
Marble is a very sophisticated element that gives a very luxurious look to bathrooms. It can be used both on the walls and for the sink.
13. Glass tiles
Glass tiles are a beautiful way to decorate the wall of your bathroom because they give a very original appearance of depth and three-dimensionality.
14. Spanish tiles
There is a wide variety of Mediterranean tiles, they exist with drawings on them or with geometric patterns that will give your walls life, color, and passion. If they are very ornate, they can be combined with simpler tiles that make them stand out, placing only one strip of them.
15. Ombre Aqua Subway Tiles
And here are more than ten examples and ideas to renovate your bathroom. Surely among these, you will have been inspired a lot and you will have found the ideal combination for your home, now you just need to place it!