Stunning Under-The-Sea Decorating Ideas Kids Would Love
Sometimes, a kid's room decor needs to change according to the season, such as when summer is approaching, and the "under the sea" theme would be perfect for your home. Whether your kid loves sea creatures or is a mermaid fan, there is an under-the-sea decorating idea for every kiddo that they would want to bring to their room. Have a look at diy under the sea decorations below that we have gathered for you. You can pick up some of these awesome ideas from the world under the water to decorate your kid's room or make an amazing themed party. You don't need to be a pro to create an underwater paradise – just choose sea-inspired colors like blue and green, and add some texture with shells, sand, or driftwood. For an extra special touch, you can use balloons to make cute sea creatures like jellyfish and octopuses. Whether you decide to go all out with an under-the-sea makeover or simply add a few aquatic touches, your kid is sure to love their new themed room. So, are you ready to dive in and explore all the possibilities?
#1. Kid's reading corner looks like it's "under the sea".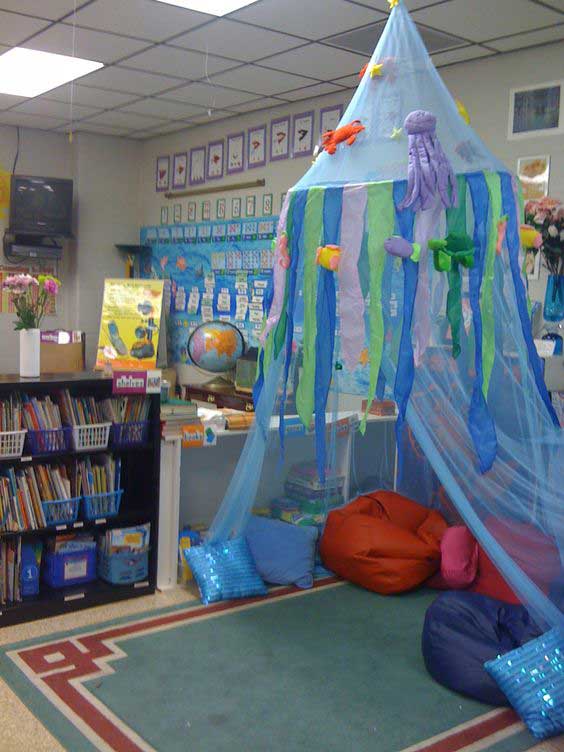 Source: teachinghappilyeverafter.blogspot.com
#2. Tablecloths and paper cut-out turtles made this stunning ceiling decoration.

For more details at ====> charmingclassroom.blogspot.com
#3. These coral reefs made out of egg cartons will look far more realistic when you add a little bit of paint to them.
#4. Cut strips of blue crepe paper to simulate the ocean and add seaweed garlands and fish.
For more details at ====> charmingclassroom.blogspot.com
#5. A creative way to get under-the-sea-themed utensils.
For more details at ====> blog.chickabug.com
#6. Paper streamer seaweed is something that will add some punch to under-the-sea-themed home decor or a party. Balloon bubbles are also amazing!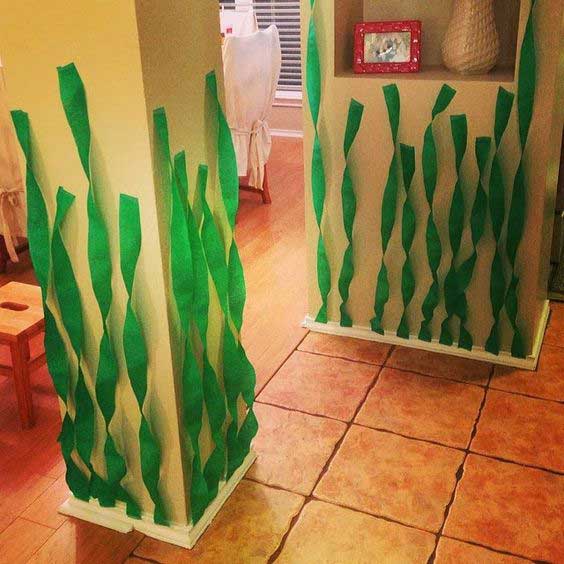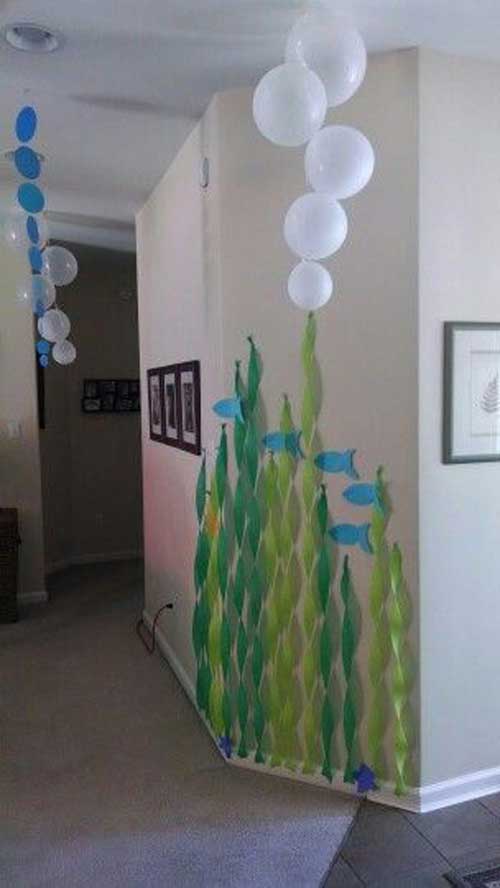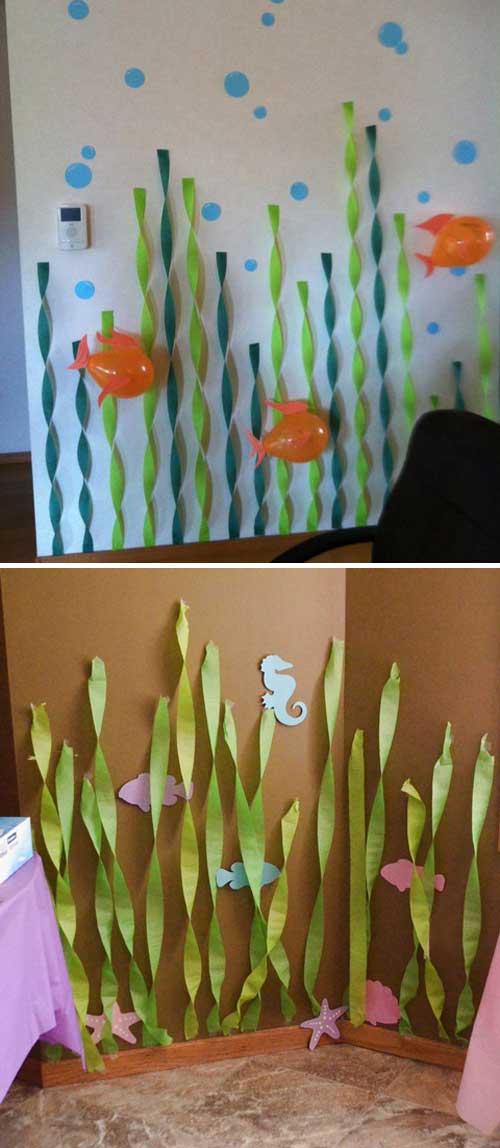 Source: catchmyparty.com
#7. Make these cute paper lantern jellyfish.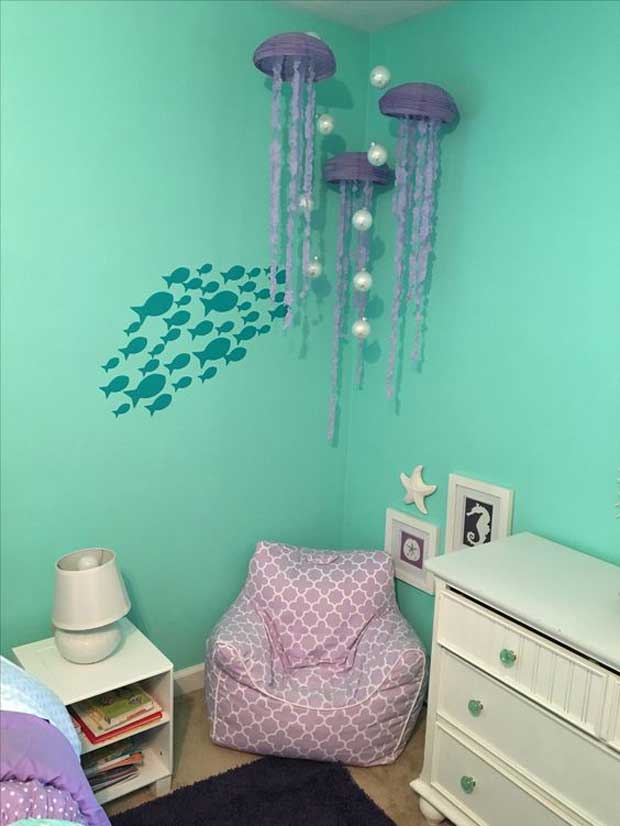 How to make them ====> mom.me
#8 Jellyfish made from bowls, fishing line, and shower loofa.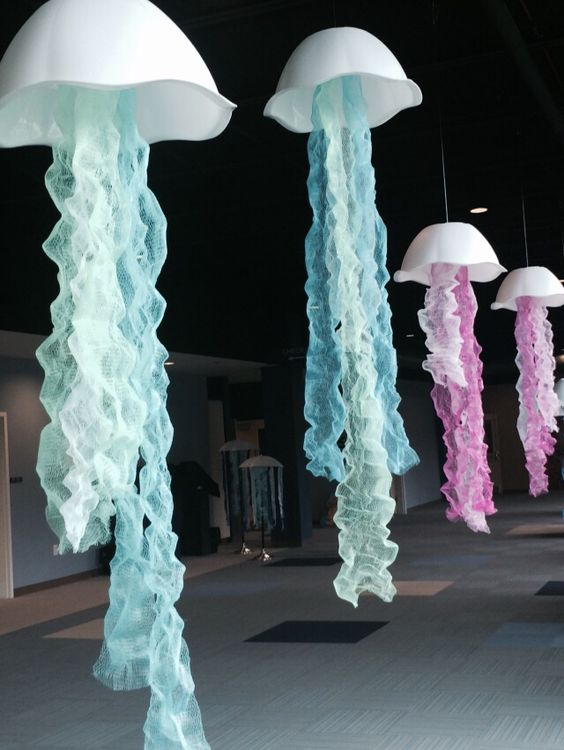 #9 These fantastic foam balls and foam ball jellyfish are ideal for creating an underwater backdrop.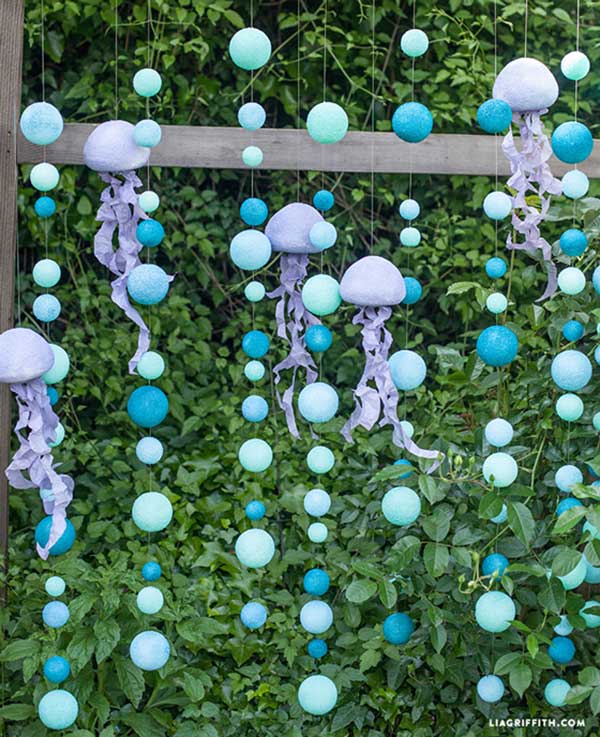 Tutorial: liagriffith.com
#10 Balloons can be used to make fun little octopuses that add an interesting touch to a room decorated in an underwater theme.
#11 Another beautiful pool noodle coral for under the sea party.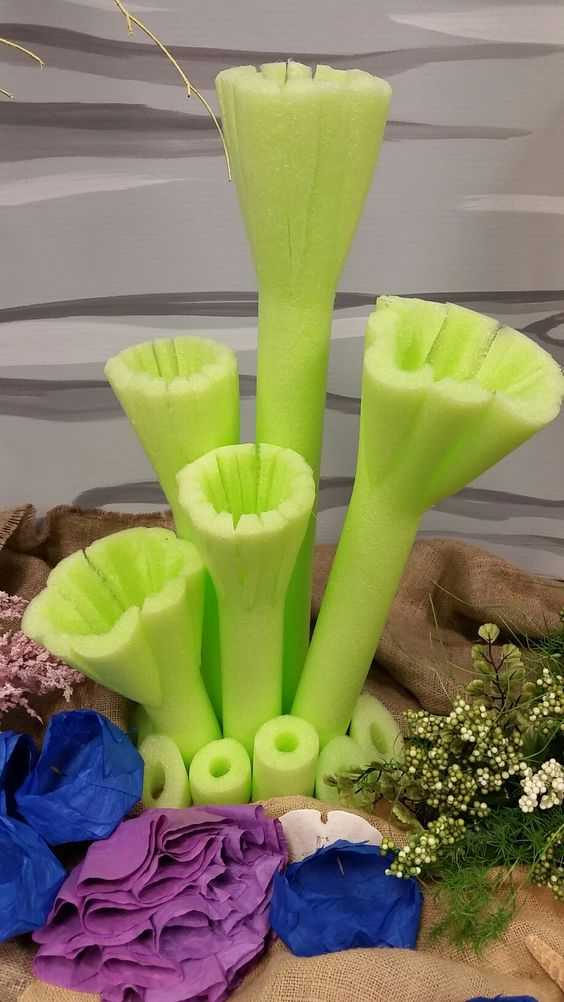 #8. Create bubble balloon strands for underwater theme decor.

#9. Use some curly pool noodles, foam flowers, and plastic tablecloths to make this cute coral reef.
How to cut curly pool noodles ====> busykidshappymom.org
#10. Transform the backyard pool into a scene from under the sea.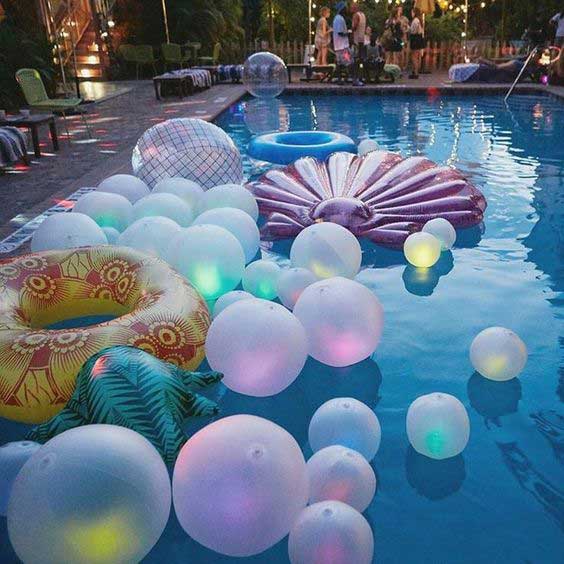 Source: instagram.com
#11. Use spray foam to create these stunning coral reefs.
How to make it ====> pinterest.com
#12. Go for a door decoration inspired by jellyfish.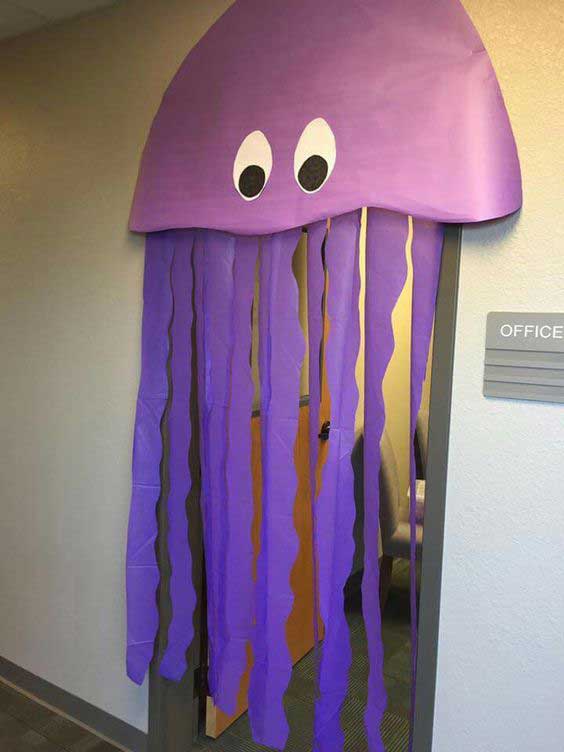 #13. Paint an under-the-sea-themed mural on the walls and ceiling.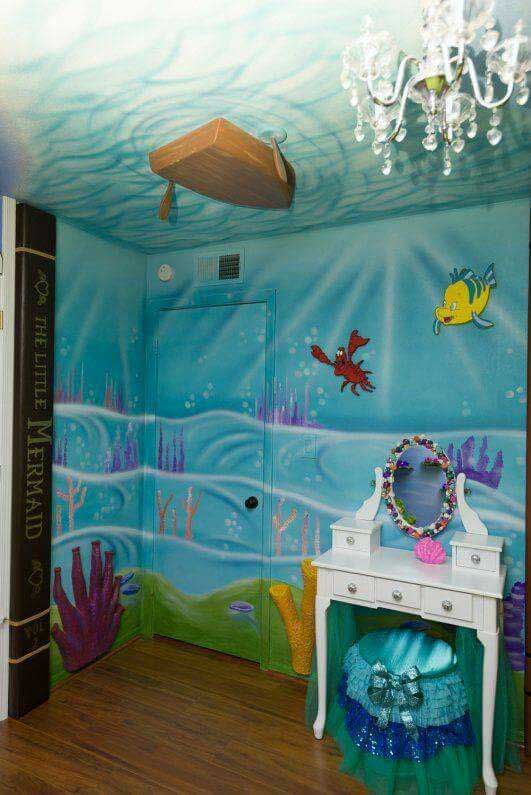 Source: pinterest.com
#14. Make this easy under-the-sea backdrop using plastic tablecloths.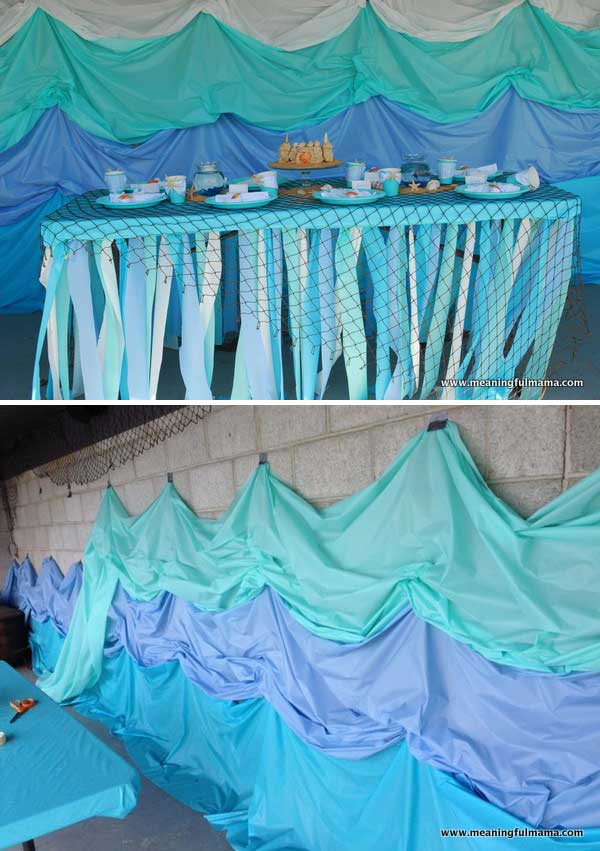 For more details at ====> meaningfulmama.com
#15. Bring the feel of "under the sea" to your party at home by using blue cellophane to cover windows and adding underwater creatures.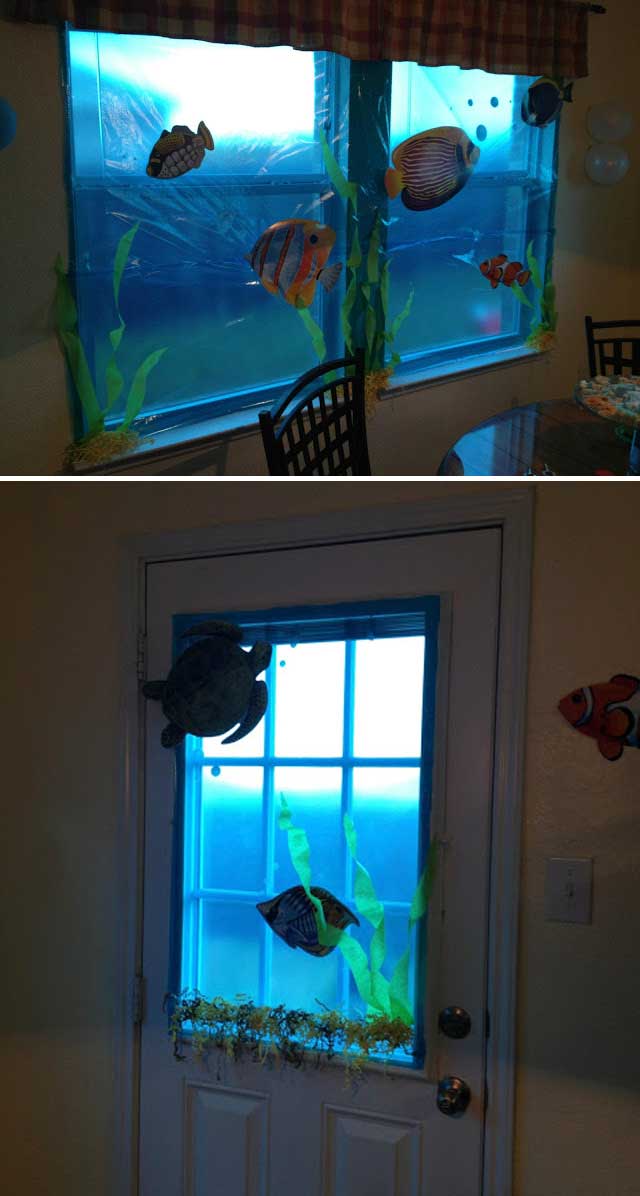 For more details at ====> confessionsofacontrolfreak.blogspot.com
#16. Turn the entrance into a tunnel in the form of "under the sea".