25 Cute Frozen Themed Room Decor Ideas Your Kids Will Love
Are your daughters big fans of Disney's Frozen? If the answer is 'yes', you should take action to transform their room into a beautiful scene directly from the Frozen movie. A Frozen-themed room is like a fairytale world that deeply touches the hearts of every girl. Therefore, if you are planning to design a themed room for them, here are some cute ideas that would be very suitable for you: favorite characters, wintry feel, Frozen's shimmers, and many other ingenious elements that can help you achieve a Frozen-themed decor. Although some of them may not be directly from the movie screen, you can still draw interesting inspiration from them and incorporate them into your room designs.
1.Girl's bunk bed inspired by frozen movie
Transform your little one's room into a magical Frozen wonderland with a charming bunk bed design that captures the enchanting spirit of the movie.
2.Make a Cute Frozen Snowflake Chandelier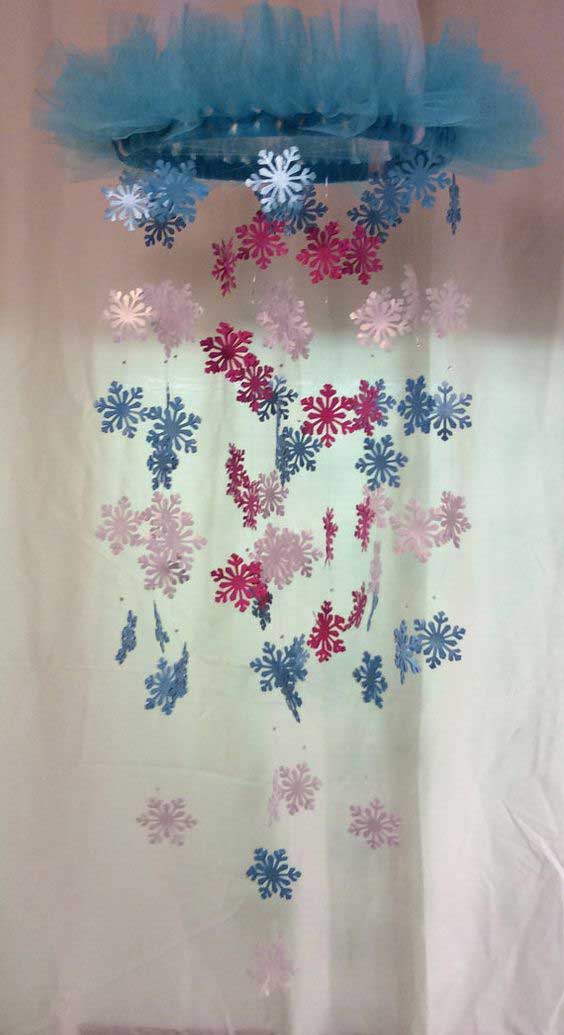 Add a touch of icy elegance to your child's room with a delightful snowflake chandelier that twinkles like glistening frost, bringing the magic of Frozen right into their space.
3.Frozen Inspired Hand-Painted Door
Open the door to a world of Frozen adventure with a hand-painted door featuring beloved characters and wintry motifs, creating a whimsical entrance that sparks imagination.
4.Icicle String Lights Behind a Sheer Blue Curtain
Create a dreamy atmosphere with icicle string lights delicately placed behind a sheer blue curtain, casting a soft, ethereal glow reminiscent of the Frozen kingdom.
5.Elsa and Anna's Bedroom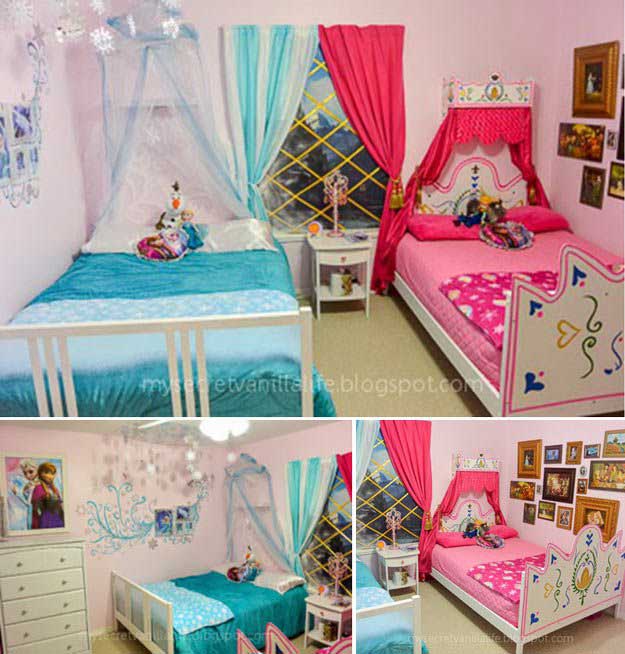 Bring the royal sisters to life with a bedroom fit for Elsa and Anna, adorned with their favorite colors and iconic elements from the movie, providing a cozy retreat for your little princesses.
6.How about a frozen inspired chandelier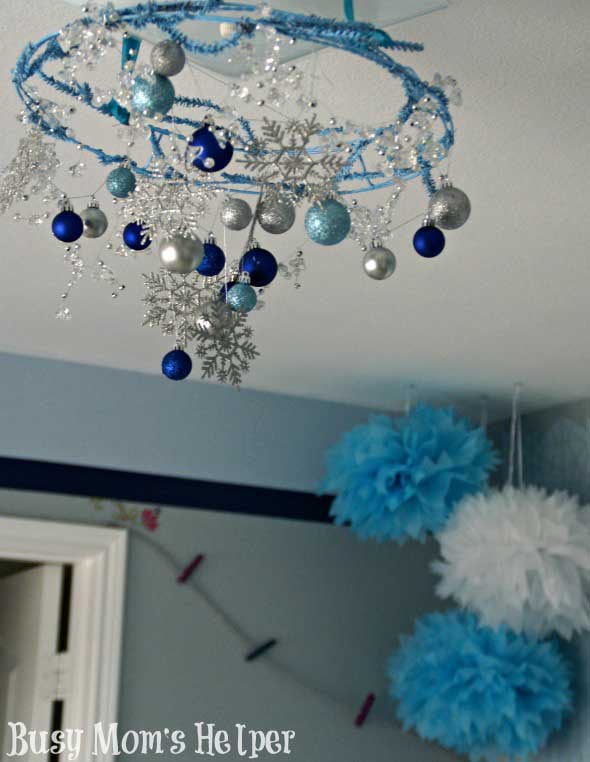 7.Magical Cotton Ball Fake Snow
8.Add a large Elsa wall mural, and snowflakes decals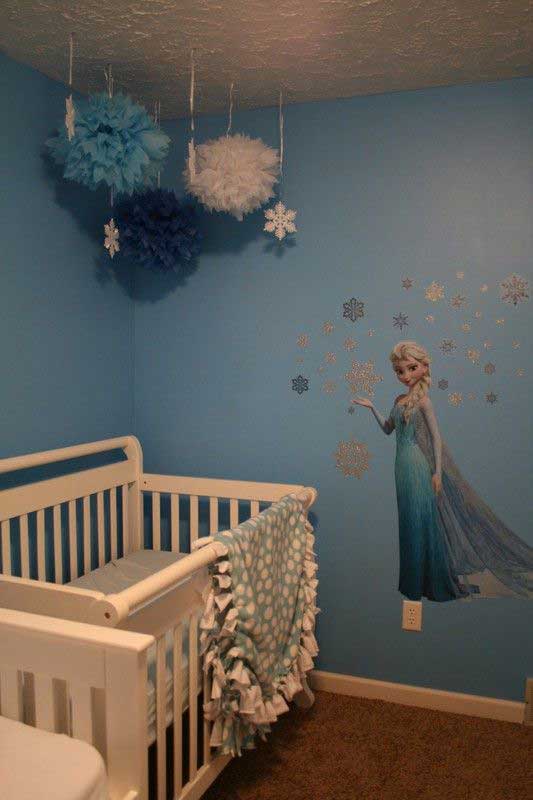 9.Canopy bed decorated with sheer curtains and magic string lights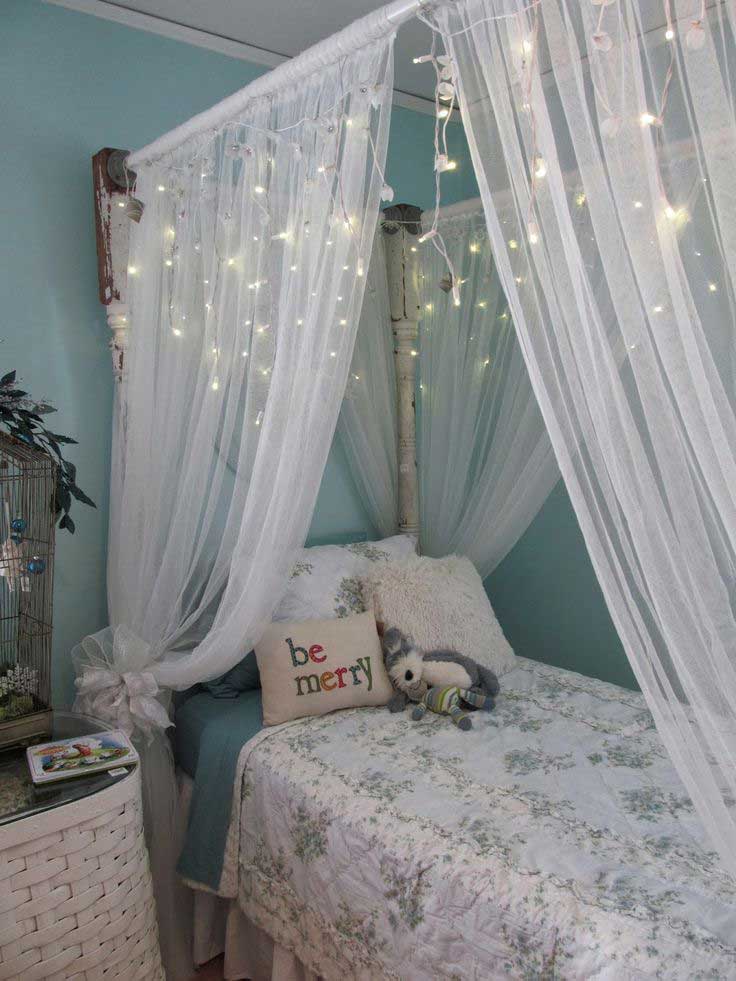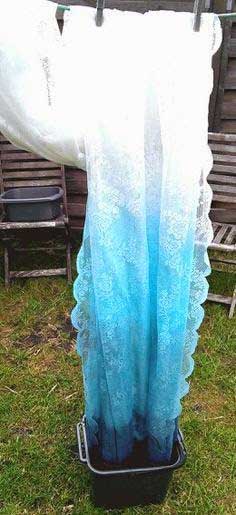 10.Decorate the frozen ceiling with paper icicles
11.Go for a frozen wreath
12.Frozen themed girl's room with a castle bed