Summer is here and it's exciting camping time too. Going on a camping trip with your family or friends is a brilliant way to appreciate or enjoy the gorgeous outdoors and perfect summer weather. You can start your camping trip from a field forest and that should be an exciting adventure. Or you just want to sleep under the stars without going too far from home, then create a backyard camping by simply pitching a tent and setting up camping chairs in your own backyard. Whether you are an expert camper or a backyard camper, anyone will need a little camping hacks, tips and tricks. See how to make a highly efficient campfire, learn the best way to keep things tidy, or see ideas how to keep mosquitos and other bugs away. You might love these camping tips so much. And these DIY hacks will make enjoying nature a little more easy in your next camping trip.
1. Make a little scavenger hunt list with pictures to let the kids in your group enjoy exploring the area surrounding your campground.
Image via: creativehomemakers.blogspot.com
2. This is a clever use for a hanging closet organizer while you're camping. The hanging camping organizer clears up space on the tables and keeps things tidy and allows you easily access the things you need most often.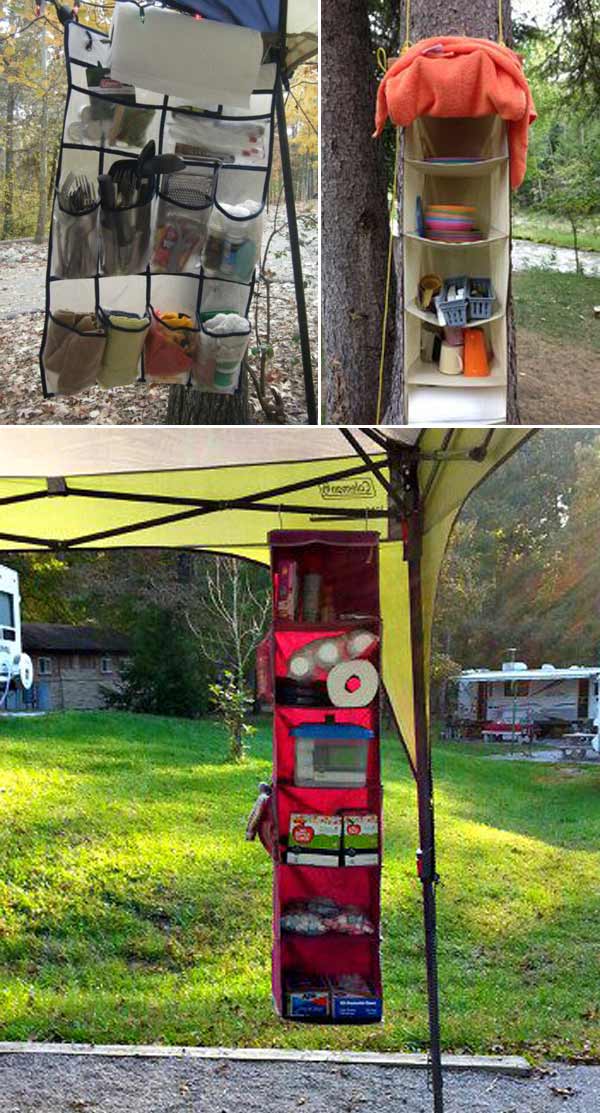 Image via: sunnysimplelife.com
3. Synthetic detergent soaps will hurt the environment, so it would be great to carry the 100% biodegradable soap with your camping trip. The only trouble is that keeping a bar of soap in a baggie will make a huge mess. A good solution is to make single use soap "leaves" with a peeler.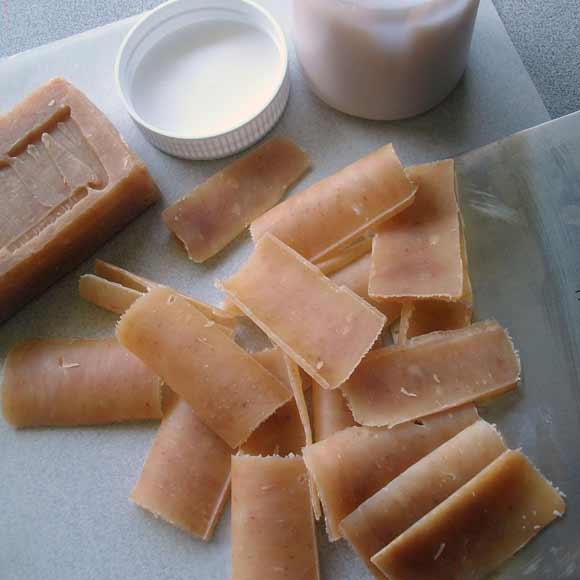 Tutorial: bethannecreates.blogspot.com
4. By creating a small tunnel to connect the bottom of the main hole to allow more air into, thereby the wood can get more efficiently burning without more smoke.
Tutorial: survivalistboards.com
5. Hang your pots and pans easily using a belt and some hooks.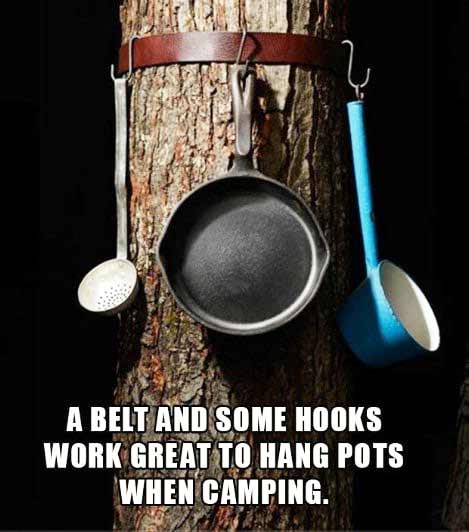 Source Unknown.
6. As a highly efficient campfire, the Swedish torch provides you long-burning fire for cooking. Instead of using a chainsaw to make one, you can tie six pre-cut logs together with wire to get the same purpose.
Image via: freshoffthegrid.com
7. Wrap the Gorilla Tape around the RV power cord to prevent the ants from getting into your trailer.
Source Unknown.
8. Make a long-lasting candle from half an orange. It will smell amazing.
Image via: instagram.com
9. Make a forked hanger with branches and then fix it to nearby trees using your ropes.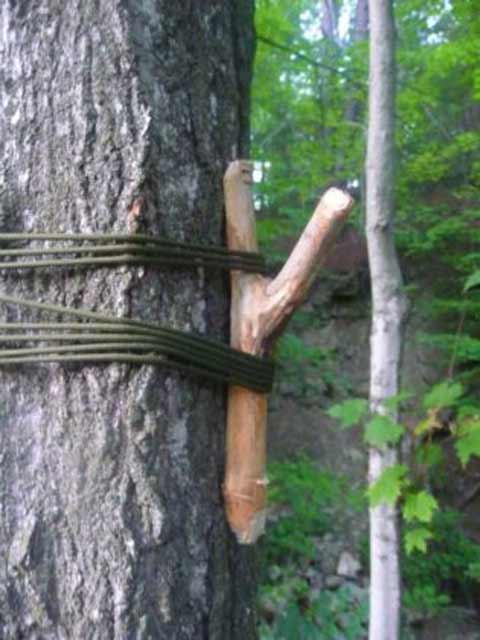 More details: northeastvoyageur.com
10. Starting a fire is the first thing every camper must know. Toilet paper rolls filled with the lint are the most common starter we've ever seen. But if you do not have them at your trip, Corn chips (like Fritos or Doritos) will be great alternative.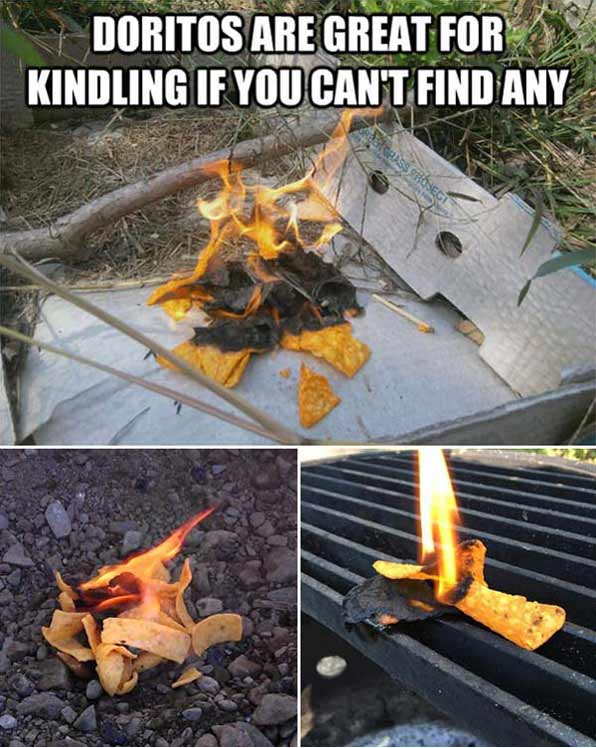 More details: woohome.com
11. Don't want charred-to-a-crisp meals? Just make sure before wrapping your meat with tin foil, you should wrap your food in cabbage leaves first. The cabbage is dense and moist enough to keep your meat from getting burnt to a crisp.
Image via: onesweetappetite.com
12. Burn a bundle of sage on the edge of your campfire to help repel mosquitos and other bugs.
Source Unknown.
13. Create a last-minute camping spoon with a knife and a plastic bottle.
Source Unknown.
14. Slit pool noodles lengthwise and slip over each tent ropes or awning strut to make them more visible, so people stop tripping over them in the dark.
15. If you're worried about mosquitos and other bugs, hang up an oversized mosquito net to easily keep them out.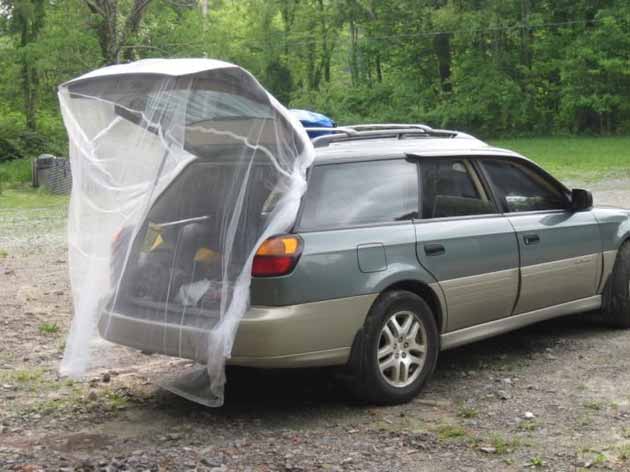 Image via: expeditionportal.com
16. Make a reusable camping shower from a water jug and a watering-can spout.
Tutorial: instructables.com
17. Use a garden flag holder to hold your paper towels when camping. or Hang a paper towel roll using a bungee cord from the tent struts.
or make this handy contraption (a milk crate with a steel rod through it) to keep the paper towels clean and always within reach.
Image via: everintransit.com
18. Learn how to use plastic bag or tube to effectively filter water for safe drinking when camping.
Image via: facebook.com
19. This hack also helps insulate the floor from cold air, keeping your air mattress or sleeping pad nice and cozy.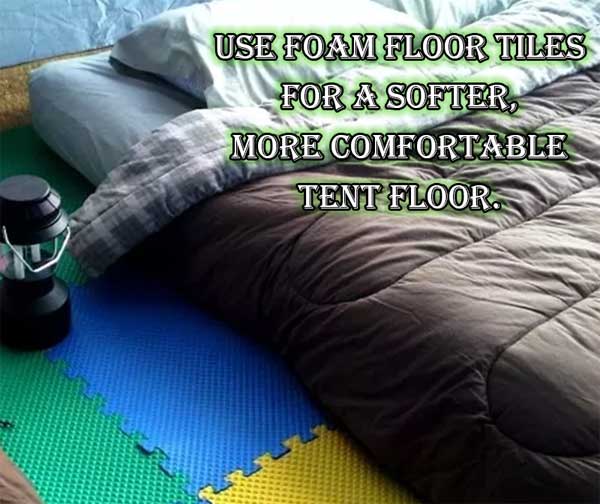 20. Campfire cones is a must-have camping dessert. Just fill a waffle cone with your favorite combo of fruits and sweet treats, wrap it in foil, and place it in the coals of your fire for several minutes.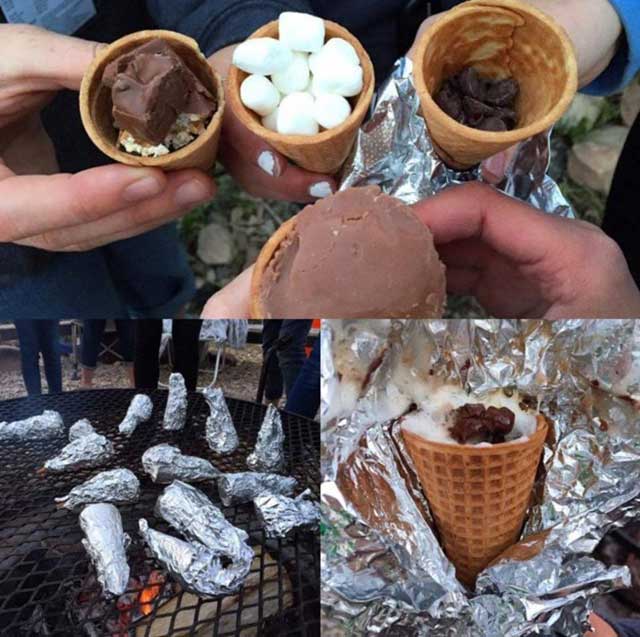 21. Use a small stick to help secure the main center line. When pressure is put on one end, the line will tighten evenly, keeping the grommets from being torn out.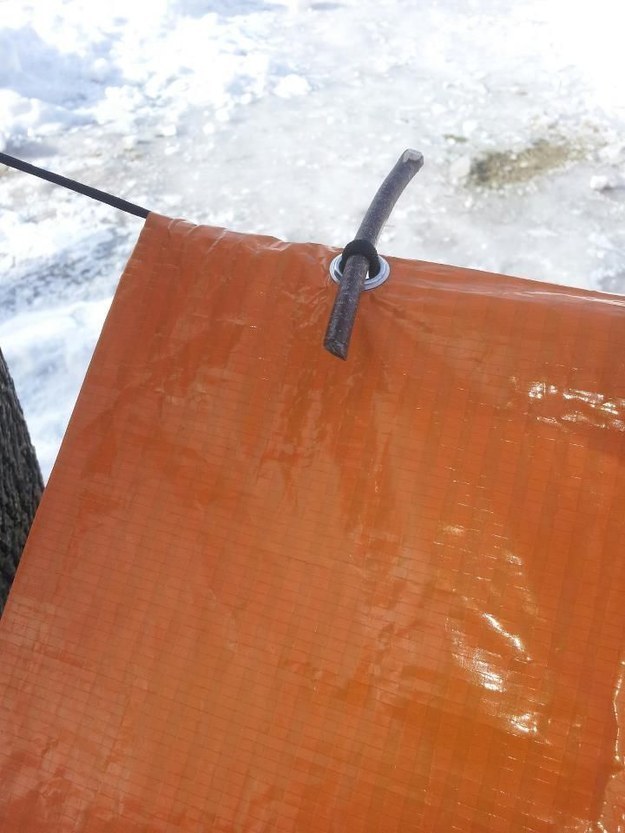 22. Buy cheap shower caps to put dirty camping shoes inside of when packing up. This way it keeps the rest of the things in your travel bag organzed!
23. How to keep ticks away while camping? One is making a natural tick repellent with 1 part tea tree oil mixing with 2 parts water; the other is rolling your clothes with a lint roller after being in the woods to catch hiding ticks.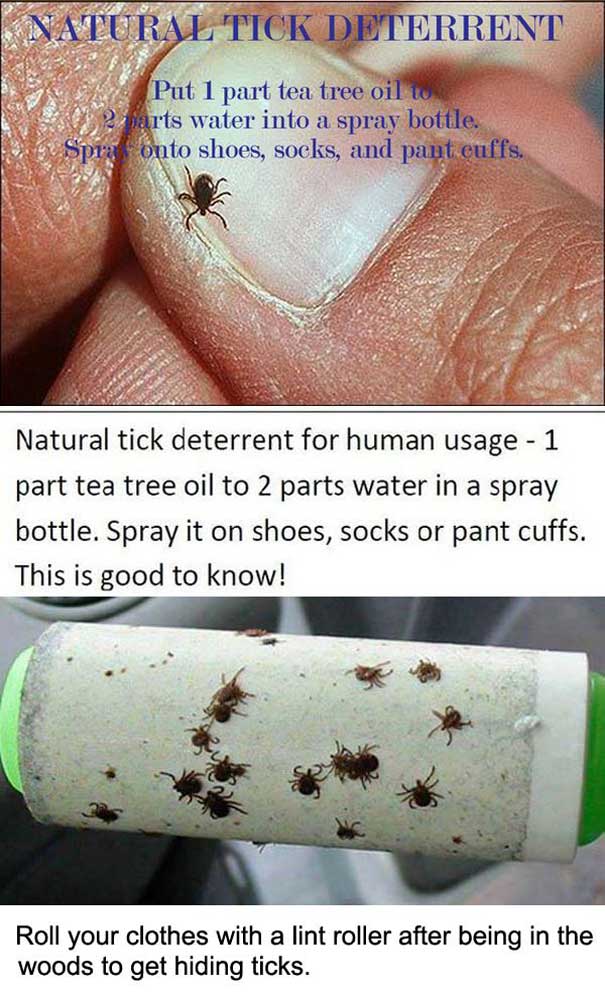 more at: instructables.com
24. Use bungee cords to secure a box fan to the ceiling of your tent.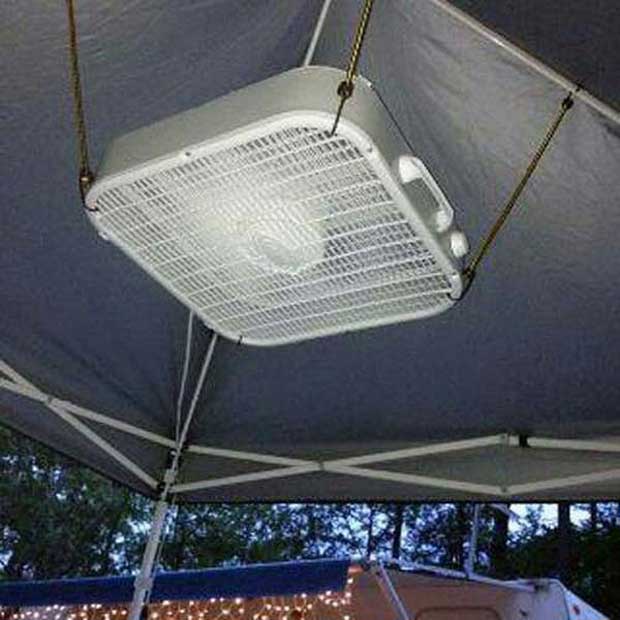 25. Prevent blow-away bags of trash by slipping one on a foldable laundry basket. The foldable laundry baskets won't take up much space when they are foldable.
Image via: campingkitchen.blogspot.com
26. Can't live without your morning coffee? Pour some coffee in filters and tie them with some dental floss…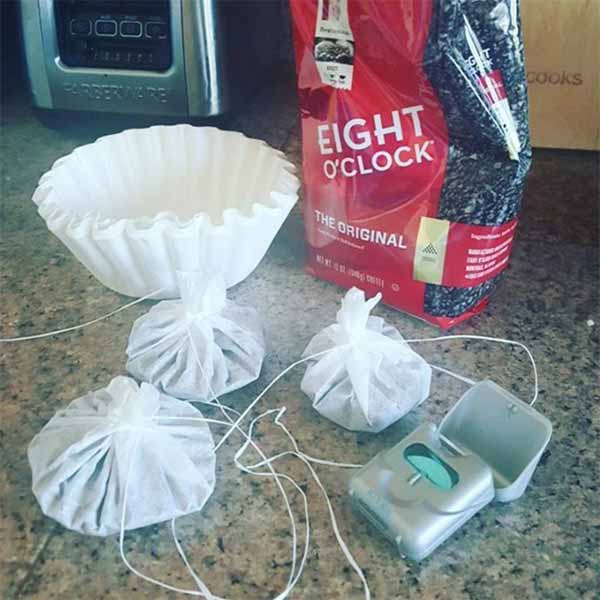 Image via: instagram.com
27. Once these toothpaste dots dry, sprinkle baking soda over them and pop them into a resealable plastic bag.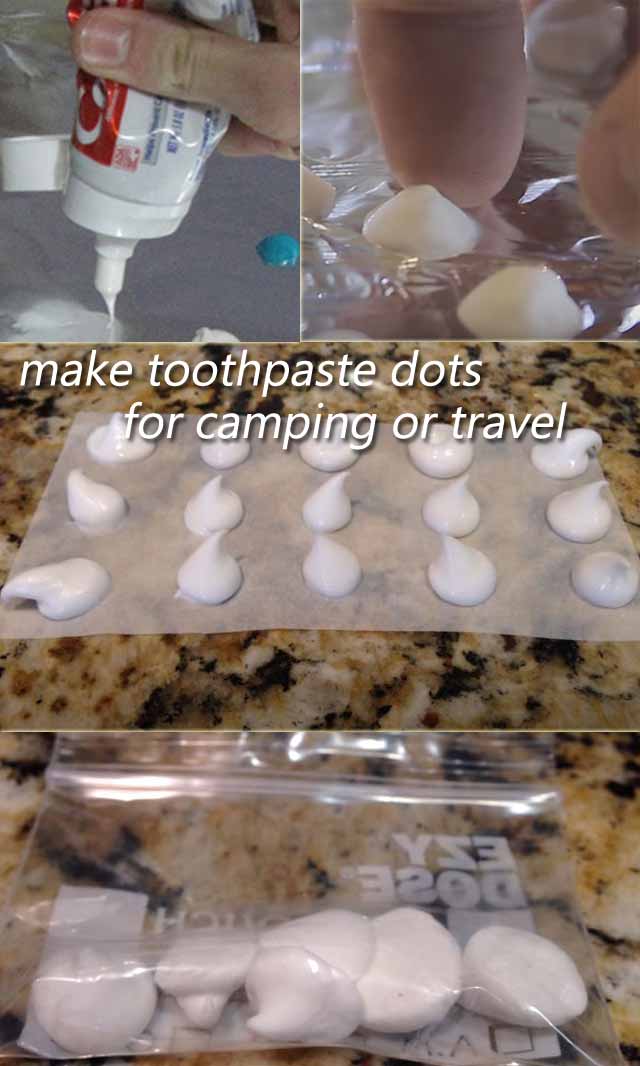 Video tutorial: youtube.com