From this season to the Fall, it's a good time to enjoy the outdoors. Whether the backyard, porch and patio, they are all great place to spend happy time with your family and friends. Just think how cozy it is that play with your families or entertain guests in a beautiful yard or porch! Besides well decor and adding great curb appeal, you can also set up some interesting projects to your backyard or frontyard, such as the outdoor bar, sunken firepit, chess or checkers table and sunken trampolines for kids. Take a look below projects we have gathered for you. They will help you upgrade your home's outdoor to make it more beautiful and fun; and enhance the curb appeal of your house and make visitors look forward to seeing the inside of your home.
#1. Place low and white fence along the walkway of your front yard; and the fence also can be the edge of lawn and yard: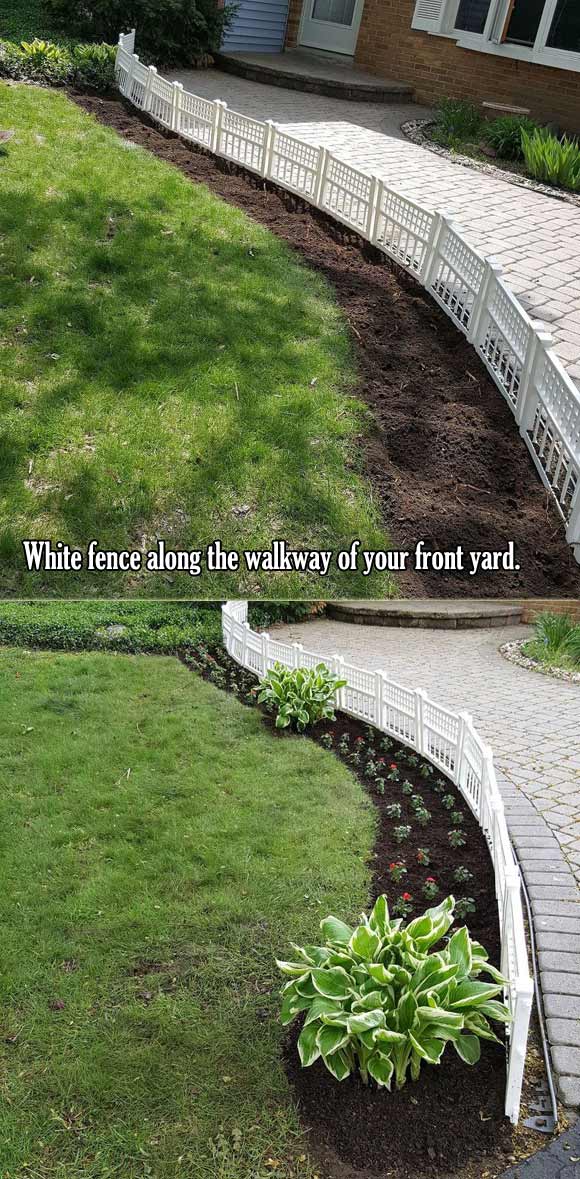 See more details here.
#2. A beautiful window well landscape sure to capture your guests attention:
Source: hardscapes.ca
#3. Bring nature into your yard entertaining area with a deck built around existing trees: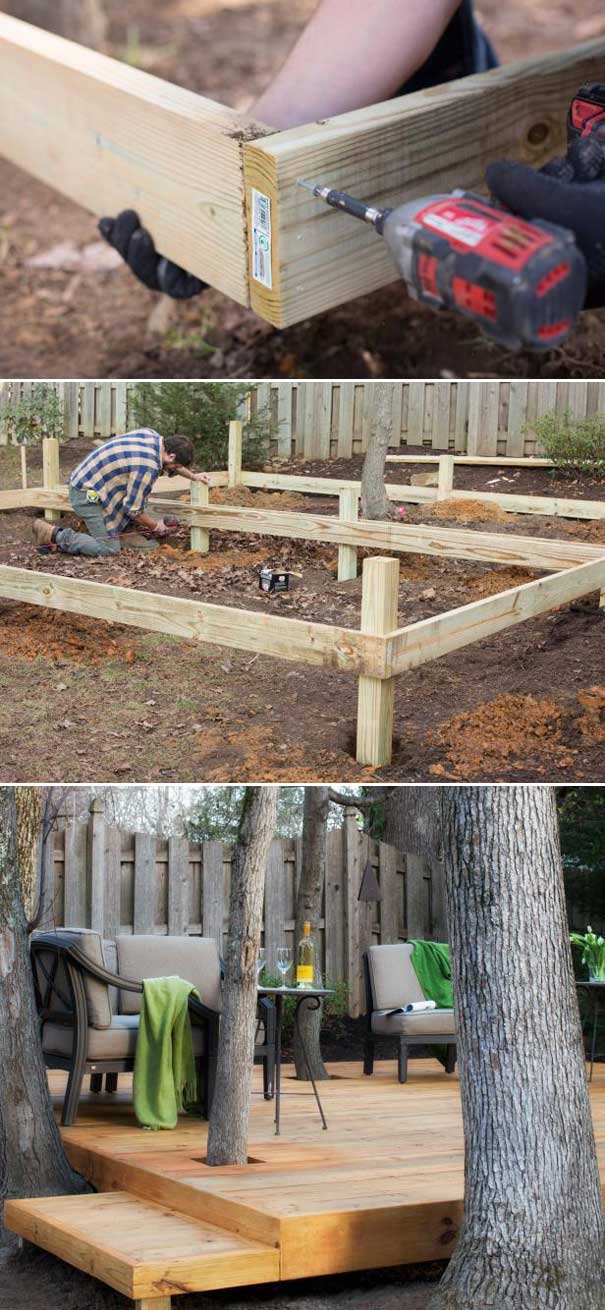 How to build it: hgtv.com
#4. If your backyard have a pergola, you can set up a bar by adding wide surface between two posts:
#5. White fence and some of stones as edging can create an eye-catching mini garden:
Source: mamaskram.blogspot.com
#6. Lighting is an essential element in the night; these mason jar lanterns can be easily made from dollar store materials: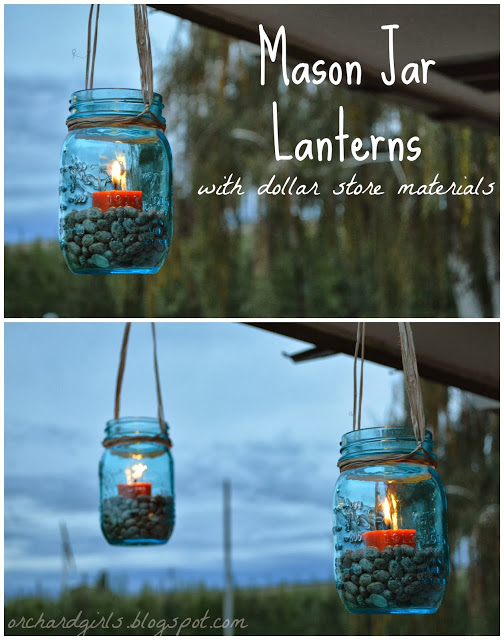 See the full tutorial here: orchardgirls.blogspot.com
#7. Turn the "weed yard" into a lot more serene and low maintenance space for outdoor relaxing:
See the full instructions at:   part1   and    part2
#8. Build a sunken seating area with fireplace and outdoor theater for family and friends gathering: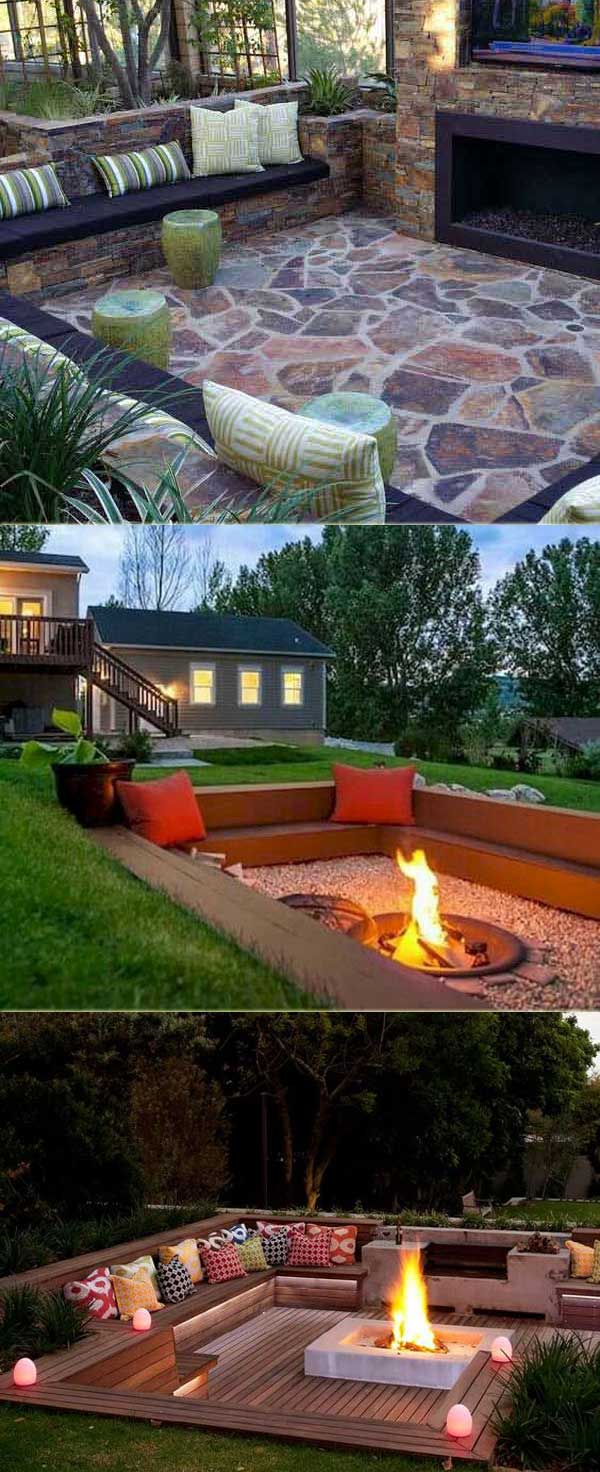 #9. Add some fun to your backyard lawn by laying a checkerboard pattern of concrete pavers: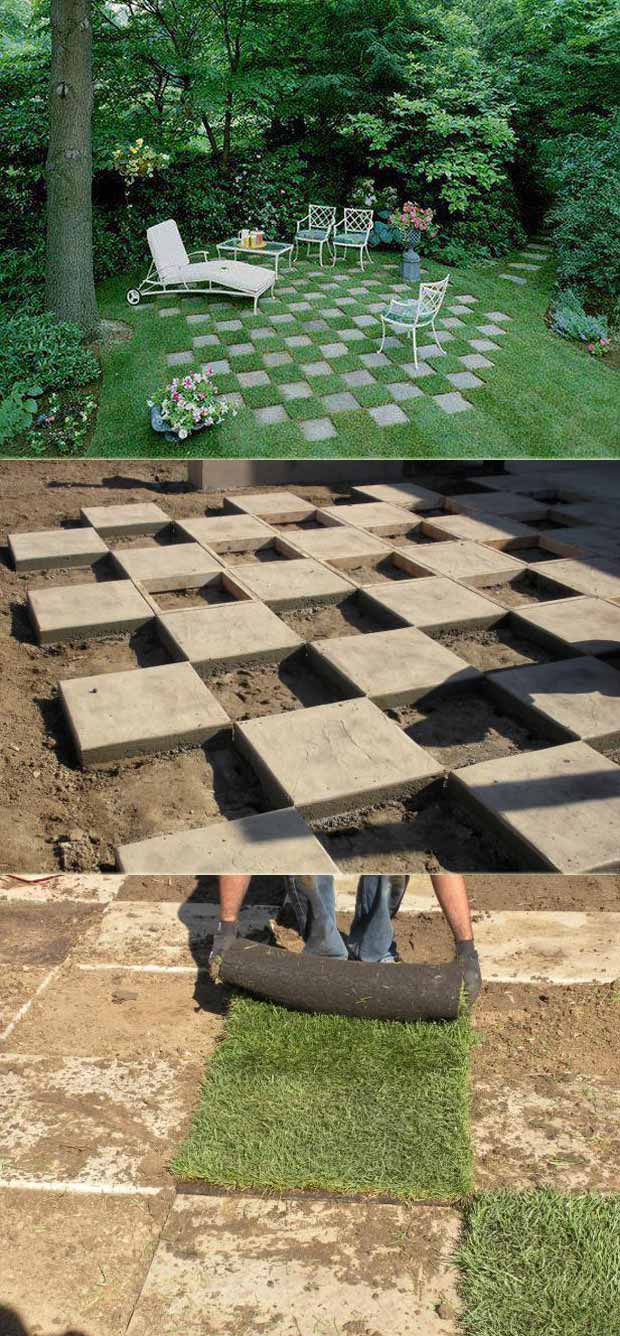 How to create a chessboard patio: diynetwork.com
#10. A stone grilling pit for your backyard entertainment:
Source: brooklynlimestone.com
#11. Use 2x4s and other budget-friendly structural lumber to create 3 tiered corner plant stand:
How to build it: charlestoncrafted.com
#12. Create a stylish patio with large poured concrete pavers and pea gravel:
See the full step by step instructions at: blog.homedepot.com
#13. White painted old tires used as backyard lawn edging:
#14. Make an easy chess or checkers table using ceramic tile. The table uses pvc legs and a homemade quick disconnect mount to secure it to existing hand railing: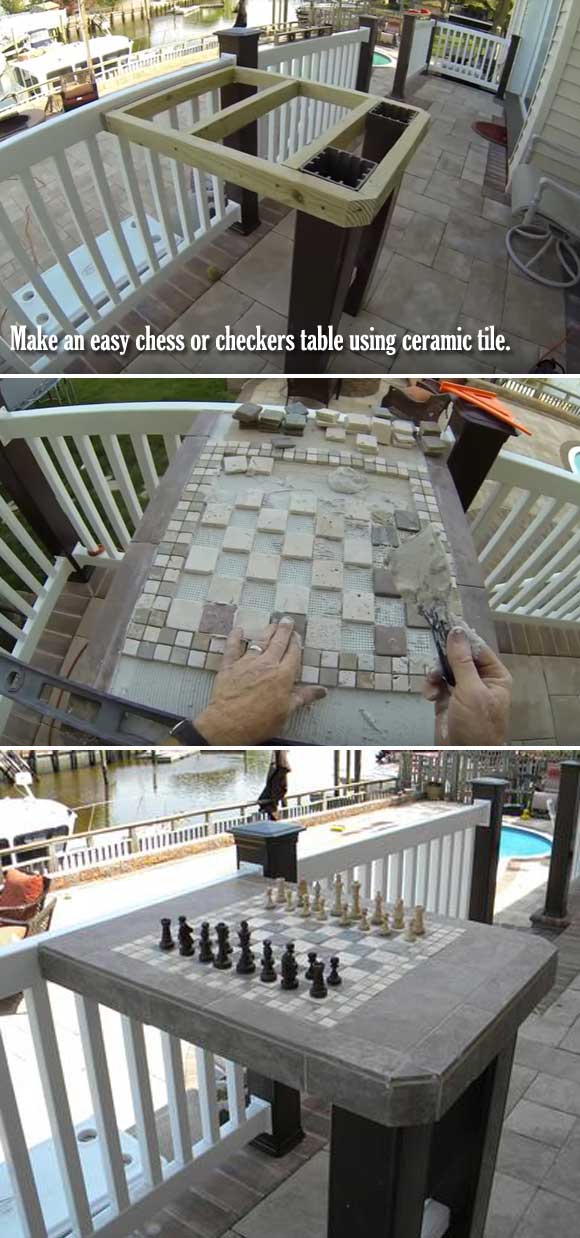 See the video instruction here.
#15. Transform your mail box into a small trellis garden:
#16. Looking for a simple way to renovate your front porch? You could consider building a corner bench as well as a table to display your decorations such as a vintage lantern:
How to build it: remodelaholic.com
#17. Place potted plants inside these buried pots for easy landscaping: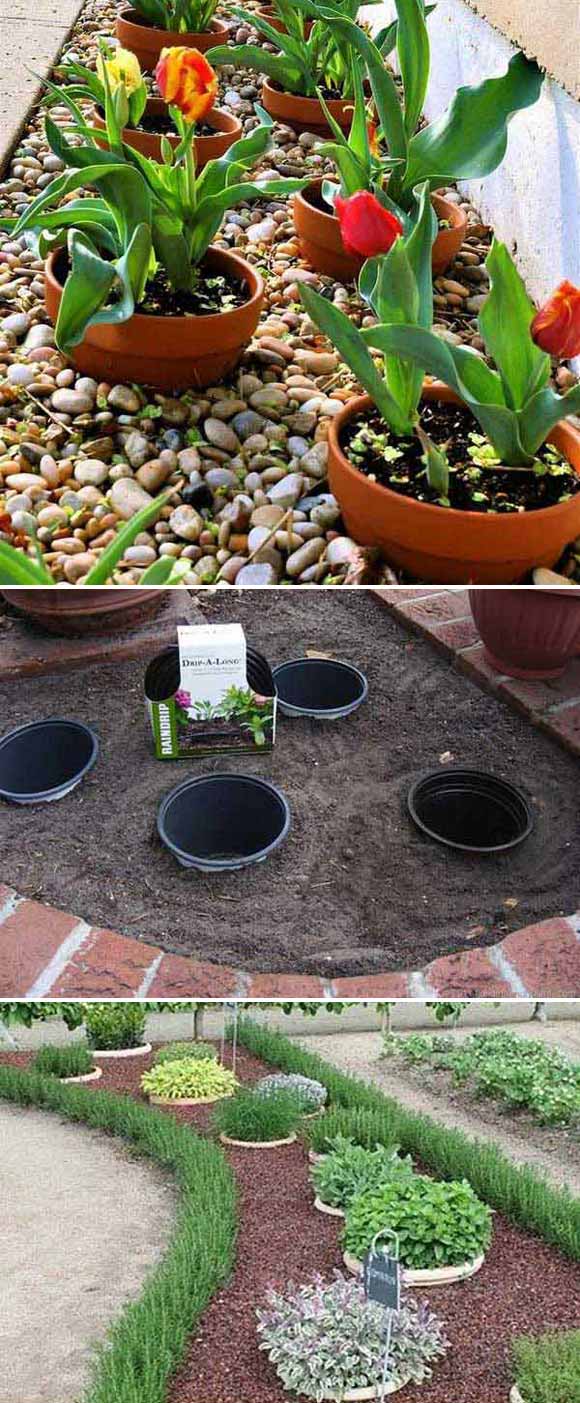 #18. A feet-washing station lets kids who love to spend a lot of time barefoot in the backyard easily clean their feet off before going back inside:
Source: sisterhoodofthesensiblemoms.com
#19. Reuse old galvanized buckets and river rocks and white candles (you can also use led lights) to make charming outdoor lighting:
#20. Mount flower baskets on wooden posts along the walkway of your front yard:
See the full tutorial at: cottageatthecrossroads.com
#22. Wall-Anchored backyard sun shade. When you remove the canopy, the hooks are barely noticeable:
More details at: zodirowe.blogspot.com
#23. Reflective Fire Bowls Created from Buckets:
See more details for above project at: bloglovin.com
#24. Paint black and white strips on a concrete floor to upgrade your front porch:

Check out the full instructions at: cuckoo4design.com
#27. Add some curb appeal to your house by creating craftsman style porch columns:
How to build it: shadesofblueinteriors.com
#29. Sunken trampolines provide hours of bouncing fun with fewer safety hazards:
See the full instructions at: allthingsthrifty.com