Lighting is an important feature when it comes to outdoor space, especially at summer night. It will make the evening special and cozy. If there is a pergola in your home's outdoor, that will be easy to string some outdoor globe lights around it. However, not every house has pergola, this time you need a solution to set your STRING LIGHTING. One of my friend adviced to use concrete and gallon bucket to make a planter with a pole for holding up string lights. It is a good idea. And since you don't have to install anything permanent for this set up, it's cool diy project for a rented house as well. Let's get started!
STEP 1: Materials
– 3 J-bolts(each bolt with 2 nuts) long enough to go through the pole and 2 corresponding nuts for each bolt OR C-Hooks
– outdoor globe patio string lights
– (1). plastic 5 gallon bucket    OR   (2). homemade concrete tall planter     OR   (3). wine barrel
– 1 bag or more 50-60lb quick set concrete
– vinyl coated galvanized steel cable (optional)
STEP 2: (If you are using a ready-made gallon bucket or wine barrel, you can skip this step directly.) Making a square concrete planter. This is a complete diy project that can be designed to fit your space. Concrete planters are durable and easy to decorate, such as adorning them with mosaics.
How to make CONCRETE PLANTER?
Materials:
– the cheapest plywood Lowe's offers
– 6-50 lb.bags of quick-set concrete
– the trusty nail gun and large staples
Steps:
– First: Draw a sketch of the concrete planter according to the size of your plan.
– Next: create square inset with bottom plate according to your sizes, then staple together outer frames. The size of the bottom plate should be the same as the size of the insets.
– Next: Find a flat ground to place the outer frame, then mix the concrete. Spread about 1.5″ thick concrete on the bottom, then place the inset on it. You need to reserve a drain hole at the bottom.
– Finaly: Fill the frame with concrete.
Detailed TUTORIAL can be seen here ===> modernmaizy.blogspot.com
STEP 3: Mix the cement. Place pole in the middle of planter and pour the cement into the planter.
Image via: livingwithcolordesigns.com  &   savoringthegood.com   &   homedepot.com
STEP 4: According to your plan, determine the location and quantity of the string lights pole. Measure the distance will let you know what length of light strand you need. Draw a sketch.
Tips: There are various ways to string these lights in your backyard or garden, such as connecting multiple light poles; connecting a light pole to the fascia on your house (as shown in the sketch below:), or connecting a light pole to a tree.
Above: example of multiple light poles connecting
STEP 5: If you are using a metal pipe, then you need to drill holes to put the J-bolt in place using a nut on each side of the pipe.(Image Below)
If you want to build with wood pole, then at the top of the wood post, pre-drill a hole for the C-hook that will hold the string lights.(Image Below)
Image via: curbly.com   &   diynetwork.com
STEP 6: Place the eyelets to the fascia or gutter line on your house. (Image Below)
STEP 7: Set the steel cable that will keep the string light cord from strectching out over time, prolonging the life of the lights. (optional)
STEP 8: Use a ladder and zip ties to hang your string light. Make sure to hang the lights without the bulbs first.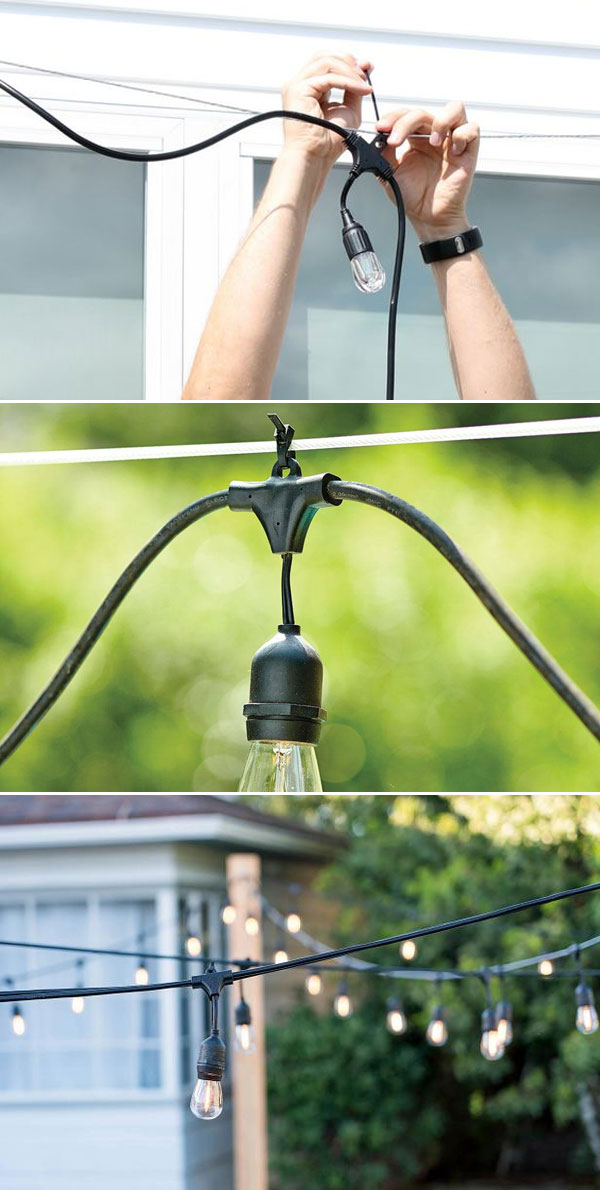 Image via: ashleybrookedesigns.com   &   ballarddesigns.com   &   diynetwork.com
Image via: abeautifulmess.com  &  diy.dunnlumber.com