A pergola serves as a good place for outdoor sitting, reading, or even having a meal with your family. If you have a pergola in your garden or yard, you must know the importance of its roofing as you know the right roof allows the light into and protects the pergola from the harsher elements of the weather, including the rain and snow. Most of the time, getting shade is the primary function of a pergola, and there are a lot of roofing styles you can opt, such as a retractable fabric shade, bamboo covering, or wire grid roofing covered with plants. To learn more pergola roofing ideas, have a look at this following collection:
#1. Decorative Screening on a pergola will create stunning patterned shadows during daylight.
#2. Clear suntuf panels let the light in but block out the UV rays, so they can be used as your pergola roofing.
Tutorial: housefulofhandmade.com
#3. Slide the roof closed to create a shady retreat; open it to let in the sun or gaze at the stars, it is the reason why you need a retractable fabric shade.
#4. Metal roof like a corrugated tin roof can withstand the prolonged onslaught of sun and rain. Also, you will enjoy a fun sound when the rain falls.
Image via: mobilebaymag.com
#5. The bamboo roofing is specifically good at creating the level of shade with a bit of sun coming through it.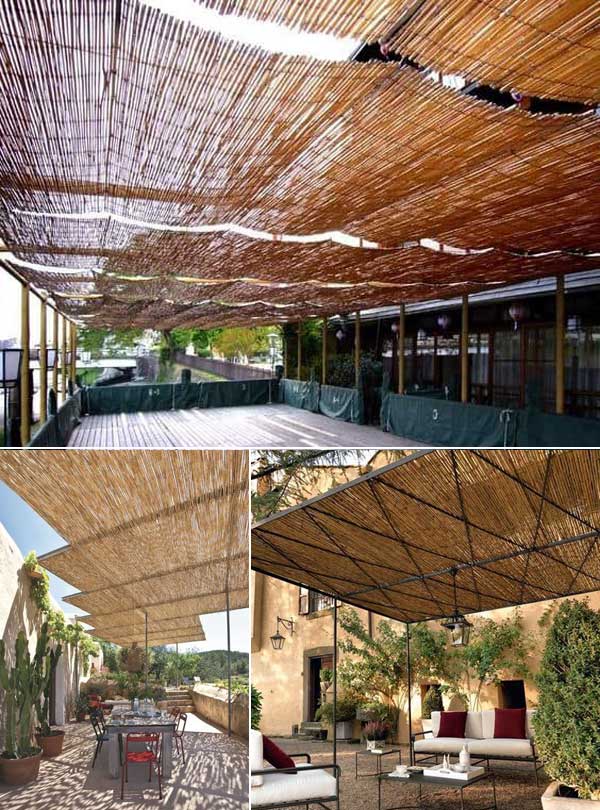 Image via: cotemaison.fr
#6. If you live in where sunlight is scarce but rain plentiful, a pergola with transparent roof can let you enjoy the outdoor time during rainy days.
Tutorial: instructables.com
#7. A shade sail can be a great complement of a shadeless pergola.
#8. To get shade in a natural way, just set up a wire grid roof for your colorful climbing plants.
Image via: houzz.com