Creative Roofing Design Ideas for Your Pergola
A pergola serves as an excellent spot for outdoor relaxation, reading, or enjoying meals with your family. If you have a pergola in your garden or yard, you understand the significance of its roofing. One important consideration is choosing a waterproof pergola roof, as it allows natural light to enter while effectively protecting the pergola from rain and snow. Providing shade is often the main purpose of a pergola, and there are various roofing styles to choose from, including retractable fabric shades, bamboo coverings, or wire grid roofing adorned with plants. To discover more ideas for pergola roofing, explore the following collection:
#1. Decorative Screening on a pergola will create stunning patterned shadows during daylight.
# When seeking pergola ideas for shade, you can find inspiration in traditional craftsmanship by selecting a classic thatched roof for your pergola.
(Image credit: Malvern Garden Buildings)
# A tin roof was installed on the wood pergola to protect from the sun and rain, giving it an industrial vibe that matches the eclectic decor. Installing it on a slant prevents water pooling.
#2. Clear suntuf panels let the light in but block out the UV rays, so they can be used as your pergola roofing.
Tutorial: housefulofhandmade.com
#3. Slide the roof closed to create a shady retreat; open it to let in the sun or gaze at the stars, it is the reason why you need a retractable fabric shade.
#4. Metal roof like a corrugated tin roof can withstand the prolonged onslaught of sun and rain. Also, you will enjoy a fun sound when the rain falls.
Image via: mobilebaymag.com
#5. The bamboo roofing is specifically good at creating the level of shade with a bit of sun coming through it.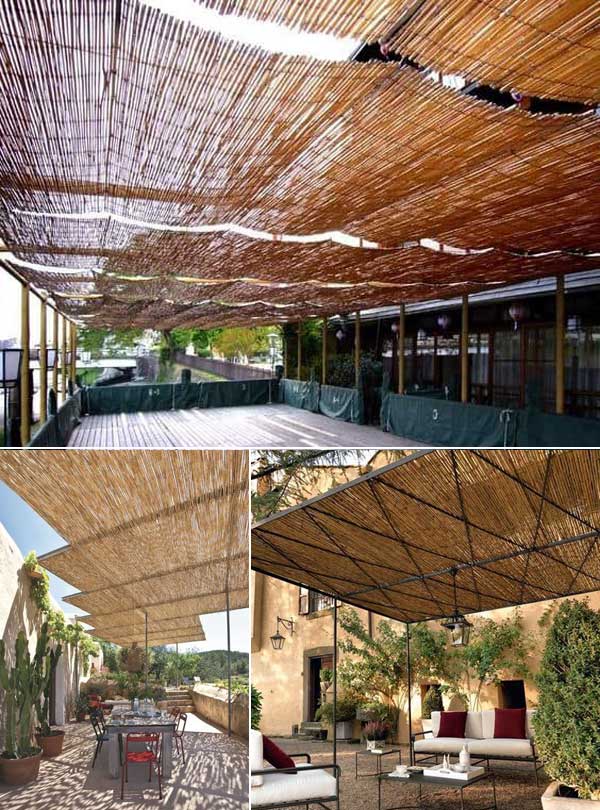 Image via: cotemaison.fr
#6. If you live in where sunlight is scarce but rain plentiful, a pergola with transparent roof can let you enjoy the outdoor time during rainy days.
Tutorial: instructables.com
#7. A shade sail can be a great complement of a shadeless pergola.
#8. To get shade in a natural way, just set up a wire grid roof for your colorful climbing plants.
Imagine your pergola having a living roof – it's like having a mini jungle up there! You just put some cool plants like vines, climbers, or hanging gardens on it. This awesome rooftop makes your pergola look super pretty.
And the best part? It's like nature and your pergola are best buds. The green stuff and hanging leaves make everything feel calm and peaceful, like you're in the middle of a nature wonderland.
Image via: houzz.com