Transform Old Furniture Into Fresh Finds for Your Home
If you have some pieces of outdated or stained furniture lying around your basement, in your backyard or inside the house, you may want to think twice before you throw them away; because just with a bit of creativity and woodworking skills, you can transform old furniture into something that is not only practical but also modern and unique. And you don't need to invest a lot of money on old furniture makeovers. Sometimes a small change makes a big difference, like getting some new spray paint, upholstering with some fabric, adding new hardware and so on. Here are 23 Upcycled Furniture Ideas we have gathered for you to check out. We adore these ideas and think they are so creative. Have a look and get inspired!
#1. Repaint an old dresser and add Ikea spice racks to the side of it as storage shelf for children's books.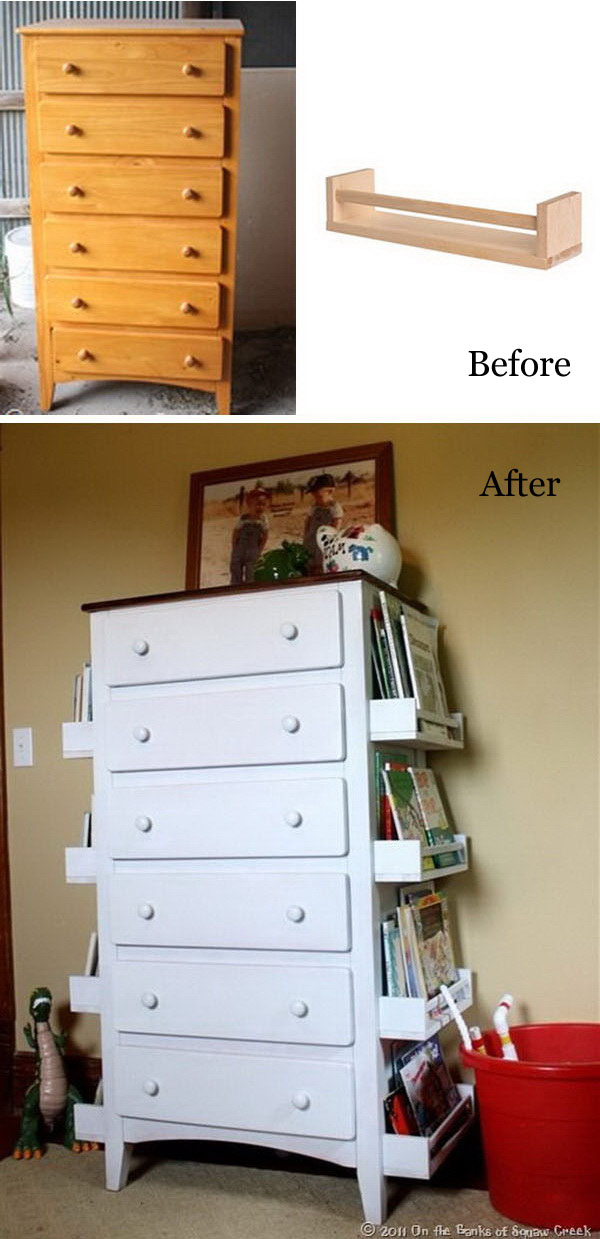 Instructions: onthebanksofsquawcreek.com
#2. Remove the bottom drawers and add a layer of woven baskets for storage. This TV Stand refurbished by the old dresser looks very atmospheric:
More Details: handimania.com
#3. Turn an old, non-working piano into a unique bookshelf.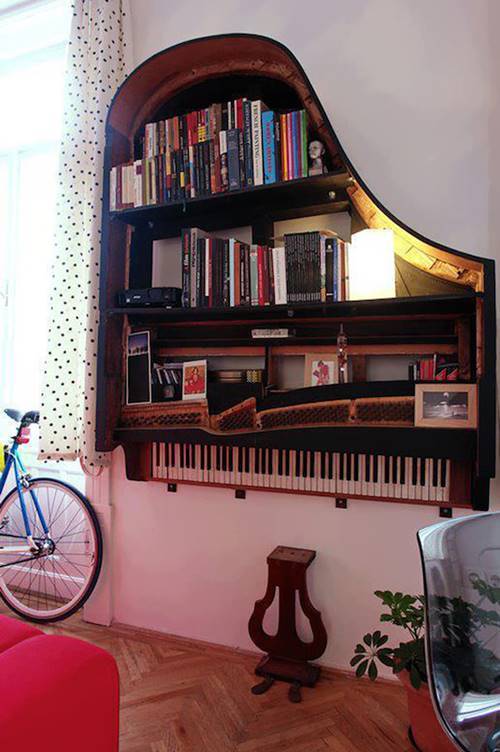 Tutorial: instructables.com
#4. Old Step Stool Turn Into a Lego Table:
Tutorial: fussymonkeybiz.blogspot.com
#5. Make a seat frame in front of a lovely headboard, and paint them with your favorite color to get a cozy "Back Porch Headboard Swing":
Full Instructions: therusticpig.com
#6. Little farmhouse display cabinet built from old chest of drawers.
The clever change is that add chicken wire to the inside of the doors.  More Details: hometalk.com
#7. Transform an old dresser into a cozy bench with a bit of woodworking skills.
More Details: photokapi.com
#8. Recycle an Old Dresser into a Bathroom Vanity by Giving it a Fresh Paint, a Counter Top and a Sink.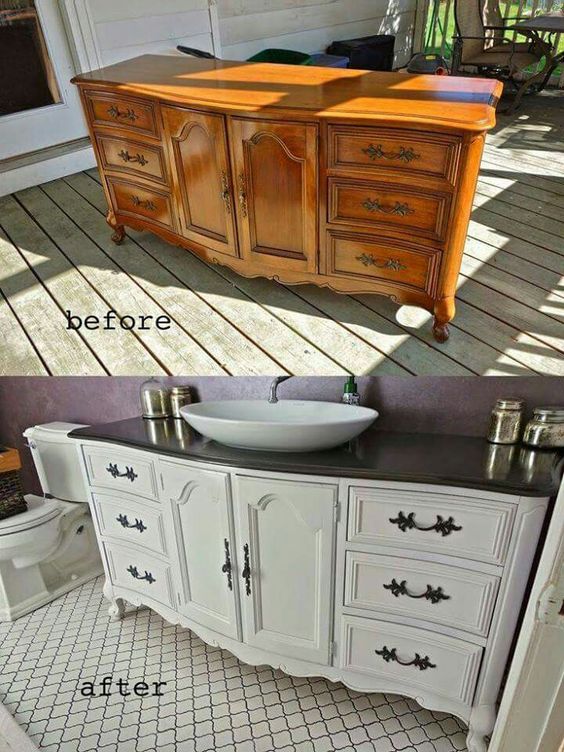 Source: woohome.com
#9. DIY Useful Coat Rack Shelf Repurposed From Hutch Top: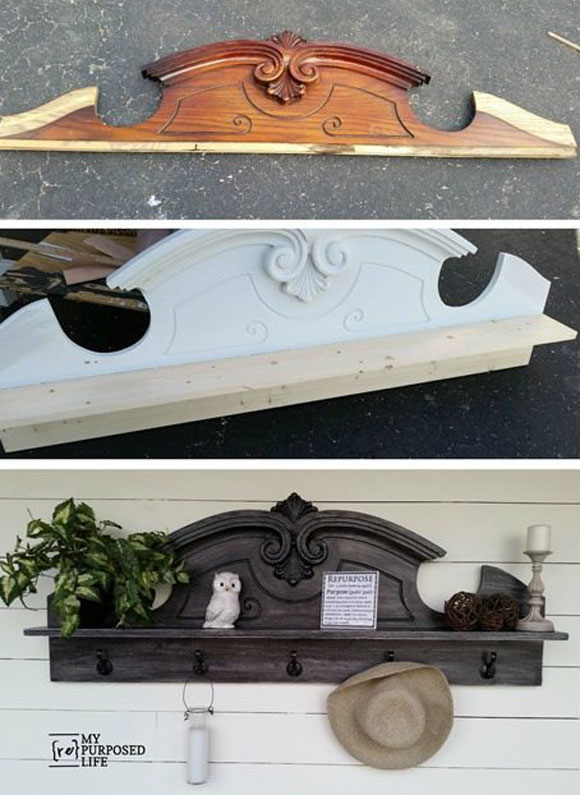 Full Instructions: myrepurposedlife.com
#10. Play kitchen upcycled from an old entertainment center.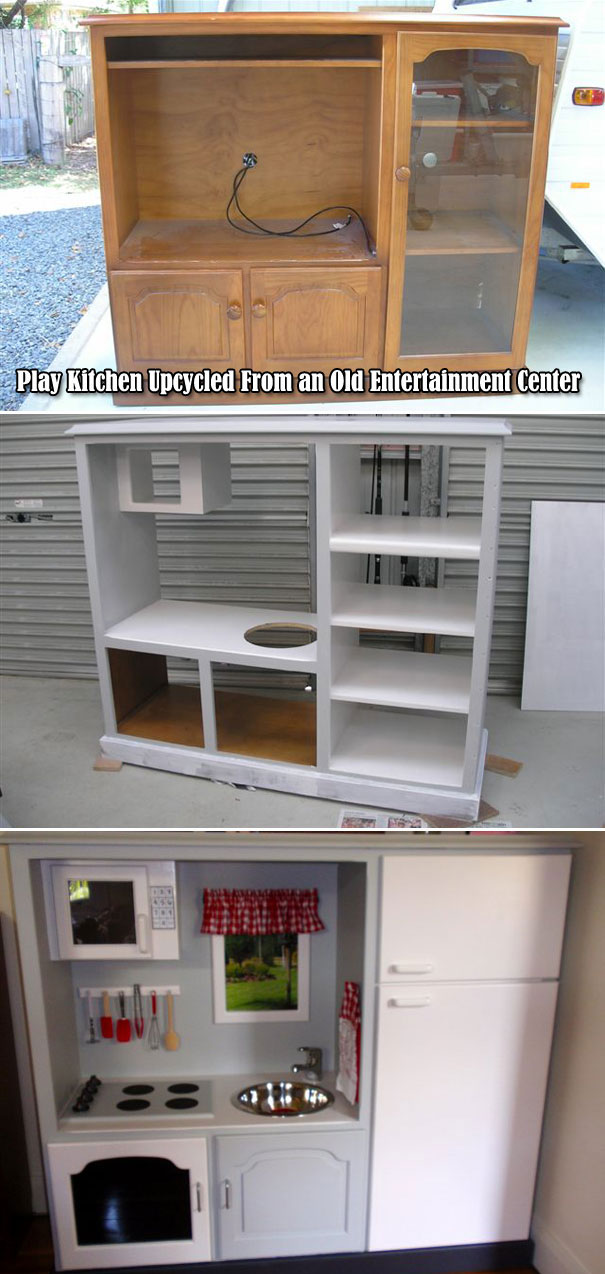 Tutorial: giggleberrycreations.blogspot.com
#11. A beat-up dresser from the 80s has a whole new life…a bench with storage plus a built-in side table.
Source: thequirkycottage.com
#12. Give a makeover to a spool and fill it with books to get your new bookcase.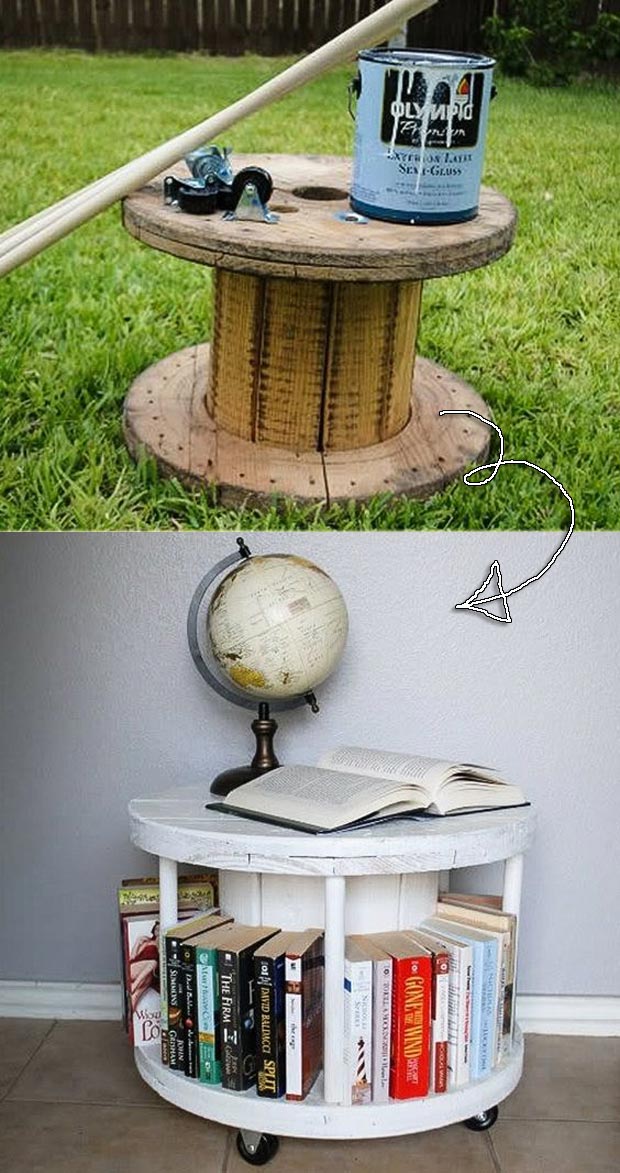 Full Tutorial: pinkxstitches.blogspot.com
#13. Install four wood legs at the bottom of the dresser drawer and repaint it to turn it into a storage box. It will look pretty cute at the foot of your kid's bed.
Full Instructions: twoityourself.com
#14. Turn an old coffee table into an upholstered ottoman.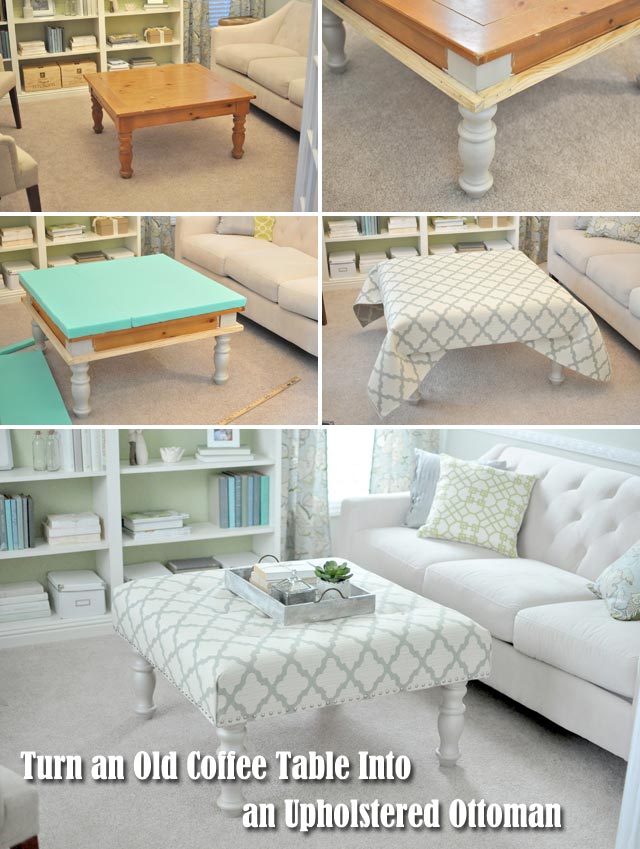 Tutorial: newlywedmcgees.blogspot.com
#15. Refinished side table with lots of storage.
Full Instructions: ellaclaireinspired.com
#16. Remove the panel of the door and add the shelves to get a bookshelf against the wall.
#17. Take some large mid century drawers and turn them into bright side tables.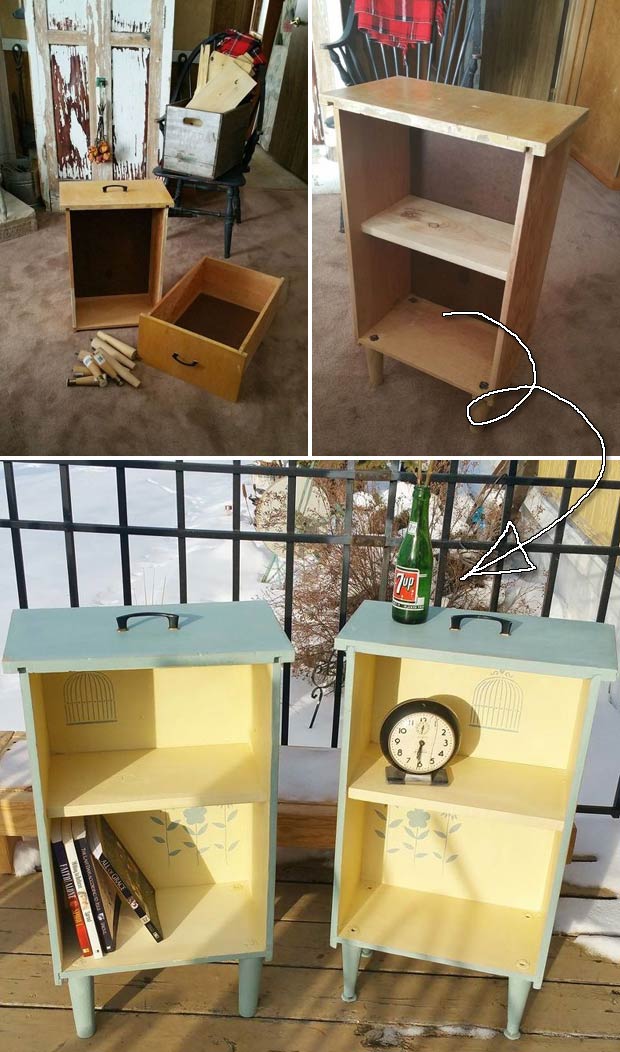 More Details: hometalk.com
#18. Cut the desk in half and turn them into bright nightstands.
Full Instructions: sugarbeecrafts.com
#19. Create An Up-cycled Drawer Pedestal Plant Stand.
More Details: hometalk.com
#20. Dresser Hutch Turned Into Shelves For The Bathroom and Entryway.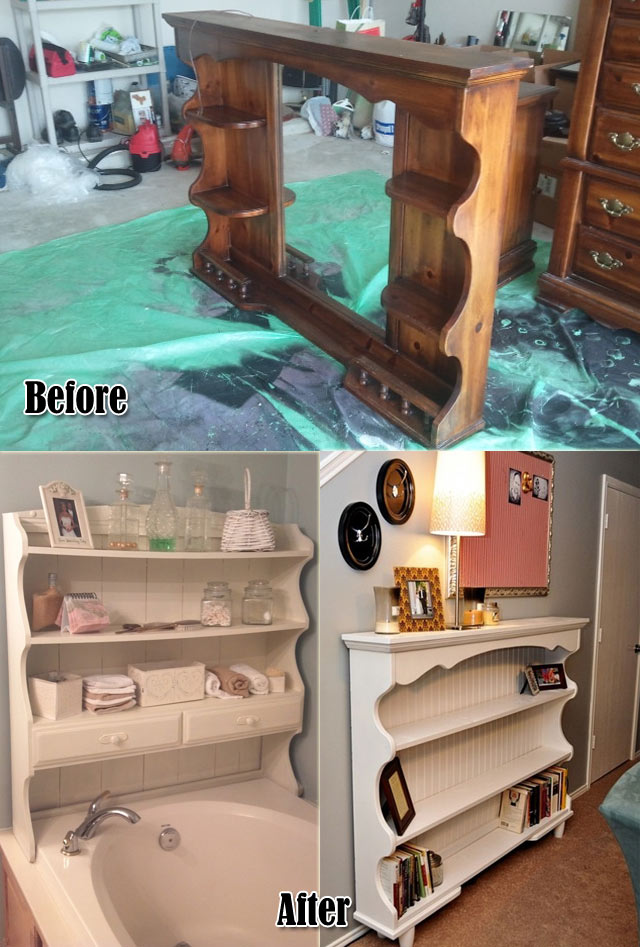 Source: hannahbunker.com
#21. Using scrap wood to make two chairs into a bench.

Tutorial:  mylove2create.com     and    hubpages.com     and     instructables.com
#22. Remove the drawers and paint the dresser into grey to turn it to storage console.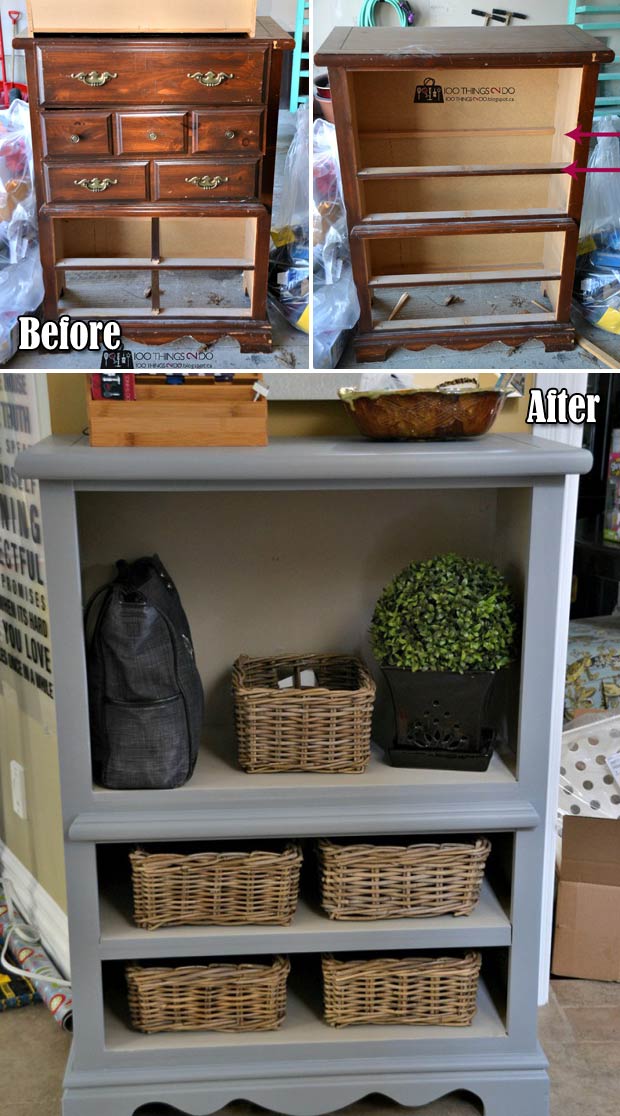 Full Instructions: 100things2do.ca
#23. Turn an old desk into a kitchen island.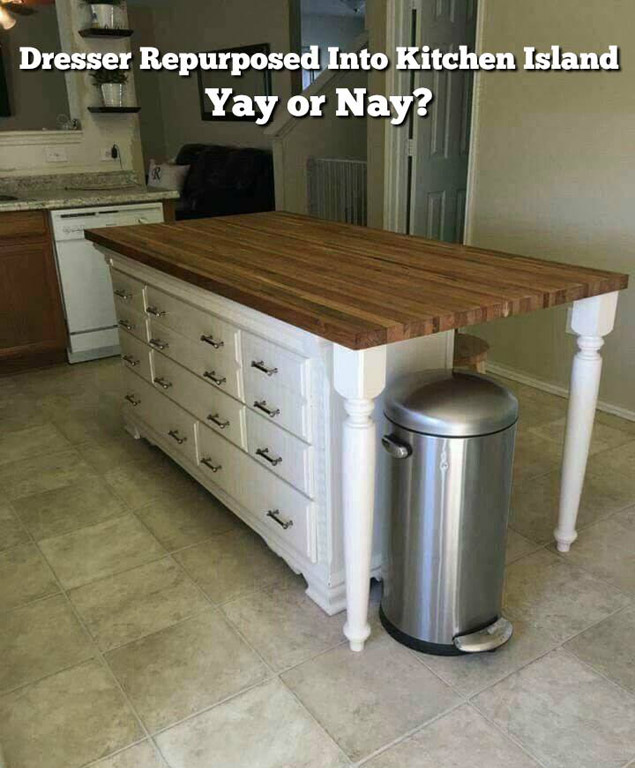 Source Unknown.