Traditional curtains or blinds are a classic and everyone's favorite option to decorate windows and offer the privacy. Changing out the window coverings,especially the bedroom curtains is the quickest and easiest ways to give a room a significant facelift. Whether your window overlooks a dramatic scenery or just your own backyard, a beautiful window treatment will make the view even better.
In additon to choosing curtains, you can go creative and decorate the windows with alternatives. And although most of them may not be as functional, they do offer style and can be your weekend DIY projects. Many of these DIY window treatment ideas are very easy and quick to make yet they look incredible. From fun to sophisticated, you can find a style to suit any decor and budget. For instance, if you want a look inspired by rustic decor, you can hang a burlap window treatment. Or add a pop of colors to the bare windows, well, the stained glass panels can be your option. To help you, we've gathered some window treatment ideas that are new and crafty and you will surely like a lot.
1. Instead of expensive curtains, you can make bamboo blinds that are cheap and easily add texture and style to any window.
Tutorial: craftivitydesigns.com
2.Wrought iron french window sconce can be a beautiful and intricate piece to make an ordinary window into something extraordinary.
Image via: etsy.com
Image via: biskopsgarden.blogspot.com
3. Cover fabric on a wood frame to make a removable privacy window screen in place of curtains or blinds. The pros is that it will give you privacy, yet still allow light in!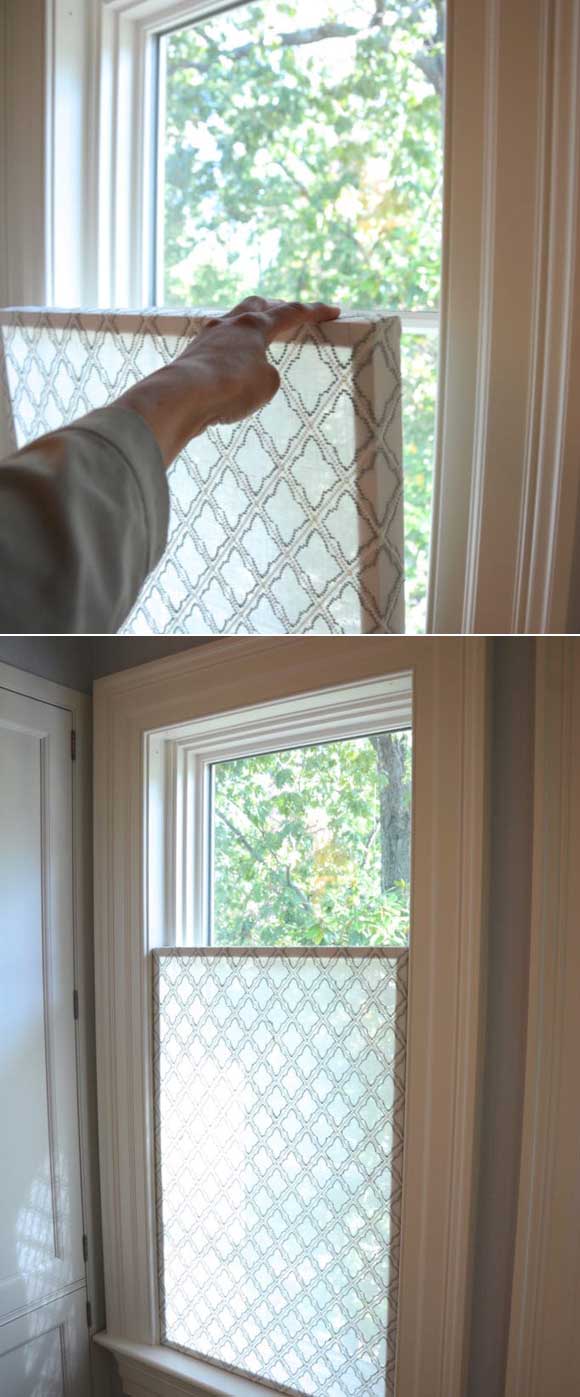 Tutorial: thriftdiving.com
4. Bring unique rustic charm to the windows by hanging panels of burlap. Burlap can block quite a bit of light from entering the home.
Tutorial: theshingledhouse.com
5. Install rolling barn doors as sliding shutters for your windows:
How to create: sawdustsisters.com & madamebutterflycreations.wordpress.com
6. Stained glass adds an artistic personality to any space. It can be used as a window treatment, and creates a lovely effect when the sunlight through it. look at this window treatment from faux stained glass:
TUtorial: abeautifulmess.com
7. Take pretty cloth napkins and hang them from a rod using curtain clips to replace your traditional valance.
Image via: thriftyfun.com & elizabethharwood.blogspot.com & pinterest.com
8. Partially cover a window by installing hanging plant shelves that are a great way to get your mini indoor garden too.
How to do: abowieproject.com   &   artfulroost.com
9. Lay a lace screen over a regular window to add a bit of vintage charm, and it also adds privacy but doesn't block the light.
Image via: apartmenttherapy.com
10. Attach the pallet boards to curtain rings through a drilled hole to make a quite unique window blind.
Tutorial: instructables.com
11. Cover the window with laser cut wood panels.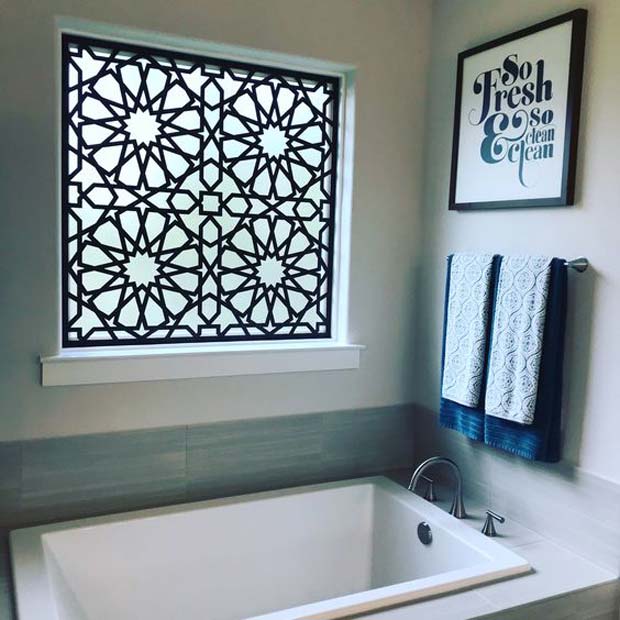 Image via: pinterest.com
12. Delicately hang branches from a curtain rod and entwine them with twinkling lights to get the window a magic look.
Image via: karensgardencottage.blogspot.com
13. An indoor cloth window awning is more a decorative piece than its practical use.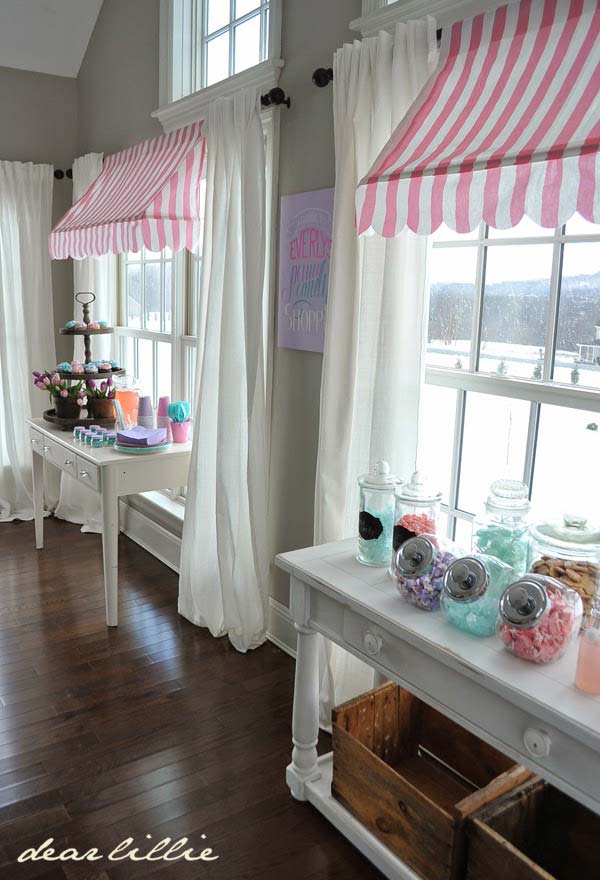 Image via: dearlillieblog.blogspot.com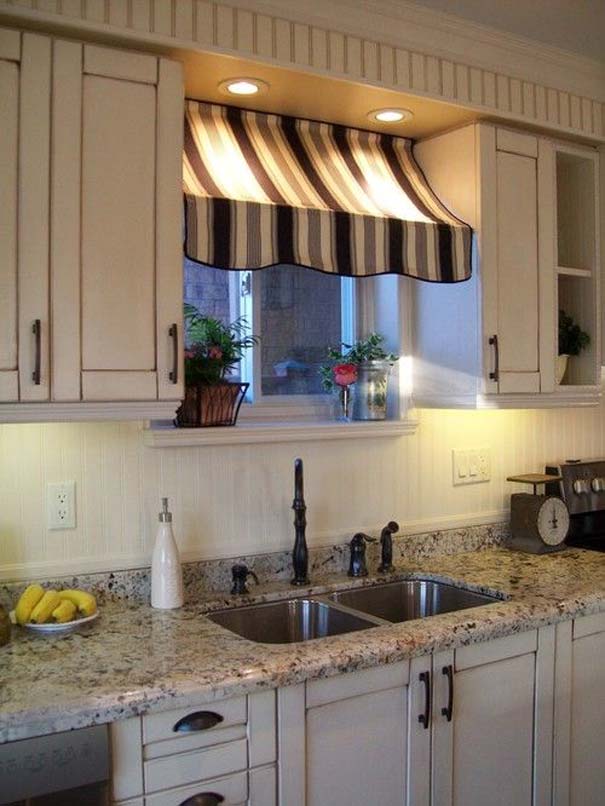 Similar project tutorial: oneshetwoshe.com
14. For a farmhouse kitchen, these adorable wood shutters are only half the height of the window but still offer privacy and let in lots of light.
Tutorial: bhg.com
15. This pretty lovely window covering shows a great work of knots.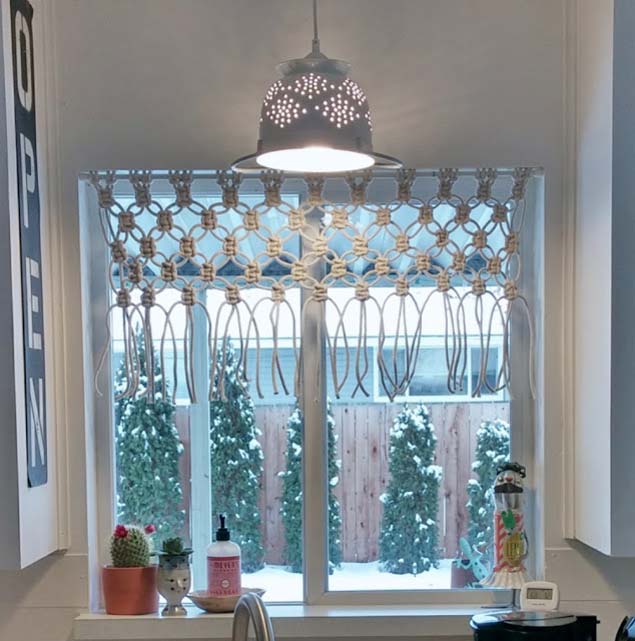 Tutorial: littlevintagecottage.com
16. Branches and vines are perfect way to decorate your windows in big holiday.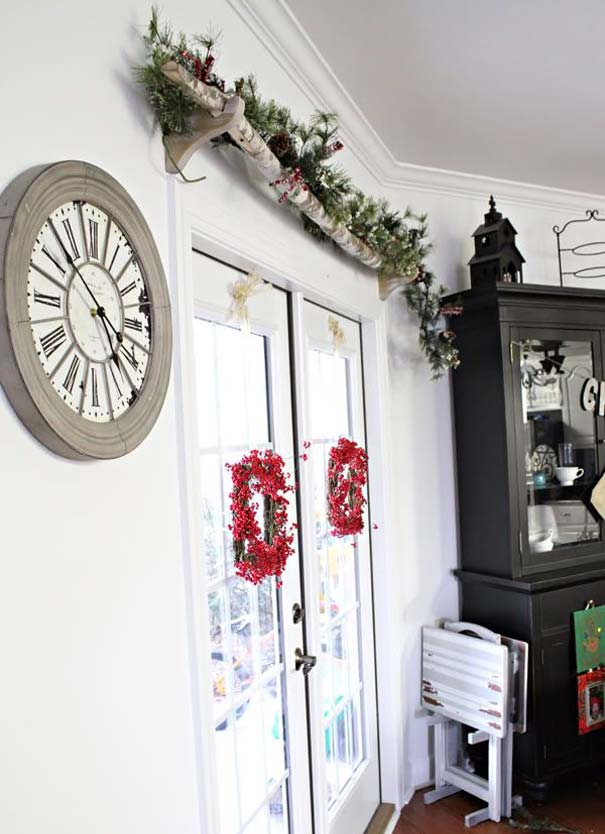 Image via: perfectlyimperfectblog.com
17. Add antique charm to the room by hanging an vintage window with hooks at the top of the window.