Build a Cordwood Fence for Yard Privacy
Wood is the most used material that brings natural and rustic feels to every home, whether indoors or outdoors. I love wood things and always wanted to present you with exciting ideas about them. Did you remember our other article, called "20 Cool Decorating Ideas with Live Edge Wood"? It aims to help you get inspiration to create a stylish, comforting, and warm interior with live edge wood.
In addition to many excellent uses indoors you can see, wood does well in a fence. A cordwood fence not only can meet your needs of privacy and safety but can be a focal point of your yard. It is one of the best choices for those of you who live near or out in the woods. But it doesn't mean that people who live away from the woods can not own a log-end fence. There are a lot of different ways to build a stack wood fence, all depending on your location, budget, and design.
image via www.hgtvdecor.org
For example, you can build one with the use of mortar. This way helps to reduce the use of cordwood and make your fence stronger and last a good long time. But it is bad news to those people who are living in moist or rainy areas because concrete tends to trap moisture and cause wood decay.
Dry stacking is another method we often see. You basically place log ends on top of each other like you would with puzzle pieces. This way requires a lot of cordwood, but if you're living near in the woods, you just pay attention to how to design it.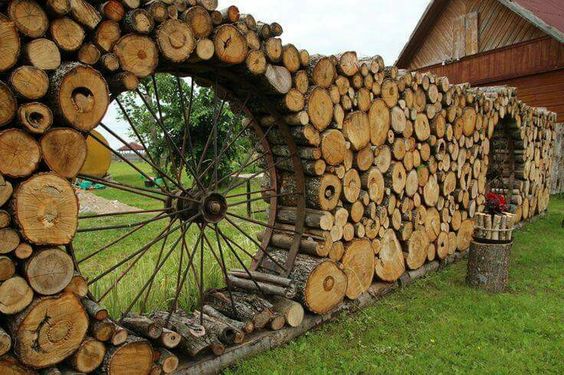 image via www.asienda.ru
How to Do Foundation of the Cordwood Fence?
Build a block wall or a slab or a poured cement footer as the foundation of the fence.

As in the typical house wall, ensure proper drainage to keep water away from your foundation.

Consider using railroad ties as posts setup approximately 8-10ft apart.
What Types of Wood Can Be Used?
The key to build a successful cordwood fence is that you should always use rot-resistant wood, like OSAGE ORANGE, REDWOOD, RED CEDAR, and BLACK LOCUST. Besides that, to have your wall stable, the cordwood would have to be quite wide, at least 16 inches in length.
There are some examples of cordwood fence we've gathered. If you are planning to build a cordwood wall for a privacy fence, maybe you are interested. Have a look:
image via www.archilovers.com