Family gatherings, magic holiday decorations, the aroma of Christmas pine, cinnamon, and orange… Christmas is an excellent time for most of us. But it is also always crazy busy between all the holiday parties, shopping, gifts, family traditions, and the list goes on and on! And budgeting can get out of hand. So you need some life hacks to make your life easier and more enjoyable during difficult and stressful times.
Christmas hacks not only make your life easier during the holidays, but some talented DIY crafts can save you a lot of money on home decoration and gift. No matter how many life hacks don't feel much, as long as they are useful. What do you think? Have a look at these 22 Money Saving Holiday Tips and Christmas Hacks!
#1. Drawed tableware and decorations, as well as the easy to clean features, make brown kraft paper a great table cloth choice for big holiday meals:
More details at: lemonthistle.com
#2. How Santa left such white, glittery and snowy footprints?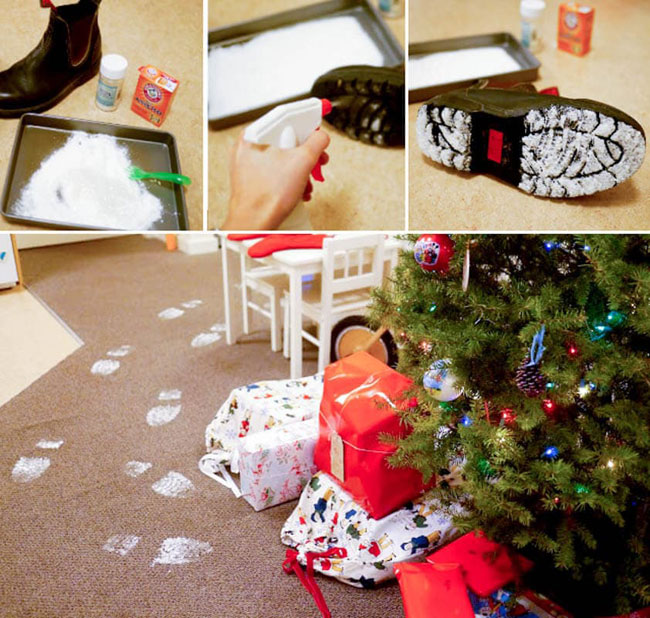 Check out the Instructions at: littlehiccups.net
#3. Use ribbon to hang Christmas ball ornaments from a light fixture to get a Christmas chandelier:
See the full Tutorial at: brassyapple.com
#4. Tree clippings are one of the most frequently used Christmas decoration. There is a simple way to extend those fresh greens. Just wrap the cut stems with wet paper towels and tuck into a small baggie:
More details at: missmustardseed.com
#5. Reuse and paint your leftover Halloween pumpkins to make snowmen: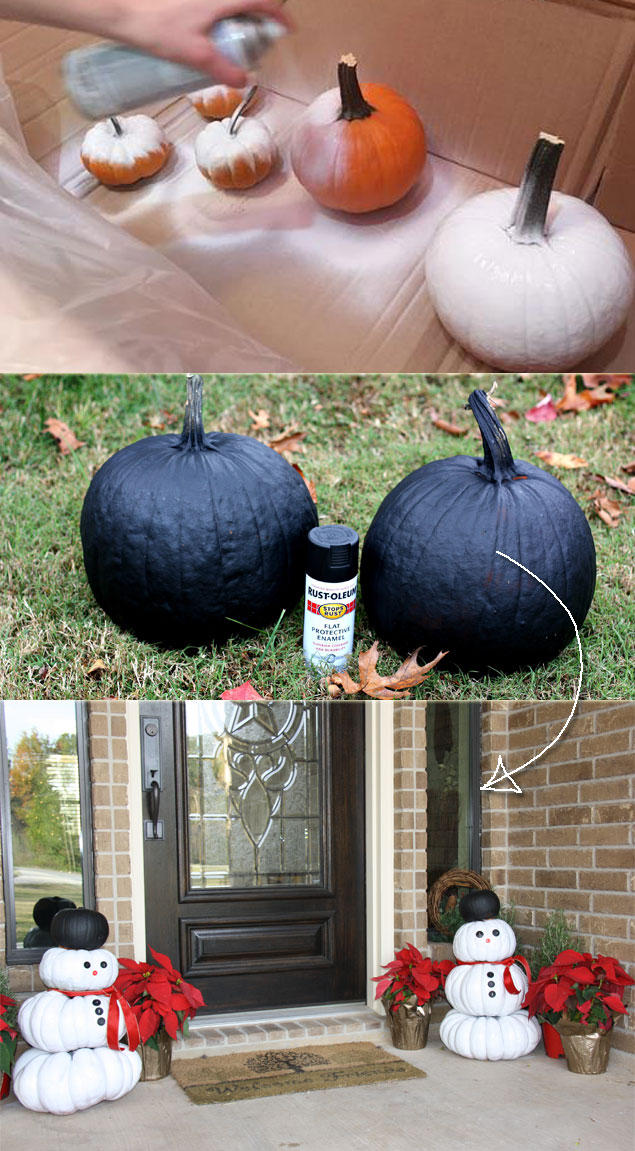 More details at: nolagirlatheart.wordpress.com
#6. Dress up your walls for the holiday season using removable fabric wallpapers:
Use a paste of cornstarch and water to make temporary fabric wallpaper.
See the full Tutorial at: eastcoastcreativeblog.com
#7. Pretty cool lollipop yard stakes just made from a few of dollar store items such as Paperplates, Cellophane Wrap and Ribbon:
Check out the Instructions at: loricurie.wordpress.com
#8. Use a $1 tin foil serving tray to catch all of menorah's drips:
#9. Wrap a large box in wrapping paper to use as a trash bag on Christmas morning:
so that you have a place to throw out all the crumpled wrapping paper.
More details at: chicaandjo.com
#10. Use pool noodle to make a giant wreath with Christmas ball ornaments:
See the full Instructions at: sweetpickinsfurniture.com
#11. Putting a jar beneath the candle in the hurricane vase will save you a lot of filler: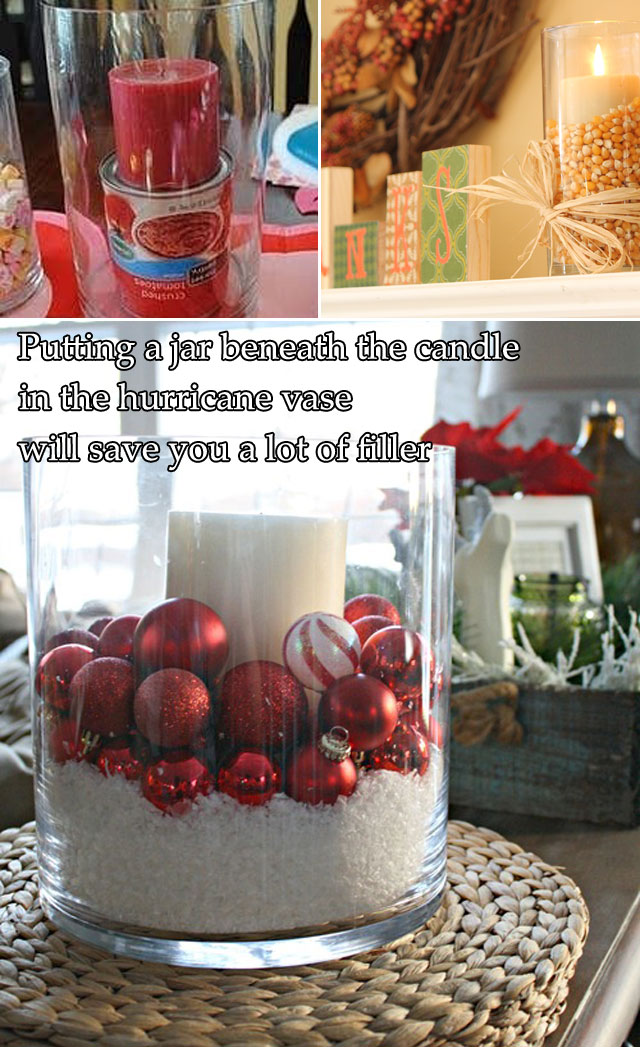 Image via: passionatepennypincher.com and thriftydecorchick.com
#12. Grab a glue gun and some hangers to make a sparkle hanger snowflake for your holiday season decor:
See the full video Tutorial at: Youtube.com
#13. Instead of buying large baby fence, you can use some giant boxes that are filled with heavy items to fence your corner Christmas tree:
Idea to help baby-proof the Christmas tree.
More details at: lovefromtheoven.com
#14. Put shoes down and sprinkle powdered sugar around them: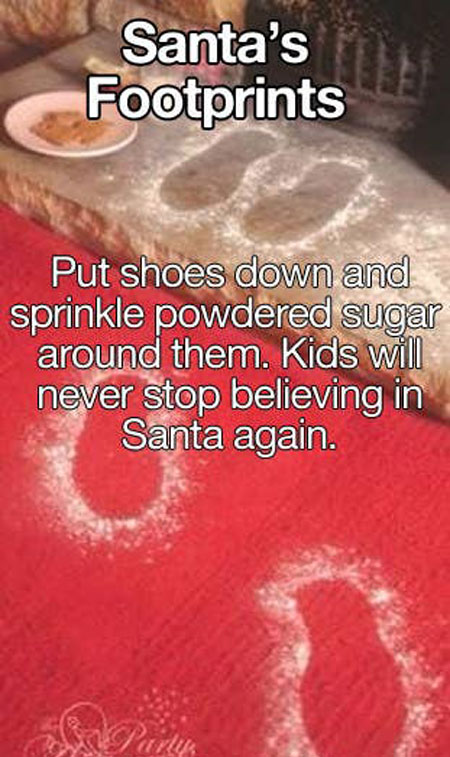 #15. Stringing lights inside of the tree makes the tree look lit from within:
More details at: inmyownstyle.com
#16. Baking menorah is a better way to clean the last year's wax than to scratch your menorah using a knife.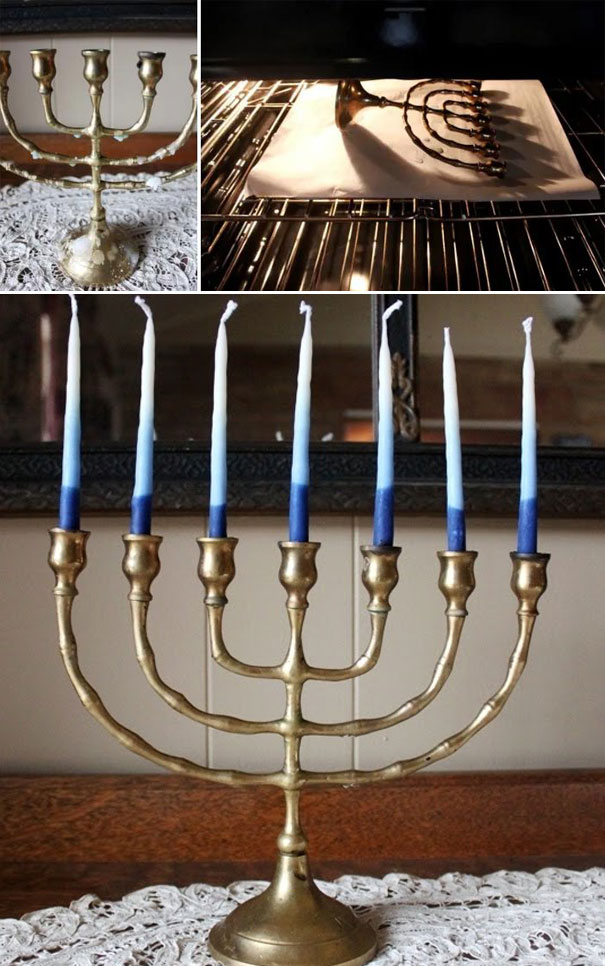 More details at: landofhoneyblog.blogspot.com
#17. Cut a matching board to protect & enlarge your mantel, then you'll be able to fit more gorgeous garland-y stuff, and you can also use the staplegun:
More details at: victoriaelizabethbarnes.com
#18. Use a hot glue gun to "draw" snowflakes on your windows:
Check out the full Tutorial at: welivedhappilyeverafter.com
#19. Cut notches in a plastic container and put the plug connection inside to protect temporary extension cord:
This tip may be used, when you want to set up a string of lights on your front yard for holiday season.
More details at: familyhandyman.com
#20. If you decorate with pinecones, you're going to want to bake them to get rid of insects and sap:
See the full Tutorial at: refreshrestyle.com
#21. Place a toilet paper roll in the middle of a jar to save filler: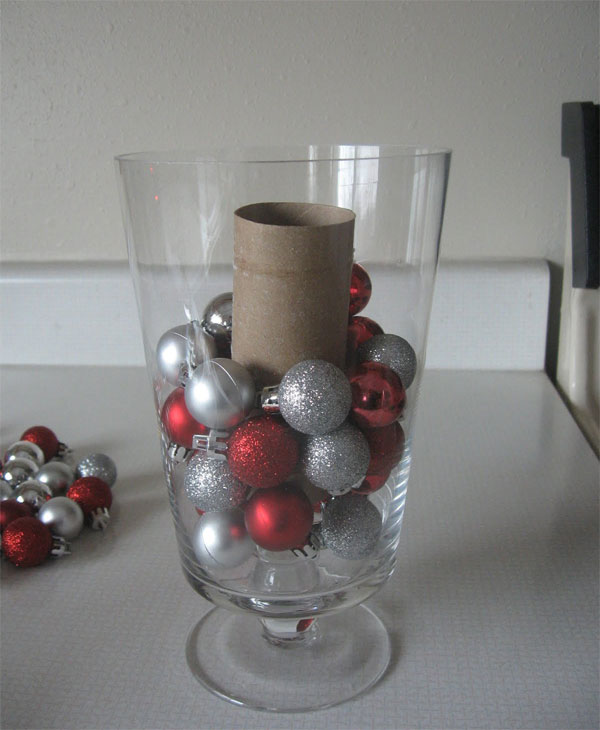 More details at: dandelionsanddustbunnies.blogspot.com
#22. If you have a lot of Christmas boxes, then you will want to take a picture of the box when you open it up so you know how to put it back: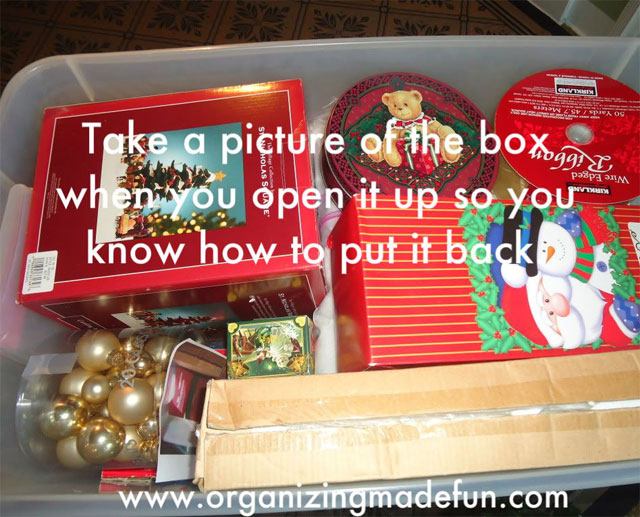 Image via: organizingmadefun.blogspot.com