15 Ideas to Reuse Clay Pots for Halloween Crafts
Did you know that Terra Cotta Pots can be used for many purposes, more than just simple potted plants? They are perfect for gardening and even better for crafting. Clay pots come in all different sizes and can be easily transformed into a lot of creative and fun things. Halloween is getting closer, so here we've rounded up 15 cool Halloween crafts that you can make using clay pots. You can buy them from local box plant retailers or reuse your terra cotta pots by tossing out the soil from your dead flowers.
1. Scarecrow pots – terra cotta pots painted and then dropped down a dowel rod.
Check out the full tutorial: chubbun.com
2. Stack clay pots on top of one another, and give them a paint job fit for the wicked: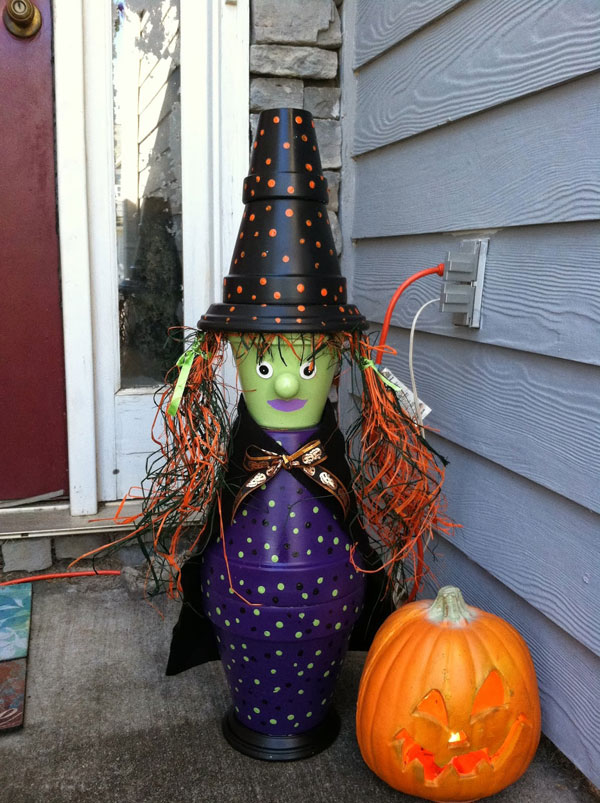 Follow the detailed guide on: ginasworld-gina.blogspot.com
3. Replace your favorite potted flowers by the front door with these inexpensive zombie hands: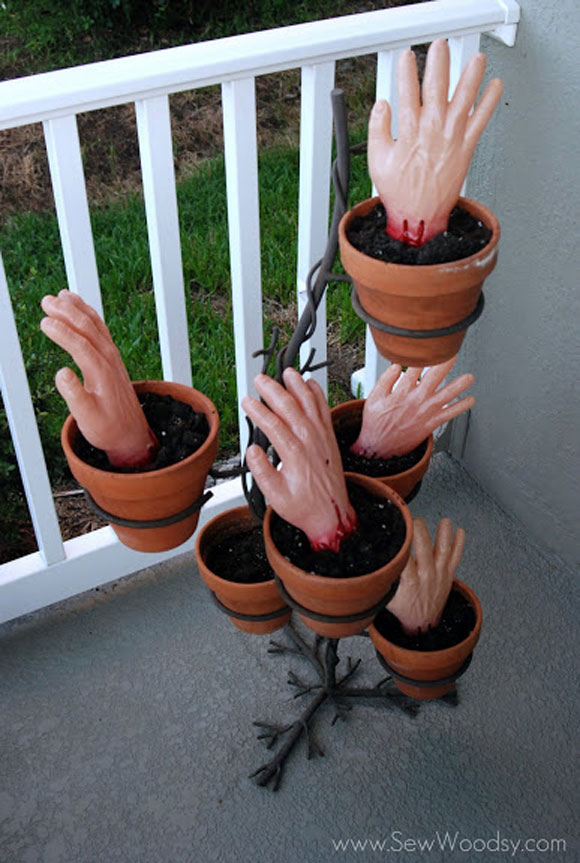 See the Tutorial: sewwoodsy.com
4. Cut the fabric into 1-inch strips and wrap them round the clay pots to make these Terra Cotta Mummies:
Tutorial can be found at: lemonsandlavender.com
5. Assemble a Halloween cupcake stand using clay pots: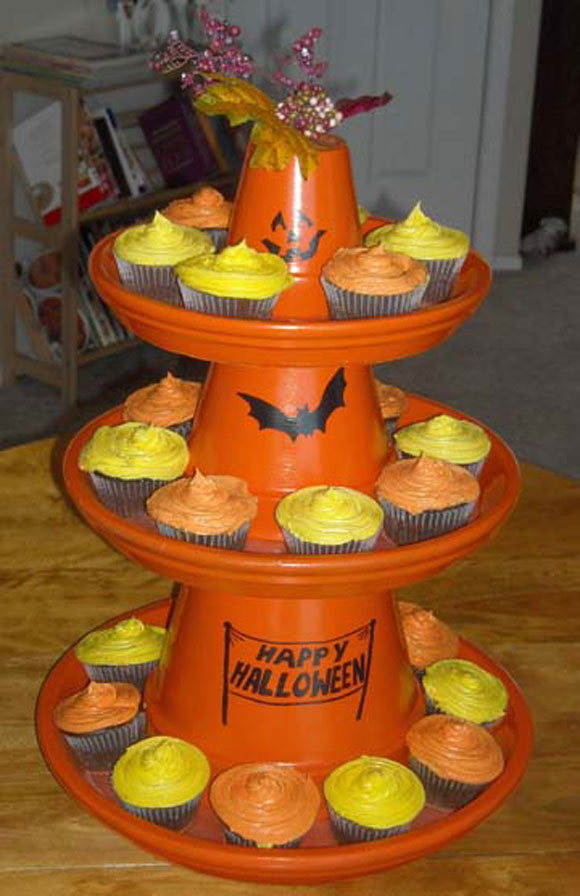 Follow the Direction here: theartfulcrafter.com
6. Take some terracotta pots and spray paint them in black color, then assemble such a spooky spider:
7. To make a mummy jar just take a strip of cut fabric and wrap it round a clay pot. Then attach a few wiggly eyes to it.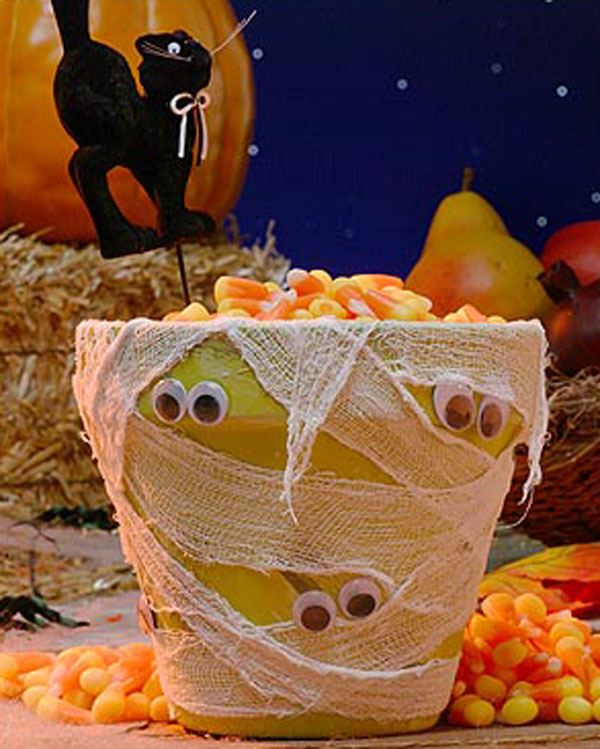 Image via: plaidonline.com
8. Turn clay pots upside down for pumpkin jack o' lanterns:
9. Witch stacked from black painted pots. The witches caldron is actually a plant.
Image Source unknown. (if this is done by you please let us know, we would love to include your source link)
10. Turn a terra cotta pot upside down for a flower pot ghost: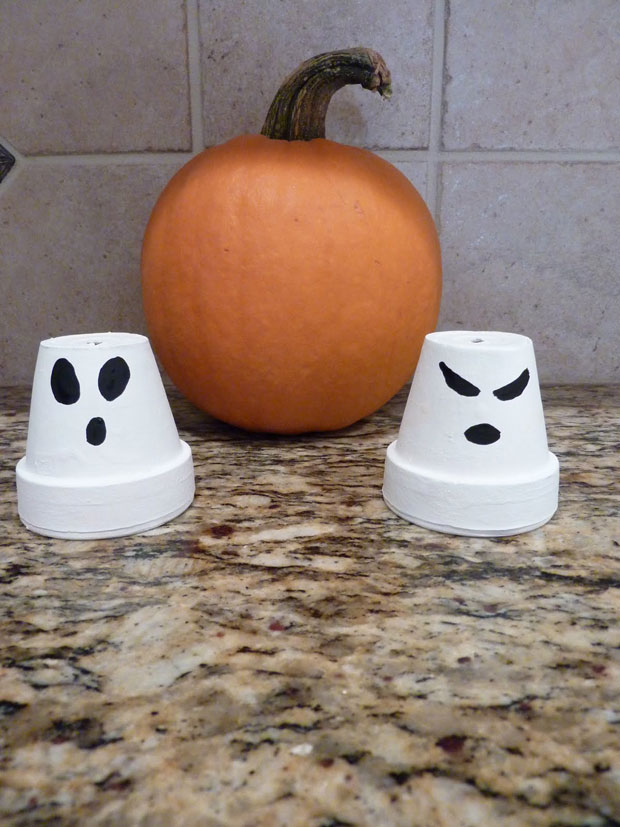 More details at: jennwa.blogspot.com
11. Halloween Treat Stand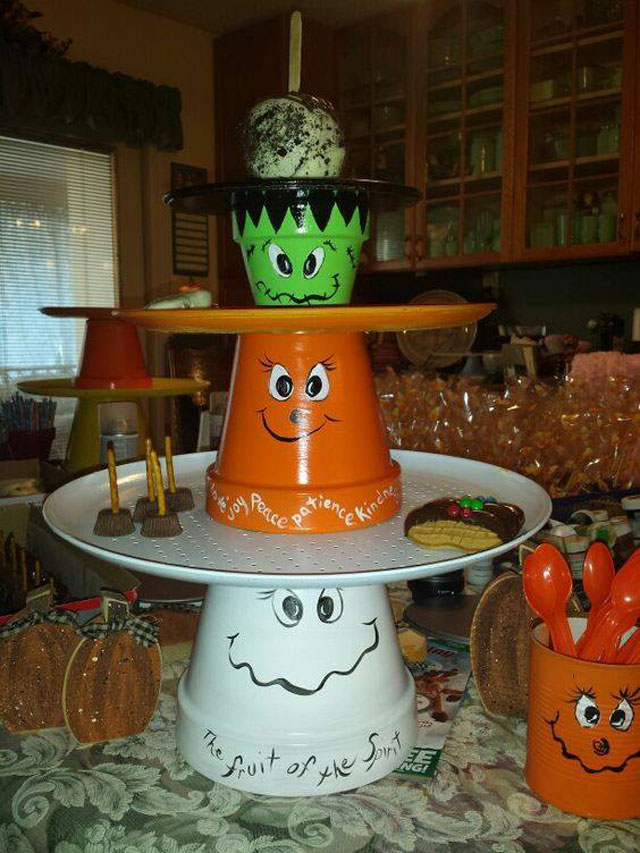 (image source unknown)
12. Jack Skellington Flower Pot
See the instructions here: disney.com
13. Glowing Frankenstein Lights
Follow the guide here: notjustahousewife.net
14. DIY Spider-Filled Fountain
15. Halloween Clay Pot Wind Chimes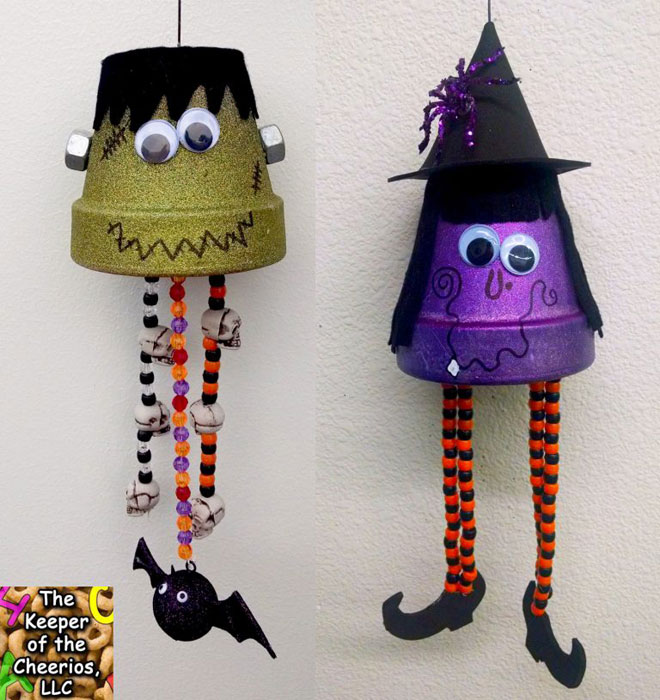 Check out the full tutorial at: thekeeperofthecheerios.com