21 Clever Ideas to Adorn Garden and Yard with Terracotta Pots
Terracotta pots are a wonderful addition to any outdoor space, providing a natural and rustic touch that is both charming and practical. These clay pots can be used for more than just planting flowers and herbs – with a little creativity, they can be transformed into beautiful decorative pieces that will enhance the look of your garden or yard.
If you have some old clay pots lying around your home, don't let them go to waste. There are many fun and easy DIY projects you can do with them, such as painting them in different colors and patterns to create a unique and eye-catching display. You can also use terracotta pots to create a vertical garden, stacking them on top of each other to create a multi-level planting area for flowers, herbs, or even vegetables.
In this article, we'll explore some of the most clever and creative ways to use terracotta pots in your garden and yard. Whether you're a seasoned gardener or just starting out, these ideas are sure to inspire you to try something new and add a touch of natural beauty to your outdoor space. So grab your terracotta pots and let's get started!
#1. Construct a Vertical Clay Pot Garden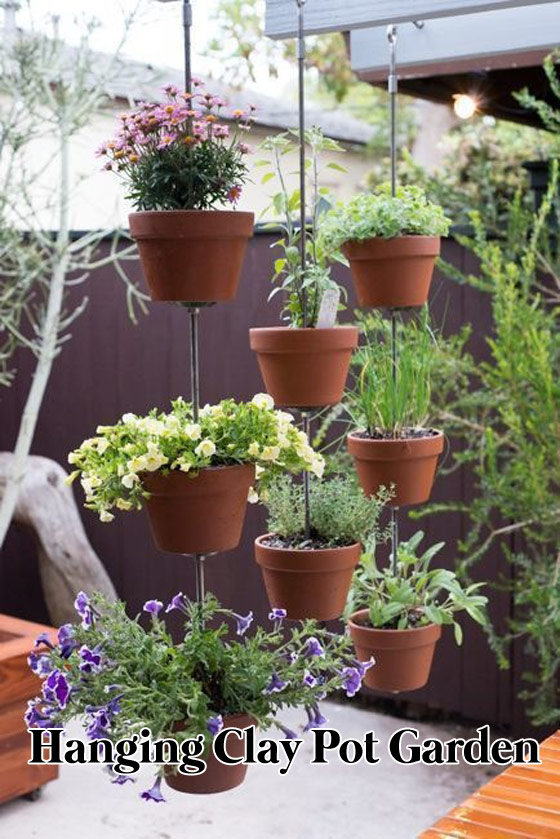 Tutorial: thehorticult.com
#2. Create So Cute Sphere Succulent Garden
Source: tuindesign.blogspot.com
#3. Vertical Terracotta Pots Garden Double as a Privacy Screen
Source: deborahsilver.com
#4. Use The Pots for Garden Edging
Source: organizedclutter.net
#5. Terracotta Pot Planter with Birdbath and Feeder
Source: theownerbuildernetwork.co
#6. A Fairy Circle of Terracotta Pots as Garden Fence Decorations
Source: cgbarbeau.blogspot.com
Create a Fountain Using Terracotta Pots and Bowls without Drainage Holes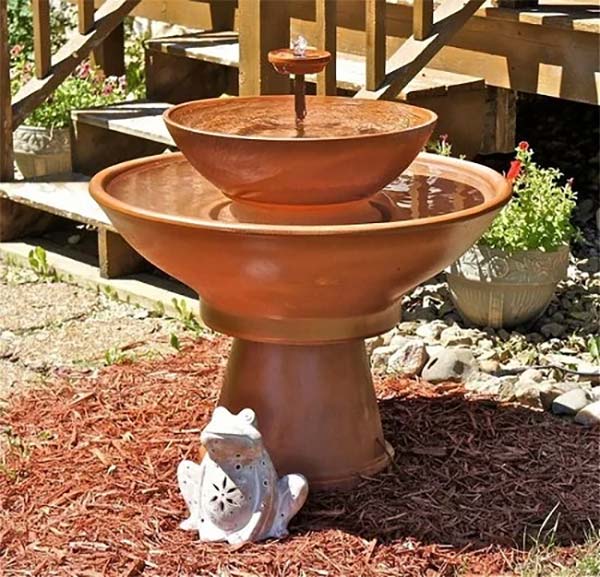 To create the fountain, you'll need a large terracotta pot and saucer, several smaller pots and bowls of various sizes, a water pump, and some waterproof sealant. Start by arranging the pots and bowls in a way that creates a pleasing aesthetic and allows the water to flow smoothly. You can stack the pots and bowls on top of each other or arrange them in a more creative configuration. Then, attach the water pump to the bottom of the large pot and thread the tubing through the pots and bowls, making sure to seal any gaps with waterproof sealant. Finally, fill the fountain with water and plug in the pump to enjoy the soothing sound of flowing water in your garden.   Tutorial: Instructables
DIY Plant Markers Using Terracotta Pots
If you're an avid gardener, keeping track of all your different plants and herbs can be a challenge. But with a few simple terracotta pots, you can create your own plant markers to help you remember which plant is which.  Find the tutorial here.
DIY Terracotta Candle Holder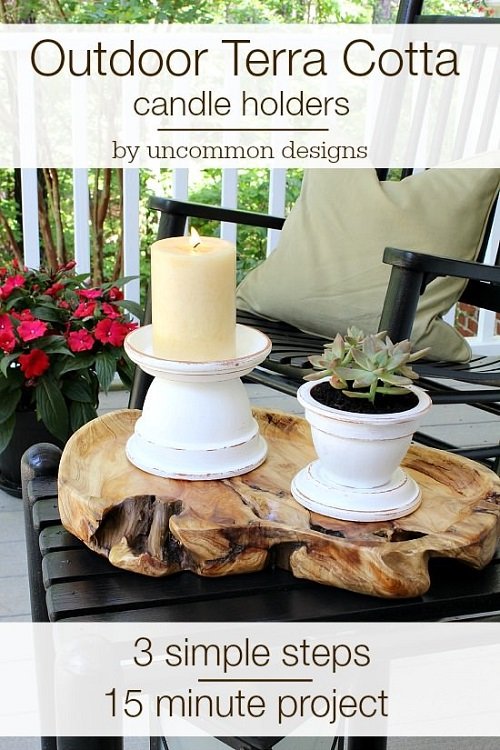 Terracotta pots can also be repurposed into beautiful candle holders that add a warm and inviting glow to your garden or patio. You can also experiment with different sizes of pots and candles to create a varied and interesting display. Whether you're entertaining guests or just enjoying a quiet evening outdoors, a terracotta candle holder is the perfect way to add a touch of warmth and charm to your outdoor space.   Source: Uncommon Designs
#7. Stack Old Wine Crates or Use Pallet and Fill Them with Clay Pots
#8. Clay Pot Mushroom Toadstool
Source: maryengelbreit.com
#9. Terracotta Pots Wreath
Source: the36thavenue.com      diybeautify.com
#10. Use Clay Pots as a Base for Garden Lights
Source: lifebuzz.com
#11. Turn Clay Pots Into an Fountain
Tutorial: flyingkitten.wordpress.com
#12. Turn Them Into Hanging Pendant Lamps
Source: tuindesign.blogspot.com
#13. Turn Them to a Vertical Garden
#14. Create a Terracotta Pot Wind Chime
Tutorial: lifestyleforreallife.com    Source: pgeveryday.com
#15. Upcycled Pallet Rainbow Flower Garden
Tutorial: hellocreativefamily.com    Source: guiaparadecorar.com
#16. Rain chain out of clay pots and chain
Source: cutoutandkeep.net    Tutorial: allthingsheartandhome.com
#17. Display Clay Pot Planters on Cinder Block Shelf
Source: mujerfelizsinhijos.blogspot.com.ar
#18. Planted Pots Are Easier To Pull Up and Replant Flowers
#19. Hanging Clay Pot Planters on Chicken Wire Frame
Source: organizedclutter.net
#20. Candles in Little Terracotta Pots
Source: clairesfieldnotes.tumblr.com
#21. Tiered Planter Plant Stand From Terracotta Saucers
Tutorial: betweennapsontheporch.net