Upgrading the flooring in your home or business is a big decision. It takes time, it can cost quite a bit, and it is a rather intrusive job that will render the space unusable for at least a few days. However, if you do it right you might not ever have to change the flooring again, or at least not for many years to come. There are lots of flooring options in the market today, and it can be confusing to choose a single one for your application. Let's explore some useful considerations to keep in mind when shortlisting options.
Users
Keep in mind the users that are going to be occupying this space the most. For instance, if this is the flooring for a part of the home where the kids, pets, and guests all have access to, then you want something that can not only withstand extensive use but will also be safe for the pets and kids. Some flooring materials have elements in them that can trigger breathing problems such as asthma, while others have components that can cause medical complications if consumed.
Children will drop things and eat them off the floor, dogs will sniff around with their noses nearly touching the floor and if someone wants to lay down on the floor then this could also be a problem. A neutral flooring material will be best in this case.
Design And Style
Having safe flooring is great, but one of the biggest reasons why people want to upgrade their flooring is because they don't like how it looks. Design and style are one of the main concerns for people when choosing flooring, and considering how many different styles of flooring there are, it can be a difficult decision. For instance, even if you know that wooden flooring will be the safest option in your case, there are CMC Hardwood Floors, vinyl floors that look like hardwood floors, even tile floors that have a wooden look to them. Even within those categories, there are countless different kinds of wooden finishes and wooden looks to choose from.
It can get quite confusing to choose one. A good approach is to keep the flooring in line with the design and style of the rest of the space. If you have wooden panels on the wall, for example, then get a wooden flooring that is similar to that shade of wood.
Indoor Vs. Outdoor
Some of the most challenging parts of the home in terms of floor design are areas that quickly transition from an indoor to an outdoor space. For instance, if you have a small kitchen in the basement that is connected to the patio, or the flooring for a deck in the center of the garden. You want something that seamlessly fits into the place and also blends in with the surrounding environment.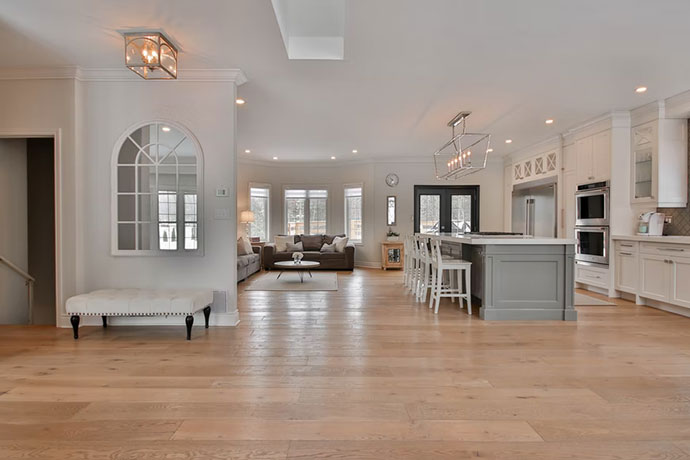 For this situation, give greater consideration to the outside rather than the inside. You can easily use something like stone flooring for the interior parts of the home. They will work very well for the open parts as well since they can withstand any kind of weather. The texture and the color of the natural stone will be unique and very attractive in an indoor environment. The trick is to try and get everything in the indoor area to complement this type of flooring and vice versa.
Rooms
Certain flooring just looks better in certain parts of the home and is more appropriate for that space. For instance, if you have carpeted the entire house, it would still make sense to have tiles or any other hard flooring in the kitchen. Carpets will get dirty in the kitchen, they will wear out quite quickly since some parts of the kitchen have a lot more footfall, but most importantly it is a serious safety hazard to have carpet in the kitchen. If it catches fire it can be impossible to put out.
You could also have a common theme among rooms. If the children's rooms have a certain theme to them, consider using the same kind of carpet in their rooms. If you want to redo the study area, a carpet is a great choice for flooring since it absorbs a lot of noise and is quite comfy to rest your feet on while you work. If there is a part of the home where you do not want people wearing shoes then use carpet flooring there.
Durability
Durability is a very important consideration, especially in outdoor areas as well as parts of the home that see a lot of traffic such as the hallway, the stairs, or a common bathroom. In most cases, natural stone will be the most durable flooring material that you can get. Whether that is in the form of marble or any other natural stone, this material stands up to all conditions and doesn't wear out very easily. This is why in some of the oldest buildings in the world you will notice that the main material used is some kind of natural stone because even back then it was known for its durability.
If you don't mind having to constantly take care of your flooring and having some maintenance work done regularly, then wood is also a good choice. The only problem occurs where there is major damage such as if a plank of wood in the flooring is broken or if it is damaged by pests like termites. Seasoned hardwood can last just as long as natural stone flooring, but it requires more maintenance and cannot be used very carelessly.
Maintenance
Some floors such as carpet flooring or wooden flooring will require a good amount of maintenance. Stone flooring or marble flooring also requires maintenance but it is not that frequent and in some areas where the flooring is used a lot you can even get away with no maintenance at all. However, it is an added expense of both time and money so if you want the cheapest option then go for something that won't require any maintenance at all, such as tiles or vinyl floors.