Dark Green Peel-and-stick Wallpaper Inspiration You Will Love
Your home is where you surround yourself with your loved ones, your family, and your friends. It's about having that comfort and sense of attachment to the walls of your home. A safe place where you know all your worries and problems fade away needs to be decorated in a way that will give you a sense of longing and security. The peace of your home should be reflected through the pieces you put
inside it.
After coming back home from a long day at work, you seek peace. Adding different colors is tricky, but with the help of color psychology, you can find the best colors for your home. Green offers peace, tranquility, and closeness to nature. You can add a sense of calmness and peace by bringing green to your home.
Go for wallpaper
Green wallpaper peel-and-stick is an elegant way to add color to your home. Installing wallpaper in your home means adding color. Many people out there still opt for traditional wallpaper or paint, but the ease that comes with peel-and-stick wallpaper is unmatched.
● Green is the color of new beginnings, and if you are starting a new journey in a new house, choose green wallpaper.
● If you often feel stressed or anxious, looking at the green color can help you feel relaxed.

● By adding this color to your space,, you might have up the furniture a little bit and think outside the box.
Dark green wallpaper inspiration:
There are countless patterns when it comes to green wallpaper. You can choose a pattern according to your liking. If you want some expert opinion, the best interior designers choose a few designs to make your house look beautiful.
● Emerald rainforest: Many people like to keep nature close to them differently. If you are a nature enthusiast and like to keep greenery around yourself. A green rainforest wallpaper is the best option. The calming green from the trees and the rustling of leaves can be felt through this wallpaper. This wallpaper is the best way to transform any space while feeling on vacation.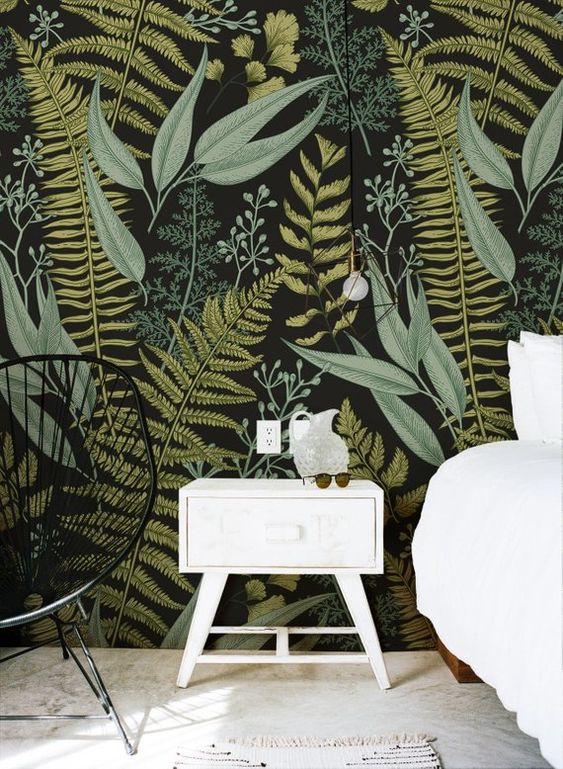 ● Jade mural: Jade murals are typically known for giving the room a 3D effect to look bigger. A jade wallpaper will be the best option if you are looking forward to adding class to your house. These wallpapers are not unique, but their brightness illuminates the whole room.
● Green panels: Dark green peel-and-stick wallpaper can come in different forms, like interesting abstract panels. These wallpapers are the best for giving the room a refreshing look and saying goodbye to old and boring wallpapers.
Green is a color that gives a glimpse of elegance and class when added to interior design. The calming and relaxing effect of the color has made thousands of people incorporate it in their houses in many ways. This is the reason why you can find shades of green everywhere you go. Its aura is immaculate, and if you add it to your home's walls, you will always feel at peace.